During 2020, when the Covid-19 pandemic affected every company's ability to function normally – be that in terms of sales, final assembly, or design and development – there were just two rotorcraft manufacturers that saw their share of the civil and parapublic market rise: Bell and Russian Helicopters.
In fact, the Russian firm grew its share of the civil market by four percentage points year on year to 12%, according to figures from rival Airbus Helicopters (Bell's share jumped from 12% to 18%).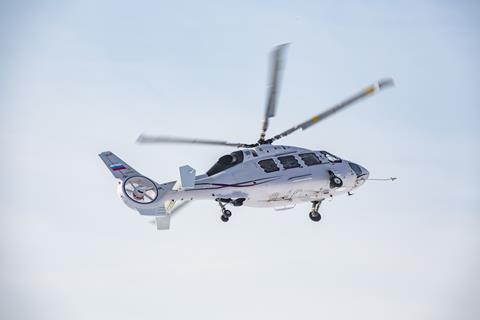 While some of the shift can be explained by its rivals shipping significantly fewer units in 2020 – production slowdowns and travel bans proved tricky to navigate – for a company better known for its military output, Russian Helicopters' civil presence was notable, particularly as its overall deliveries slid to 145, down on the previous year. But, should everything stay on track this year, then that figure will rise to about 185-190 units, says director general Andrey Boginsky, with around 40% of those heading to civil operators.
COMBINING FORCES
Boginsky, a former Russian deputy trade and industry minister with a PhD in economics, has been in charge of Russian Helicopters since early 2017. It is a sprawling concern encompassing the Kamov and Mil design bureaux (now brought together in the National Helicopter Centre), alongside start-up VR Technologies, five separate assembly and production sites (Arsenyev Aviation Company, Kazan Helicopters, Kumertau Aviation Production Enterprise, Rostvertol, and Ulan-Ude Aviation Plant), plus other manufacturing and repair facilities across Russia. In turn, it is controlled by Rostec, the state-owned holding company that owns all of the country's aviation businesses, including aircraft, engine and avionics suppliers.
There seems to be a touch of modesty about Boginsky – or perhaps it is a reflection of his time as a politician – as he seems reluctant to trumpet his achievements since taking charge. But the growth of the civil business is a definite success story. Back in the mid-teens, Russian Helicopters was delivering, at most, 15 civil rotorcraft annually; in 2020 that figure was 60, and this year it will be around 80. "We have made significant progress in this case," Boginsky says.
To an extent Russian Helicopters' growth in the civil sector can be traced back to decisions taken several years ago. For example, 33 of the roughly 80 civil deliveries scheduled this year – with a similar number to follow in 2022 - will be for helicopter emergency medical services (HEMS) operations, part of a federal government initiative to roll out coverage across the largest country in the world.
DOMESTIC OPPORTUNITIES
"This is the result of previous work and we hope that the opportunities presented by the [domestic] market will lead us to support this level of production and sales [in future]," says Boginsky, who estimates that somewhere in the region of 200 more helicopters will be required to achieve country-wide coverage.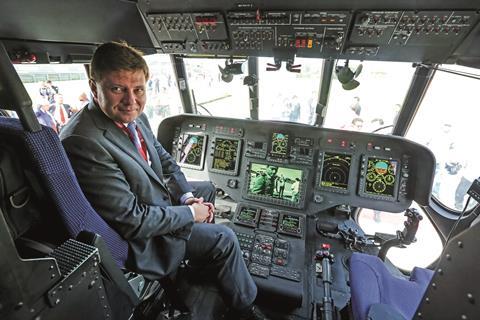 But an initiative like this is worthless if you do not have the products to meet its requirements. While around one-third of the HEMS helicopters that the company plans to deliver in the next two years will be Mil Mi-8s – the company's venerable heavy-twin – the remainder will be Kazan Ansat light-twins, a rotorcraft that has recovered from a rocky start to become a sales success. It is an outlier in several ways: it is not a product of Kamov or Mil, but the output of Kazan Helicopters' own in-house design bureau; and it is also the only Russian Helicopters model to use Pratt & Whitney Canada engines, in this case a pair of PW207Ks. And at 3.6t maximum take-off weight, the Ansat is a distinct lightweight in a range dominated by medium- and heavy-class helicopters.
Russian Helicopters is currently modernising the Ansat, adding a new autopilot and anti-icing system. Certification of the former is tentatively scheduled for this year and the latter for 2022. The upgrades are key as they will "allow us to deliver this helicopter in the north region of Russia," he says.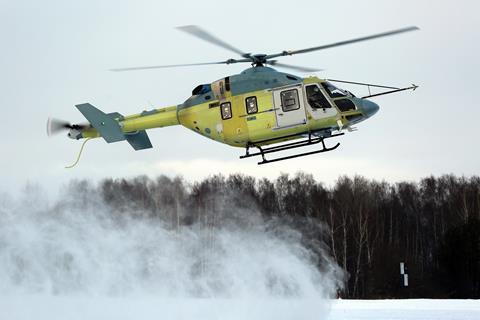 A new variant is also in the works, the Ansat-M, which sees the addition of new main and tail rotor blades, updated avionics, improved handling, and a larger fuel system increasing its range to 431nm (800km), from 272nm on the baseline model. First flight of the new variant was in late 2020, with Boginsky hopeful that certification can be achieved by the end of next year. At that point, Russian Helicopters may also seek approval from the European Union Aviation Safety Agency (EASA) for the type; at present, the Ka-32A11BC is the only other helicopter it produces to be validated by the body.
"When we will come to the version Ansat-M, in my opinion, we will be ready to go to EASA," he says. The helicopter would provide "an opportunity" to take the competition to Airbus and Leonardo Helicopters on their home turf. In the Russian market, his two European rivals "come here and communicate with our customers – we should have such an opportunity too".
But Russian Helicopters is first likely to seek EASA approval on another matter. Its Helivert joint venture with Leonardo currently builds AW139 intermediate-twins for the domestic and CIS markets at its Tomilino site near Moscow. Output this year will be four units, says Boginsky, who points out that sales are hampered by the lack of EASA certification for the production line. That means AW139s built by Helivert – identical in appearance and price to those assembled at other sites in Italy and USA – cannot be operated in Europe, for example. That is fine if you know your helicopter will spend its entire life in Russia, but otherwise has a detrimental effect on residual values.
PRODUCTION CERTIFICATE
Boginsky says the company has been discussing with Leonardo over the past year and a half the need to secure EASA approval for the Helivert site: "They understand that we can assemble more and sell them" once the production certificate is in place, a milestone that could be reached by late 2022. While a plan to assemble AW189s at the site appears to have been dropped due to low demand for the type, Helivert continues to offer service and support for the AW139 and AW109.
Elsewhere in Russia's aviation industry, there is a push to develop domestic alternatives to western suppliers – for instance, the Aviadvigatel PD-14 engine in place of the Pratt & Whitney PW1400G for the Irkut MC-21. To a lesser degree, this policy also exists at Russian Helicopters. "Unfortunately it is necessary for us to develop our design and production work with alternative suppliers, especially for engines," says Boginsky. Accordingly, Klimov – part of United Engine, a sister company within Rostec – is developing two new powerplants: the VK-650V for the Ka-226 and Ansat; and the VK-1600 for the Ka-62. As well as the Ansat's PW207Ks, the Ka-226 uses a pair of Safran Arrius 2G1s, and the Ka-62 Safran Ardiden 3Gs.
Restrictions related to the use of these engines have prevented Russian Helicopters from selling those particular types to the Russian military, even if they are not being used for frontline tasks. With domestic engines "we understand that we have the possibility to increase the volume of deliveries to the ministry of defence", points out Boginsky.
Certification of the Klimov turboshafts is scheduled in the period to 2025, with approval for the specific variants of the helicopters following that same year. Boginsky argues that a choice of powerplants will benefit the overall operation through potentially higher sales volumes: "It is possible to avoid some space in our production schedule," he says.
But developing an alternative engine for the Ka-62 is a little surprising given that it has yet to obtain certification itself. Now several years behind schedule, the most recent deadline for Russian approval was 2020, before Covid travel restrictions "destroyed plans to finalise certification". So far, the company has performed more than 250 flights using three aircraft, with about 180 still to be conducted this year. But Boginsky says it has "made significant progress" with the flight-test campaign, achieving a speed of 170kt (310km/h).
Should all go to plan, then could the 6.5t helicopter clear the final hurdle this year? "We hope so," says Boginsky. While sales have been another casualty of last year's pandemic disruption, preliminary agreements are in place to supply Russia's Far East region with Ka-62s for cargo and medical evacuation flights. The current production plan calls for a total of 24 examples to be built over the next three years: provisionally six units in 2022, eight in 2023 and 10 in 2024.
"The exploitation of this helicopter will demonstrate whether we were right or not to plan such a number of helicopters," Boginsky says. Export opportunities are also being pursued, for example demonstrating the type's performance to potential customers in Thailand.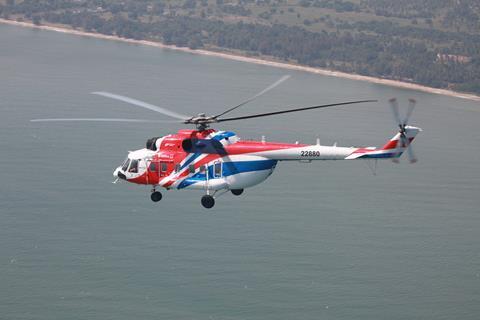 Also currently in development is the new A3 variant of the Mi-171 heavy-twin, which is being specifically designed for offshore transportation. It gains a new airframe which integrates a crash-resistant fuel system into the cargo bay floor. It also features modernised avionics, which have been upgraded for offshore operations and flights in the Arctic. Widespread use of composite materials has cut airframe weight over the A2 variant, enabling range to grow by 108nm to 540nm and passenger capacity to increase from 20 to 24. Perhaps more crucially though, the Mi-171A3 will also meet international standards for transport helicopters set by oil and gas producers (OGP) - a requirement which has driven its genesis.
While Russian oil firms – Rosneft and Gazprom, for example - were happy to use previous generations of the Mi-171, foreign partners insisted on helicopters that were OGP compliant. Although Russian Helicopters did point out that statistically its products were as safe as their western equivalents, this fell on deaf ears. "Therefore, with Gazprom, we developed common requirements for such helicopters. That is why we started to develop a new helicopter. It is our answer for the requirements of our civil customers," says Boginsky.
"It is a good start because we have launch customers from the Russian Federation. It doesn't matter who it is; we understand this type of helicopter will be required by Russian companies."
The initial prototype will be on display at MAKS, and first flight is scheduled later this year, leading to certification and service entry in late 2022 or early 2023.
Development of the Mi-171A3 has been enabled by a new structure imposed by Boginsky that sees different arms of the business operating closely together – in this instance three separate production plants are collaborating on the project: Arsenyev, Kazan, and Ulan-Ude. Elsewhere, Russian Helicopters has been modernising, implementing digitalisation initiatives and advancing the use of 3D-printed components. These are "small achievements" overall, says Boginsky, but necessary for the development of the overall enterprise as it looks to boost productivity and efficiency.
The resulting process improvement has enabled the rapid update of another model in the manufacturer's range, the Ka-32. The co-axial rotor-equipped fire-fighting heavy-lifter – which will also be shown at MAKS – gains uprated VK-2500 engines, a glass cockpit and a new water tank – increasing capacity from 3t to 4t. "This allows us to increase the capability of this helicopter," says Boginsky.
Another project carried out under Boginsky's reign is the bringing together of the storied Kamov and Mil design bureaus into a single entity: the National Helicopter Centre. It has, says Boginsky, allowed the blending of the "unique experience" housed in each organisation. Plus, the combination has enabled a better allocation of resources – ironing out peaks and troughs in workload. "It has allowed us to be stable and make plans for the future." There are now, he says, "deeper communications between the design bureaux and [production] plants", which is helping to increase the overall quality of output.
While Kamov and Mil have been designing rotorcraft for decades, Russian Helicopters also encompasses VR Technologies – a start-up design house dedicated to aerial mobility, which is developing the VRT300 unmanned rotorcraft and VRT500 light helicopter, both of which use a co-axial rotor configuration. But the company is unlikely to retain full ownership of VR Technologies for much longer: at the 2019 edition of the Dubai air show, a provisional agreement was struck with Tawazun Economic Concern of the United Arab Emirates to take a 50% stake in the subsidiary for a $400 million investment; it also ordered up to 100 VRT500s and showed interest in the VRT300.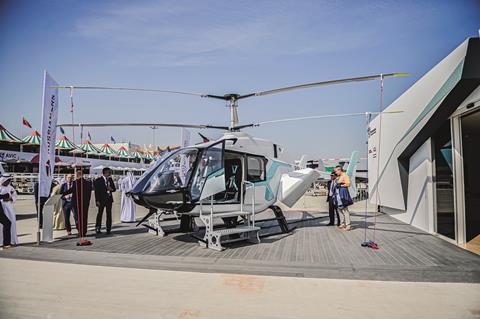 Although the contractual basis of the deal was signed off last November, says Boginsky, Russian regulations governing the aerospace industry require that foreign investment is approved by governmental commission – a process that is currently under way. "We hope that it will make the decision to allow us to finalise a deal," he says.
Two prototypes of the VRT300 are now complete and several more will be assembled before the end of the third quarter; the certification process for the type has also started. On the VRT500, a first flight may take place later this year, while a ground-test asset will be displayed at the Dubai air show in November. A European assembly line for the VRT500 is still under consideration, says Boginsky, although a final location has yet to be determined.
At Russian Helicopters' rivals in Europe and the USA there is a focus on demonstrating future high-speed rotorcraft for civil (Airbus and Leonardo) and military (Bell and Sikorsky) applications. But as Boginsky points out, "each 10km/h costs money", a price most civil operators are likely to shy away from. "Several years ago we looked at the investment needed to get speed above 350km/h; it's significant. Unfortunately customers are not willing to pay for this dramatic increase," he says.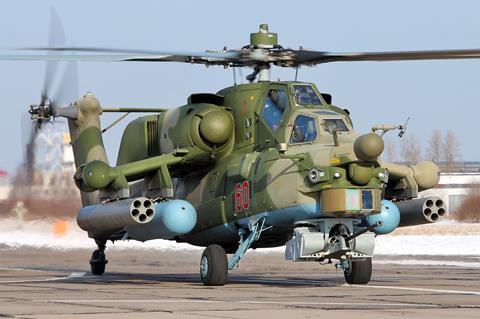 However, that may be less true for military operators, where speed can confer a battlefield advantage. At present, work on the topic at Russian Helicopters is confined to the development of a new composite main rotor blade for Mi-28 and Mi-35 attack helicopters. Tests using a company-owned flying testbed have seen the helicopter achieve speeds of over 215kt and it is now awaiting defence ministry approval before launching serial production. Should a further jump in speed be sought then "we have ideas", Boginsky says.
MILITARY PRIORITIES
As the Russian military is by far and away the manufacturer's biggest customer there are already a number of projects under way, including upgrading the Ka-52 and Mi-28, plus analysis of a possible successor to the Ka-27 amphibian helicopter for the navy. Russian Helicopters has a "clear understanding" of the work required from the design bureaux over "the next three years" and clarity over the defence ministry's future priorities, which need to be delivered "at the end of this decade". While Boginsky is understandably coy on what these are – and notes that discussions are ongoing – he expects that requirements will be finalised over the next two years, suggesting a hope that by the 2023 MAKS show "we can be a little more open".
Meanwhile, the shorter-term priority is to ensure continued equilibrium. "For us the main task is to balance production and design facilities and set up relationships with suppliers for a minimum of three years ahead. We understand what we can produce. It allows us to stabilise our production plan. This is my task for this year and next – understand how to organise it." Output for 2021 is finalised, while next year's is 70% settled, leaving some slots open based on the likelihood of orders emerging at the MAKS or Dubai shows.
But aside from the planning, the modernisation, and all the other tasks required to keep the company pointed in the right direction, a general director has an even bigger challenge: to ensure the company's engineers are sufficiently inspired for the future.
"It is very important to participate in something new and something big," Boginsky says. "For the CEO of a company their main task is to provide such kind of opportunities."