Sweden's Heart Aerospace will now build a 30-seat hybrid-electric regional aircraft called the ES-30, dropping previous plans for a 19-seater called the ES-19. However, the switch will see service entry slip to 2028 from an earlier target of 2026.
Heart has also revealed two new shareholders, with Air Canada and Saab each taking a minority stake in the business in exchange for a $5 million investment.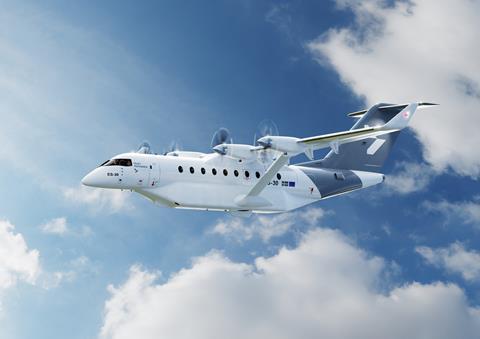 Revealing the design change at an event at its development centre at Save airport near Gothenburg on 15 September, Heart founder and chief executive Anders Forslund said the ES-30 "is an airplane that the industry can use".
"We have designed a cost-efficient airplane that allows airlines to deliver good service on a wide range of routes," he says.
Although the ES-30 retains the four-motor layout of its ES-19 predecessor, the design now features a wing-fuselage brace and a large battery compartment below the fuselage.
The battery packs would have been stored in the nacelles of the smaller aircraft.
NEW STANDARD
Range with 30 passengers on board in all-electric mode is a claimed 108nm (200km), or 215nm using reserve power from two turbogenerators. In addition, range of up to 430nm is possible if only 25 passengers are carried, the developer says.
Heart in June said it was changing the certification basis of the ES-19, moving from the European CS-23 to the CS-25 standard for larger aircraft.
No longer constrained by the 8,618kg (19,000lb) weight limit imposed by CS-23, the ES-30 will be more than twice as heavy as its predecessor, with a wingspan that also grows by nearly one-third, according to Heart's preliminary data.
Maximum take-off weight is now in the 20-21t range, of which 5t is batteries, says head of marketing Claudio Camelier. However, he cautions that the aircraft's weight and dimensions could still change as the ES-30 progresses through the design process.
Wingspan has increased to 30.7m (101ft), from 23m on the ES-19, while the ES-30's fuselage is 22.7m long, a 5.2m rise over the smaller aircraft.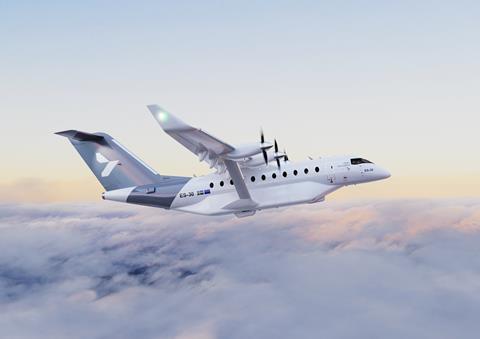 Much of that additional fuselage length is required to accommodate a larger baggage compartment and the two 800kW-class turbogenerators.
Additional room for passengers has been created by an expanded fuselage, growing from 1.46m-wide on the ES-19 to 2.21m on the ES-30, allowing a switch to a 2+1 seat configuration against 1+1 previously. Overhead storage bins are now also incorporated in the cabin.
Although billed as a 30-seater, Heart is also offering the ES-30 in a high-density 34-passenger configuration, featuring seating with a pitch of 29in in the forward cabin and 30in at the rear.
Camelier says the distinctive fuselage-wing brace was required because of the length of the "very high-aspect ratio" wing, which as a trade-off for its improved efficiency "imposes challenges on the structural design".
POWER OPTIONS
Heart has engaged several well-known suppliers such as Aernnova and Garmin on the programme, but has yet to settle on suppliers for crucial components such as the battery pack or 700kW-class electric motors.
Although Heart had been working on its own electric motor, it is unclear if these will be used on the final design; indeed, representatives from Magnix and Evolito were present at the hangar day.
Forslund says the company has been "engaging with the market" for batteries and motors as "this is one way to share our vision with these partners".
However, he emphasises that no selection has been made, with the company seeking to "make a very informed decision" which will be taken "as soon as possible".
Fellow Swedish company Saab has also been recruited to the programme, both as a supplier and an investor. Sofia Graflund, Heart's chief operating officer, says the pair have entered into a "partnership agreement" that will see them working together in several areas. This could see Saab, for example, providing consultancy services, advising Heart on its manufacturing set-up or other aspects of the production or certification process.
The pact will also see the pair "collaborate on certain subsystems", says Graflund, without providing details.
For its part, Saab says it "wants to be part of the sustainable future of aviation" and will offer its "expertise" to the programme, while declining to divulge further details.
As a result of the design changes, the list price of the ES-30 is higher than that of the ES-19. "It is obviously more expensive but it is better evolved," adds Forslund.
He points out that the design of the ES-30 allows for the development of a stretched variant.
"The ES-30 will also form the baseline for a product family and a platform that we can extend, [growing] the fuselage to up to 50 passengers," he says. However, Forslund offers no timeline for the development of a larger variant; Heart's efforts are currently focused on the ES-30, he stresses.
Roll out of a "proof-of-concept" aircraft is set for 2024, leading to flight tests from 2026, he adds.
Existing customers Mesa Airlines and United Airlines – which between them have ordered 200 aircraft, plus 100 options – have reconfirmed their interest in the ES-30, Heart says. New shareholder Air Canada has also placed a purchase order for 30 aircraft.
The company also holds letters of intent (LoI) for a further 96 ES-30s from carriers including Braathens Regional Airlines, Icelandair and SAS, plus lessor Rockton, which accounts for 40 units on its own.
Forslund insists operators are firmly behind the revisions to the aircraft's design. "When we started considering making these changes, the first thing we did was to call up all the airlines," he says.
Anko van der Werff, chief executive of SAS, which now has a place on the company's advisory board, says that one element of its feedback "was not to go too small".
While conceding that even a 30-seater may not fit perfectly with the airline's current operation, Van der Werff notes that "you have to start somewhere" and sees future stretched variants as offering greater potential. "The trend is really in the right direction," he says.
However, he is staying tight-lipped on how many aircraft are covered by its revised LoI, particularly given the price differential between the ES-19 and ES-30; SAS will take "at least two", he says, "but we want to go bigger and do much more".
ELECTRIC FIRST
If network carrier SAS is approaching electrification of its fleet from one direction, then New Zealand's Sounds Air is coming from entirely the other. Located at the northern tip of South Island, the airline currently operates a fleet of 10 small turboprops – six Pilatus PC-12s and four Cessna Caravans – on inter-island flights.
"Our ambition is to be one of the first in the world to fly an electric airplane," says director Rhyan Wardman.
Sounds Air's LoI is for sufficient aircraft to "convert the entire fleet", he says. Although conceding there is a "bit of a jump" between the size of the aircraft it currently operates and the ES-30, he sees as attractive "all of the other benefits that come out of this design", such as longer range.
Currently absent from the list of those holding revised LoIs is Finnair, which in 2021 unveiled a tentative agreement for up to 20 ES-19s.
Forslund says talks with the Helsinki-based carrier are ongoing: "We continue to have good discussions with Finnair. We hope to be working with them in the future."
Simon Newitt, Heart's chief commercial officer, describes the conversion of the around 250 tentative commitments for the ES-19 to the ES-30 as a "work in progress".