Beyond delivering seismic political upheaval as their forces swept into Kabul in mid-August, the Taliban's retaking control of Afghanistan has resulted in the most dramatic adjustment to FlightGlobal's annual World Air Forces directory for a decade.
As a result of the nation's fall shortly after NATO and US forces had ended their combat and peacekeeping involvement after almost two decades, our directory's usual lead entry – covering the Afghan air force and Special Mission Wing – no longer exists. This means that Albania now has the distinction of launching our listing of the almost 53,300 military aircraft in current active use around the world.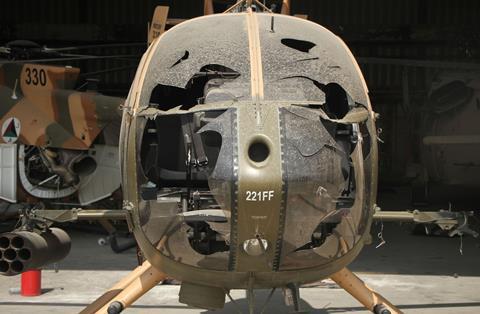 While it remains difficult to determine the precise condition of assets which did not escape the country before the Afghan government's almost overnight collapse, Cirium fleets data shows 289 of its aircraft as being in storage. Our previous directory had recorded Kabul's forces as having a total of 269 operational aircraft.
The lost inventory includes Sierra Nevada/Embraer EMB-314/A-29 light-attack aircraft; Cessna 208 Caravan, Lockheed Martin C-130H and Pilatus PC-12NG transports; and Bell UH-1, MD Helicopters MD530, Mil Mi-8/17 and Mi-24 and Sikorsky UH-60A Black Hawks.
PERMANENTLY GROUNDED
Although footage aired shortly after the last US military flight had left Hamid Karzai International airport on 31 August suggested that the Taliban was able to use an Mi-8/17 and UH-60, the operational condition of the stranded inventory and lack of pilots – many of whom fled the country – means that all but a handful of aircraft will remain permanently out of use.
At least 48 Afghan aircraft and 585 personnel were reported to have escaped to Termez air base in neighbouring Uzbekistan as their home nation's fall became inevitable.
Efforts made by departing US personnel to render other aircraft inoperable resulted in damage of a more visually superficial nature than might have been expected. Examples included smashed cockpit and cabin windows on Black Hawks and MD530s, and actions that destroyed the port main landing gear of one C-130.
The massive international airlift which followed the Taliban's rapid return to power was without doubt the highest profile activity involving military aircraft in 2021. Flights staged to repatriate stranded citizens and evacuate Afghan civilians at risk of reprisal resulted in more than 110,000 people being rescued.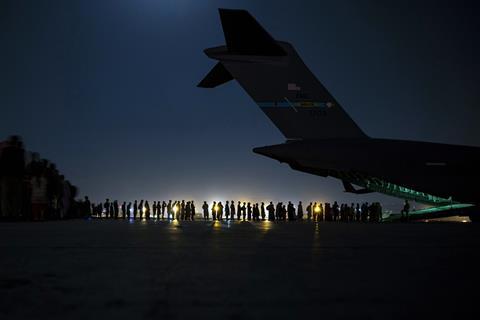 Our directory's most recent similarly-sized reduction in a nation's military aircraft strength occurred in 2011, after a coalition campaign dismantled the forces of then-Libyan leader Muammar Gaddafi. This resulted in a total of 379 aircraft in our 2010 directory falling to just seven active airframes a year later. Today, Tripoli has rebuilt a fleet to just over one-third of its previous size, totalling 124.
GLOBAL REDUCTION
A recorded total of 53,271 active aircraft represents a net reduction of 292 since last year's snapshot of the global fleet. This was an overall contraction of 0.6%: the same figure as we reported 12 months ago.
The Middle East was the only region to see a positive percentage change in its total fleet size, with net growth of 73 aircraft, to 4,414, representing an almost 2% rise.
But matching a downward trend also recorded in our previous directory, the Asia-Pacific region and Europe both saw 2% reductions in overall fleet size, caused by the removal of 159 and 278 aircraft, respectively.
Modest double-digit increases in airframe numbers in Africa, Latin America, North America and Russia and the Commonwealth of Independent States resulted in no percentage move in each of these regions.
Recent developments in the Middle East have included a first batch of four Boeing F-15QA fighters heading for Qatar, where they will join a strengthening combat aircraft fleet already boasting 27 Dassault Rafales. Doha's investments will see it in time operate at least 96 advanced fighters – also including Eurofighter Typhoons – and up to 168 if further F-15 and Rafale options are exercised.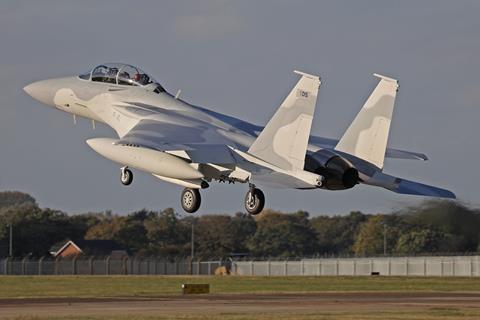 The United Arab Emirates, meanwhile, has expanded its fleet of Saab GlobalEye surveillance aircraft to three, with its latest delivery made in February 2021. A further two of the heavily adapted Bombardier Global 6000 business jets are now in modification in Sweden for the same customer, which also appears to still be on track to acquire 50 Lockheed F-35As.
Factors behind the net fleet reduction seen among Asia-Pacific militaries included Japan retiring its McDonnell Douglas F-4 fleet; we listed 39 examples as in active use in our 2021 directory.
The Royal Thai Air Force ended operations with its Aero Vodochody L-39 trainers, with 33 removed from use, and in November ordered eight Beechcraft AT-6 armed turboprops. The same nation's army, meanwhile, halted operations with the UH-1H, stripping 76 aircraft included in our previous listing. Also deleted are 30 Antonov An-30 transports previously operated by Vietnam's air force.
However, Cirium data shows that other developments in the region included the Turkmenistan air force's introduction of two Leonardo M-346FA combat aircraft, with another four on order. The service also has introduced five EMB-314/A-29s, a pair of Leonardo C-27J transports, and ordered eight AW139s from the Italian manufacturer.
EXPORT SUCCESS
Airbus Defence & Space, meanwhile, on 1 September announced its first export sale for the A400M Atlas, with Kazakhstan's air force to field two examples from 2024. Two months later it confirmed that a pair of the airlifters will be produced for Indonesia, which is also acquiring five C-130Js.
In Europe, departures included Austria's Saab 105 trainers, 19 of which were listed in our previous directory. This step leaves only the Swedish air force as still operating the type; although Stockholm in 2021 ordered seven Grob Aircraft G120TPs as eventual partial replacements.
Cyprus has removed its 11 Mi-35s from use, and reportedly is now offering the assault helicopter for sale.
Germany retired its A310 in-flight refuelling aircraft, having shifted to using a pooled NATO fleet of A330 multi-role tanker transports (MRTTs). With a growing fleet of A400Ms, its air force also reduced its C160 Transall fleet from 41 aircraft to just seven.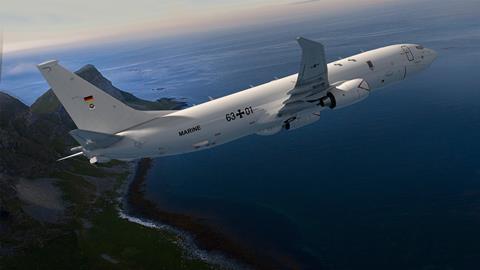 The German army, meanwhile, ended operations with its 62-strong fleet of UH-1Ds, declaring "Goodbye Huey!" The nation's navy is to field five Boeing P-8A maritime patrol aircraft from 2024, under a Foreign Military Sales programme deal concluded with the USA in late September.
The Italian army in late October conducted its final operational flight with the AW109, retiring its last 15 examples.
Warsaw markedly cut the size of its aged PZL Mielec TS-11 fleet, from 36 to eight aircraft, as the Polish air force increased to 12 the number of M-346 advanced jet trainers in use.
After making increased use of its new A400Ms during Madrid's response to the coronavirus pandemic, the Spanish air force in December 2020 retired its entire fleet of 10 C/KC-130Hs.
In the UK, the Royal Air Force retired its four Raytheon UK Sentinel R1 ground-surveillance aircraft, and also removed from use its last three Boeing E-3D Sentry airborne early warning platforms. The nation's intelligence, surveillance and reconnaissance fleet rationalisation effort also included the retirement of 10 Britten-Norman BN-2 Islanders, which had previously by operated by the Army Air Corps.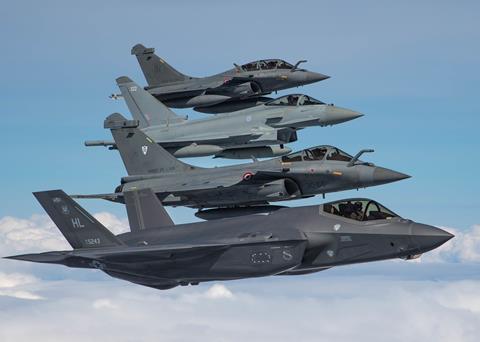 But in one of the major procurement decisions of 2021, Switzerland picked the F-35A to meet its future fighter needs, with Bern to acquire 36 of the stealthy type. It settled on the model following a competition also involving in its final phase the Boeing F/A-18E/F Super Hornet, Rafale and Typhoon.
STRONG PERFORMANCE
France continued its strong fighter export performance of recent years, finalising a deal with Greece to supply its air force with 12 Rafales drawn from its own air force inventory – the first of which has already been transferred – along with six new-builds. Paris in turn ordered a dozen replacements. Croatia also selected the Rafale for a 12-aircraft requirement, again involving used examples.
In Africa, Zambia ended operations with its Mikoyan MiG-21s, 10 of which had been included in our previous directory. Nigeria had by early November received 10 of its 12 on-order A-29s, and introduced three Pakistan Aeronautical Complex/Chengdu JF-17 fighters.
Embraer continued deliveries of its KC-390 to the Brazilian air force, which now has four examples, but further discussions will determine whether its launch customer may yet trim the size of its 28-unit order, as suggested in May 2021. The transport and tanker also is on order for Hungary (2) and Portugal (6).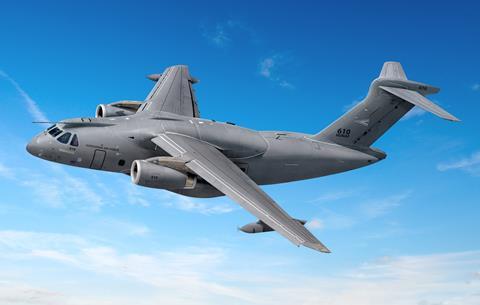 The US Air Force (USAF), meanwhile, trimmed its Boeing B-1B bomber fleet, which fell from 59 to 43 active examples. The service also cut its Boeing KC-10 tanker fleet from 58 to 51, but will extend the use of its 78 Boeing B-52 bombers via a re-engining deal awarded to Rolls-Royce North America.
Unusually, our listing this year re-introduces a previously retired type, adding four Lockheed F-117A stealth fighters as being used in the advanced adversary training role for the USAF.
The US Army retired the last of its Bell 206/TH-67A trainers – 78 of which were in our previous listing – and began the process of transferring the bulk of these to other militaries, including Colombia's air force. And the US Marine Corps no longer operates C-130T tankers, with its last seven having left use.
In regional terms, the Asia-Pacific has the largest combined fleet, at 14,529 aircraft, although its numerical lead over North America – where 97% of 13,636 active aircraft are owned by the US military – narrowed from almost 1,200 to 903.
Notably though, while North Korea has an on-paper strength of 946 aircraft, this figure has remained unchanged in our directory for several years due to a lack of reliable fleet information.
In a recent report, the US Defense Intelligence Agency argued that the majority of Pyongyang's 572 combat aircraft are operationally obsolete, and added that its best assets – 56 Mikoyan MiG-23s, 35 RAC MiG-29s and 34 Sukhoi Su-25s – would experience "considerable difficulty" in any flare-up against South Korea's military.
Despite its concern over the growing capability of so-called great power rivals Beijing and Moscow, Washington's air power dominance remains apparent. Its armed forces top all six of our directory's main aircraft usage categories, and their combined fleet strength of 13,246, or 25% of the global total, is greater than those of the next five-ranked nations combined: Russia, China, South Korea, India and Japan.
The first seven positions in our Top 10 ranking of the global military fleet by nation remain unchanged from last time. But a net change of just nine aircraft has propelled Egypt from tenth place to eighth, while Turkey also moved above France into ninth thanks to a total which is just two greater.
For the first time, the F-35 appears in our combat aircraft Top 10 ranking, with 445 aircraft in this category. Another 178 are currently classed as dedicated training assets, boosting the total in-service fleet of the type to 623 examples. The US armed services account for 65% of this total, with another nine nations now operating the type – including Denmark, which received its first examples during 2021.
Notably, our ranking in the tanker category only includes nine aircraft types, with both the A400M and KC-390 recorded under their primary transport role. The Boeing 767 now sits in third place – up from fourth last year – due to the increased number of KC-46As now in USAF service. A first of four examples also has been delivered to lead international customer Japan.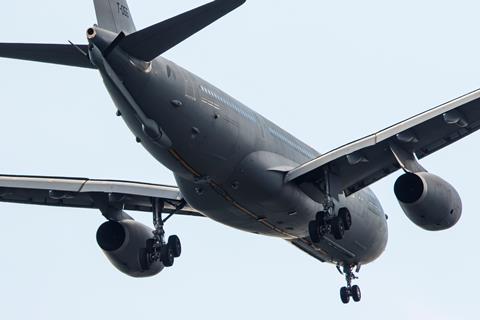 The effect of growing European collaboration is also seen in the tanker listing, with Germany exiting the Top 10 after retiring its A310s and drawing on a current five A330s employed by the NATO Multinational MRTT Force.
Now available to download as a 32-page report, our full annual fleet review – produced in association with Embraer – excludes aircraft recorded by Cirium as not being in day-to-day use, such as some 4,330 known to be in storage, or involved in or awaiting upgrade. We also do not list the 708 assets permanently assigned to performing VIP transport duties, or recorded as being for government or private use, plus another 103 flown by Russian paramilitary/reserve operation ROSAAF.
Other omissions include a combined 381 aircraft used as dedicated experimental or research and development assets – such as the 46 operated by France's DGA defence procurement agency – or those owned by the UK's Qinetiq to support test pilot training.
A further 399 aircraft recorded as assigned to undisclosed military operators or for use in tasks such as calibration, firefighting, police support, satellite tracking, skydiving, surveying, target towing, and weather reconnaissance are excluded, along with a small number of unmanned air vehicles and target drones.
Our directory – the initial data for which was drawn on 28 September – also includes information about firm orders for some 3,930 aircraft, and letters of intent or options for up to another 6,336. This includes a potential 2,638 F-35s yet to come under contract.
Download our full World Air Forces directory report now, in association with Embraer.
Supporting documents
Click link to download and view these files