Marissa Estebanez has always been a "tinkerer" who is deeply curious about the inner workings of mechanisms – particularly how they come apart and go back together. In class during early grade school, she would often dismantle pens at her desk to see how they worked.
But the 21-year-old believes she became the aircraft mechanic she is today because her father took her to air, boat and car shows as a child. "My mom has always been very encouraging, too, but my dad was always the one who was like, 'Let's go fix something.' When I was little it was potato guns; now we fix cars.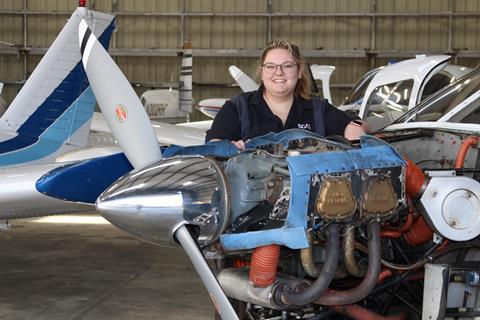 "I grew up knowing that anything mechanics-wise was in my arena and was open to me," she adds. "It was never, 'Oh, that's a boy's job.'"
Born and raised in the rural community of Lakewood, South Carolina, Estebanez works as an aircraft maintenance technician (AMT) at South Carolina Avionics Services, a small shop in Sumter with seven employees.
With aircraft mechanics in high demand, Estebanez says she had four job offers upon her January 2020 graduation from the Pittsburgh Institute of Aeronautics in Myrtle Beach, South Carolina. Whereas many of her peers became mechanics for commercial airlines, she chose to work in general aviation – mostly on single-engined Cessna 172 Skyhawks, other light aircraft and occasionally vintage and experimental types. She delights in the variety of her work days.
"I get to know the customers and I get to know their aircraft at the shop I work for," she says. "We do big avionics installs, so I get to see this ugly 1960s mess come in and we give it back to the customer as a full glass cockpit that looks like a space shuttle. And I don't think I'd trade that for fixing the same seat rail every other day."
Coming up on two years in the job, she has found her niche in the hangar: "I'm very good at the legality of the FAA [Federal Aviation Administration] paperwork, and being able to write the logbook entries and forms and all of that in a way that the next mechanic can work on your craft and have no doubt that the work was done correctly, and that we don't get in any legal trouble if anything were to happen."
Estebanez never would have known that becoming an AMT was an option if a representative from her future alma mater had not spoken to her high school robotics team when she was 14 years old. She heard about how the institute needed more students and the aviation industry needed more technicians, and was intrigued by the possibility of quickly entering the workforce rather than attending a four-year university. She fell in love with the idea when she found out she would not have to take a national standardised entrance exam.
She graduated from high school in June 2019 and enrolled at the Pittsburgh Institute of Aeronautics the following August. She completed the 16-month programme – about 30% textbook work and 70% hands-on experience, she says – with an airframe and powerplant certificate, licensing her as an aircraft mechanic.
FULL CAPABILITY
Among five women in her graduating class, Estebanez would occasionally hear put-downs from her male classmates about how the women in the programme were not capable technicians.
"There were a couple of students who were older… and they just didn't think that me or the other girls in the class were there to be mechanics. And there was one guy in particular who just couldn't get it through his head that we were capable," she says. "But all I can say to that is that I'm showing him; I've been at my job for two years and I hope to be here for plenty more."
Learning on the job has been challenging, however. In one memorable episode, she over-torqued a fuel injector and ruined the part. Estebanez was horrified by her mistake but the shop ordered a new fuel injector overnight and the issue was resolved in the morning.
"I didn't quite feel confident enough to sign my name on things," she recalls. "It was like, 'I've never worked on this before and I need you to talk it through with me a little extra'. That was a huge stepping stone for me – to get over it, to just work on it. If it breaks we can fix it – that's why we're mechanics."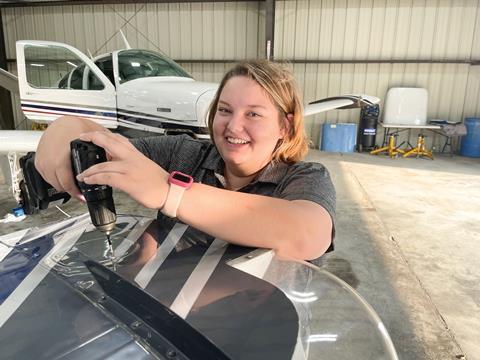 Now, she is far more confident and comfortable in her position, and she has acted as an industry representative who goes to high school classrooms and "gives the same talk I was given", Estebanez says. She believes exposure is the only way to get more young women interested in the industry.
"I would not have known about this programme if someone didn't come to my school and talk to me about it," she says. "If someone didn't say, 'Hey, you can do this', if I wasn't brought to air shows as a kid, I don't know what I would be doing."
Estebanez aspires to some day run her own shop – not as an owner, but a manager, she says – and to recreate the smooth operational flow she appreciates at her current workplace. Along the way, she would like to encourage more young people to consider careers in aircraft maintenance: "I say just go for it. The biggest thing you need is to be interested."