Cecilia Aragon's adult life has been a series of firsts. Among the most meaningful was winning one of the first aerobatic flight competitions she entered, in 1988.
"I still have the trophy," she says. "It meant a lot to me. It's a gorgeous trophy. It's a three dimensional wire framing model of a Pitts, which was my dream plane."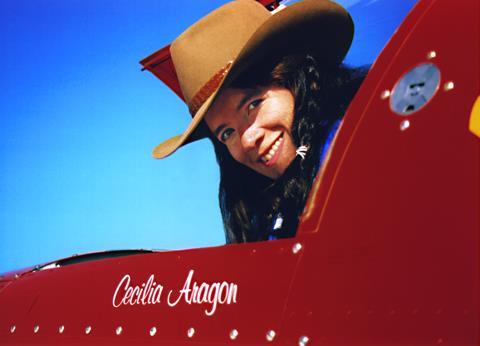 Shortly after, Aragon became the first Latina pilot selected to be part of the US national aerobatics team, and to win a medal in international competition.
If that was not enough, she later graduated with a PhD in computer science, then became the first Latina named a full professor at one of the USA's top engineering universities. Later, she found time to write an award-winning memoir.
FEAR FACTORS
But her long path to those firsts was paved with angst, tears, bullying, doubt and less-than-ideal conditions that almost extinguished her courage and determination.
"I was an incredibly timid child," says Aragon. "I was scared of ladders. I was scared of heights, escalators and elevators, you name it, I was afraid of it. And I was incredibly shy. I lived a life that was defined by fear.
"But I wanted to be magic. I wanted to levitate among trees and dance in the air. But I told myself, 'Oh, that's just an impossible dream. It's not something I would ever do.'"
A flight in a single-engined aircraft with a work colleague in 1985 changed her perspective, and her life. But trepidation kept the upper hand, even after she began flight training in the San Francisco Bay area.
"I was really a terrible student because I was so fearful. My instructors were frustrated with me and I would cry after lessons," she says.
In time, though, the joy of flight lifted Aragon above fear. She charged through her private, instrument, commercial and flight instructor certificates. After one of her students inadvertently put their single-engined aircraft in a spin, she realised that she would need additional training to become a safer pilot.
"When I went upside down for the first time on purpose and saw the sky underneath my feet, and the vineyards above my head, I said: 'This is the dancing in the sky that I dreamed of as a child. This is the kind of flying I want to do.'"
More than 30 years later, Aragon still holds the US record for the fastest journey from first solo flight to aerobatics team member (less than six years).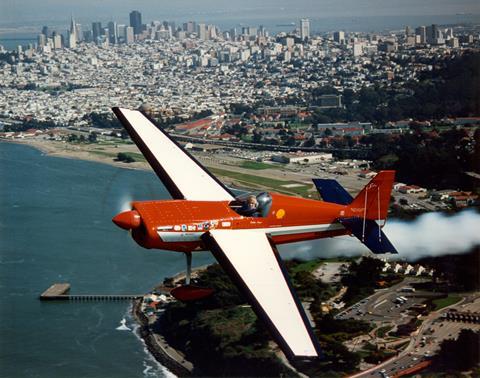 But getting there was no easy journey. Aragon could not afford to buy an aircraft that would stand a chance against competitors who were much older and far more experienced.
The first time she rented a Pitts S2-A biplane for a competition, her small stature forced her to add lead weight to the cockpit to meet pilot weight prerequisites. She sat on Styrofoam cushions to see out of the window and wore shoes which gave her 3in (8cm) of additional height to reach the rudder pedals.
"I couldn't change the aircraft, so I had to change myself," she says. "I had to be creative and I had to focus on flying really, really well."
She ended up winning the competition. For Aragon, it was a metaphor for life.
"My instructor had told me, when you don't fit into the cockpit, when it's not suited for you, you may think the problem is with you," she says. "But really, the problem is with your environment. Your environment is not set up for you to succeed. That is an analogy for so many situations in the world."
Aragon was on the US national team from 1991-1994, during time which she won bronze medals in the 1993 US National Aerobatic Championships and at the 1994 World Aerobatic Championships.
Those achievements gave Aragon confidence to finish something she had quit – earning a doctorate degree. In 2016, she became the first Latina full professor at the University of Washington's College of Engineering since it was founded 100 years earlier. She teaches computer science, with a specialty on human-centered data science.
"We write very complex machine learning algorithms that look at large amounts of data and that learn how to adapt and how to come up with solutions. But the important thing is, we do it while considering societal impact."
It is one thing to build artificial intelligence, but another to make sure that any errors do not affect individuals and society in a negative way, she adds.
UNCONSCIOUS BIAS
A new project she is working on is focused on safety and unconscious bias in the cockpit.
"Initial surveys indicate that feeling psychologically unsafe in the cockpit is one of the major determinants of why women choose not to continue in aviation," she says. "If we have a pilot shortage, we need to do something to address it. And I believe the research is going to produce some really clear evidence and ways to improve psychological safety in the cockpit."
In addition to her day job, Aragon still instructs flight students, and her memoir, Flying Free, was published in 2020.
In it, she details her path from being a fearful, intimidated child of immigrants from Chile and the Philippines to a confident aviator and engineering professor. She hopes that her story will inspire those for whom such accomplishments seem distant.
"My high school guidance counsellor didn't even think I would go to college," she says. "Think about the potential of all the kids from under-represented groups out there who have teachers who think the best hope for them is to become just average."