Boeing has a mounting list of problems afflicting its commercial aerospace programmes, with the 787, 777X and 737 Max 10 all clamouring for attention.
Deliveries of the 787 remain suspended because of manufacturing defects – and the airframer can offer no precise guidance as to when they might resume; the 737 Max 10, meanwhile, faces a race to meet a vital certification deadline; and the service entry target for the flagship 777X has been pushed back again.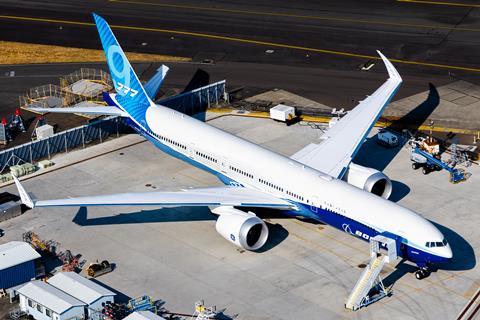 In fact, Boeing has delayed the arrival of its new big-twin by another two years, to 2025, dealing another blow to the programme.
The airframer has also temporarily halted production of the new widebody, saying its revised delivery schedule reflects the pace of certification work.
"Delivery of the first 777-9 airplane is now expected in 2025, which reflects an updated assessment of the time required to meet certification requirements," Boeing said on 27 April.
The company previously said that it expected to deliver the first 777-9 by the end of 2023, itself a delay from the launch target of 2020.
"To minimise inventory and the number of airplanes requiring change incorporation, the 777-9 production rate ramp is being adjusted, including a temporary pause through 2023," Boeing says.
The airframer has not provided additional details about why it has further delayed the 777-9 programme, but it has been working with the US Federal Aviation Administration (FAA) to address certification issues, including those that led Boeing to make some design changes.
Observers says the FAA is taking a methodical approach to validation, following criticism of its 737 Max certification.
The airframer says it will bump up production of its first-generation 777 Freighter, starting in 2023 – a move enabled by the changes to its planned 777-9 production rate.
Boeing has not said if the revised 777-9 timeline will affect the certification and delivery timing of its other two 777X variants: the 777-8F and the 777-8. At present, it is sticking to 2027 for the arrival of the first -8F and has not updated on the progress of the passenger model.
The 777-9 programme changes will cost Boeing $1.5 billion in charges, which it will start taking in the second quarter of this year and which will continue until 777-9 production resumes, it says.
Key customer Emirates Airline appears to be sticking with the programme – for now at least – despite the latest delay and previous threats to walk away from the 777X.
Emirates holds 115 orders for the aircraft – mostly 777-9s, alongside 14 777-8s – which it committed to at the Dubai air show in 2013 and were originally meant for delivery from April 2020.
SECONDHAND JETS
In a late-April interview with the Seattle Times, airline president Sir Tim Clark suggests Emirates will retain its 777X order, but that he remains sceptical on delivery dates. At the same time, he is concerned that with a dozen or so of the type already built, many of its first jets will essentially be secondhand aircraft by the time they arrive in Dubai – a point the airline will need to address with Boeing.
Lufthansa, meanwhile, is taking seven more 787s, from 2025-2026, to offset capacity shortfall from delays to its 777-9 order.
Lufthansa says the additional 787s were originally set to be delivered to other airlines. Its own previously-ordered 787s will have their deliveries rescheduled – some aircraft will be advanced to 2023-2024.
And in better news for the 777X, Lufthansa has also ordered seven 777-8 Freighters, as well as three current-generation 777Fs.
Boeing's first-quarter financial filings show that as of 31 March it had 224 777Xs in its firm order backlog; 29 fewer than the total at year-end. Factoring in Qatar Airways' commitment for -8Fs – 14 new orders plus 20 conversions – the 777X backlog appears to have shrunk by 43 units since 31 December.
BUCKET LIST
Boeing in late April updated its backlog data to show that orders for 55 777s – both the current model and the X – had been shifted into the ASC-606 accounting bucket it reserves for deals it thinks will no longer complete.
Its quarterly filing notes: "During 2022, we have had higher ASC-606 adjustments of 737 Max and 777X aircraft partially offset by 787 aircraft."
Meanwhile, there is some progress on the 787: Boeing has completed rework on some undelivered aircraft and submitted a "certification plan" to the FAA, though when deliveries might resume remains unclear.
"Rework has been completed on the initial airplanes and the company continues to work closely with the FAA on timing of resuming deliveries," Boeing says. "The company has submitted the certification plan to the FAA."
Boeing is now producing 787s "ata very low rate, and will continue to do so until deliveries resume, with a gradual return to five per month over time".
Boeing stopped delivering 787s in October 2020 to address quality control problems that required rework. It resumed deliveries briefly in March 2021, then stopped them again last May after the FAA declined to approve a Boeing-proposed algorithm related to fuselage inspections.
Issues needing attention have included gaps between fuselage sections that failed to meet specifications. Boeing also revealed a similar issue involving gaps in forward pressure bulkheads.
The company needs the FAA to sign off on all rework.
While the two widebody programmes look troubled, the 737 Max 10 is not yet in crisis.
However, to keep it that way, Boeing needs to secure an exemption for the narrowbody from new certification regulations that are due to take effect in December.
But, if Boeing does not receive that waiver, the company faces a difficult road, says chief executive David Calhoun.
At issue is a law that, starting in December, prohibits the FAA from certificating aircraft lacking a modern "flight crew alerting system".
Such a system helps pilots properly prioritise and respond to aircraft warnings and alerts, and is viewed as especially useful in situations involving multiple system failures. While other modern jets have such systems, the 737 Max does not.
Boeing aims to deliver its first 737 Max 10 in 2023, suggesting the jet's certification may not be completed before the December deadline.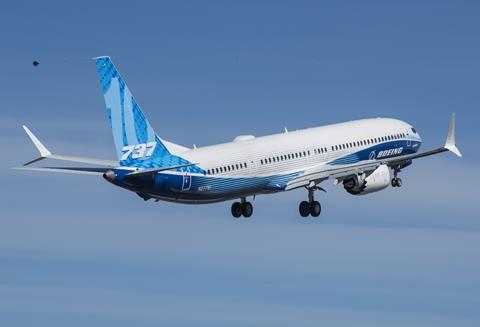 In that case, Boeing would require an exemption to avoid needing to redesign the Max's cockpit alert system.
"I believe our chances are good with respect to legislative relief; and if we don't [get relief], it's a problem," Calhoun says.
CRASH RESPONSE
Boeing has also not achieved certification for its 737 Max 7 but expects to do so this year, presumably before the deadline.
The US Congress wrote the rule into a law passed in December 2020 that responded to two 737 Max crashes. Investigators suspect the jets' pilots may be been overwhelmed by various cockpit alerts.
Congress gave the industry two years – until December 2022 – to comply. At the time, that seemed plenty for Boeing to bring its 737 Max 7 and Max 10 to certification.
"There was a lengthy window put in there, based on historic certification timetables, that would have provided for the 7 and 10 easily," Calhoun says. "The intent of that legislation was never to stop the derivative product line, with respect to the Max."
But the same two accidents that prompted the 2020 law also led the FAA to significantly heighten its regulatory oversight.
"It is definitely a more rigorous process that we are all going through," Calhoun says.
Suddenly, two years does not seem enough for the 737 Max 10, which Boeing at one point aimed to begin delivering in 2020.
Calhoun declines to say how Boeing will respond if faced with making costly and time-consuming cockpit changes to the 737 Max 10.
Additional reporting by Lewis Harper in London