The award earlier this year of an 18-month initial contract for risk-reduction work on a French-German future combat air system (FCAS) programme has propelled the effort's industry partners towards launching demonstrator flights from as early as 2026.
Approved on 12 February and promising to "mature cutting-edge technologies", the Phase 1A work will continue a process initiated as a joint concept study in early 2019 and formalised in June the same year during the Paris air show.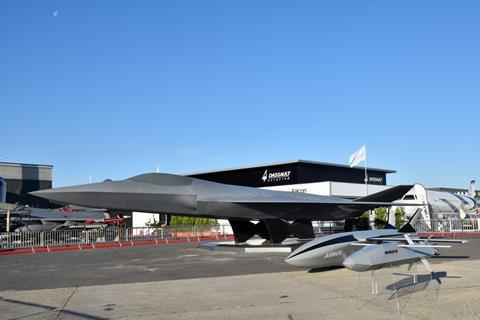 Unveiled at Le Bourget, a conceptual New Generation Fighter (NGF) will be the product of work involving platform prime Dassault and its partner, Airbus Defence & Space. Unmanned "remote carriers" and smart weapons will be provided by the same Airbus unit and MBDA, with operations co-ordinated using a "combat cloud" network from Airbus and Thales.
Last November, France's Safran Aircraft Engines and Germany's MTU Aero Engines also ratified an industrial agreement to work on the future fighter's propulsion system. Safran will lead engine design via "an integrated development approach" with the airframers, with MTU to head support activities.
The NGF should be operationally available to replace the partner nations' respective Dassault Rafale and Eurofighter fleets from 2040. Spain is also due to join the effort in Phase 1B, with Indra as its industrial lead.
But with the coronavirus pandemic having shocked European economies, could such a major defence programme become a target for financial savings amid changed priorities?
Speaking during an online Royal Aeronautical Society lecture on 16 June, Airbus Defence & Space chief executive Dirk Hoke noted that many nations have cut their defence budgets during past crises.
"I strongly believe that more than ever, we have to secure the [European] defence, space and security budgets in order to cope with the challenges that we are currently facing," he says.
Noting that many companies in the supply chain provide dual-use technologies, he adds: "Strong programmes can accelerate the recovery phase. By supporting defence projects, we also can stabilise the whole aerospace industry."
GOVERNMENT SUPPORT
Despite the scale of the current crisis, Hoke points to the recent financial support given to German industry by Berlin, including for research and technology activities, and France's €15 billion ($16.8 billion) aerospace rescue package.
Failing to safeguard highly skilled jobs in such a way during a downturn would be a costly mistake, he says. "Whatever we lose during such a period, it will take decades to rebuild it afterwards – and future products and systems will be ordered from third countries – not from Europe anymore."
Pointing to the major use of European nations' A400M tactical transport fleets during the pandemic – including delivering personal protective equipment supplies and evacuating infected citizens from around the globe – Hoke says this was enabled by investment decisions made decades earlier.
"To stop innovation now – and investment into defence and security – would definitely lead at a later stage to bigger challenges. We believe strongly that cutting budgets would undermine our resilience for the next crisis."
Hoke also contends that despite the UK's departure from the EU, the only sensible long-term outcome will be for Europe's current two FCAS projects – also including the BAE Systems-led Tempest development – to merge.
"We cannot afford two systems of that size being developed and produced in competition in Europe and the UK," he says. "The market is too small. We need to make sure that we don't repeat the mistakes of the past, by having Gripen, Rafale and Eurofighter being developed in parallel. It would be a bad solution for the EU and for the UK.
"We have complementary skills and capabilities, and it would be of great benefit for all involved partners if we could at a later, post-Brexit stage merge these programmes," he says.
"Through the Eurofighter Typhoon we have a collaboration that will go long into the 2060s," he notes. "We have proven that we can work closely together and overcome challenges. Of course not everything was easy at the beginning, but we solved problems of IP [intellectual property] and of collaboration: how to work in a complementary and efficient way, despite all the challenges of bureaucracy."
While such an outcome might seem an ambitious vision today, Hoke concludes: "I strongly believe that our European diversity will at the end create a better performing and cheaper solution than can be created in other nations of the world."
For now, France and Germany are calling on their extensive recent experience with advanced technology development, including flying unmanned combat air vehicle demonstrators: respectively the Dassault-led Neuron and Airbus Barracuda.
In November 2019, Airbus's defence unit also disclosed a more than decade-long research and demonstration effort into very low-observable (LO) technologies conducted as a classified project for the German defence ministry.
The company's LO UAV testbed – or LOUT – platform has a diamond planform with a roughly 12m (39ft) wingspan and similar length.
The 4t-class, subsonic design features a conventional engine concealed behind a diverterless inlet, with twin intakes blended into its upper fuselage using a radar absorbent structure, and its exhaust nozzle is shielded from beneath.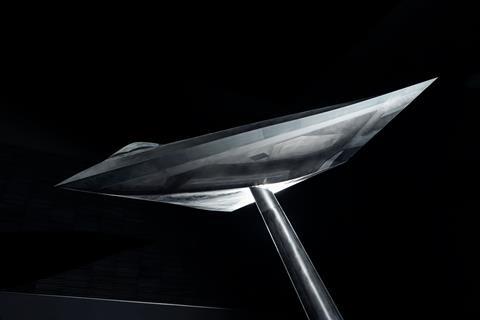 Airbus says aerodynamic and anechoic chamber testing conducted from 2014 also assessed the signature effect of various sensor apertures and a cockpit transparency, and honed its LO techniques for landing gear doors and an internal weapons bay.
INFORMATIVE RESEARCH
Lessons learned from the LOUT activity will help inform the development of an FCAS capability, the company confirms.
Speaking in May, Airbus FCAS chief engineer Thomas Grohs said: "A certain amount of stealth or low observability will always be necessary, but there needs to be a very balanced approach for it, because stealth might become obsolete through time."
While technical studies and risk-reduction work advances, Germany is also broadening its consideration of the ethical and legal implications of using artificial intelligence (AI) in support of autonomous weapon systems.
Having begun this process at a state level in 2019, the debate was expanded in May, with the addition of participants including Airbus Defence & Space and the Fraunhofer Institute for Communication, Information Processing and Ergonomics (FKIE), along with think tanks, universities and independent experts.
Speaking during a webcast event to launch the expanded FCAS Forum initiative, German air force Brigadier General Gerald Funke, national programme leader, noted: "Complexity is growing, and so are the chances and risks of using those technologies – not just in the military."
FKIE chief scientist Professor Wolfgang Koch says that from its outset, the programme poses "an intellectual struggle surrounding the technical implementation of ethical and legal principles", requiring "compliance by design".
"The deepest humiliation for a human being is to be killed by a machine," notes theologian Ellen Ueberschaer. "The core question is: can we at all stages, and even in the fog of war, guarantee meaningful human control?"
This consideration is echoed by Dr Frank Sauer, a senior researcher at the German military university in Munich, who cautions that "From a strategic perspective, fighting at machine speed is accompanied by a real risk of escalation at machine speed."
Ulrike Franke, policy fellow at the European Council on Foreign Relations, notes that the current FCAS partners have markedly divergent views on the military adoption of AI technology.
"At the moment, France appears somewhat more open, and Germany more cautious," she says. "One of the challenges for the FCAS project will be how to reconcile these different positions. One can compromise in the middle, set red lines and define deal breakers, or there could be a scaleability of the level of autonomy.
"There is a political and a technological challenge that needs to be addressed. AI is already shaping our lives, and will do so more in the future," Franke notes. "The public will be impacted by this, and will have views. In the military realm, there will be important ethical decisions to be taken, and this needs to be a democratic or societal process."
Tempest partners on target with year-end business pitch for UK
1

2

Currently reading

How Franco-German FCAS could accelerate economic recovery