When the coronavirus suddenly disrupted aviation worldwide a year ago, airlines went into their own kind of lockdown. They rapidly grounded aircraft, laid off staff and shrunk networks to a minimum, conserving cash as travel screeched to a halt.
But as air travel was slowing down, Nadia Bastaki, Etihad Airways' vice-president of medical services and corporate social responsibility, was getting to work.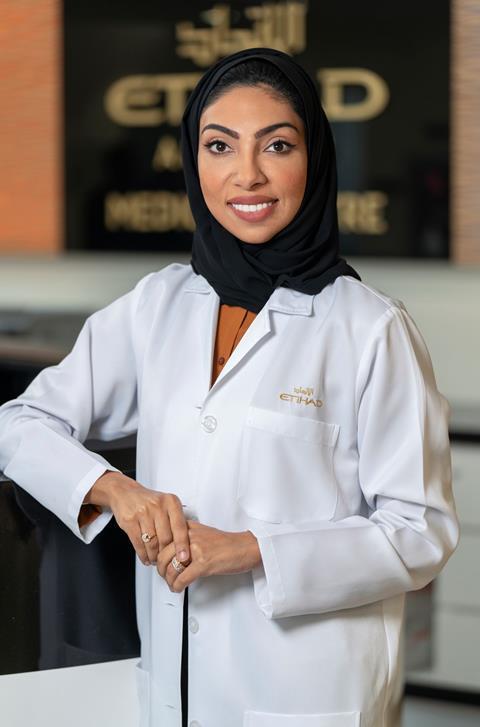 "Covid-19 put me into a platform where I was the forefront advisor to the CEO and senior management. We developed an entire programme for Covid-19. Well-being was not only important for passengers, pilots and crew, but for the entire company," she says.
Under her leadership, the airline quickly developed a comprehensive, organisation-wide health and safety concept. The effort involved rethinking every aspect of the airline's business through the lens of how to best protect passengers, workers and the company from the highly-contagious, rapidly-spreading pathogen.
The airline redesigned uniforms, implemented Covid-19 testing procedures, developed smartphone apps intended to help customers navigate travel requirements, created quarantine zones inside aircraft and found new ways to package and serve inflight food.
"We created a whole multi-disciplinary working group around the Covid-19 pandemic, I worked with multiple external committees [including] an emergency crisis management committee and a civil aviation committee. I was on these committees to ensure that I get the information and then do the right thing for the company."
Bastaki also was responsible for developing new internal policies and processes as well as a health and hygiene training programme.
"The aviation business is a 24-hour business, and although it slowed down, we were still operating. So we needed to make sure that the core group operates really well."
Bastaki, 41, became the face of Etihad's coronavirus pandemic response. And her journey through the male-dominated aviation industry in a society that often marginalises working women, has been nothing short of extraordinary.
She was educated as a doctor in Scotland and completed a postgraduate specialty aerospace medicine programme at London's Kings College.
"My family always encouraged me to do something I loved," Bastaki says. "I didn't just want to be a number. I wanted to be something different. So I searched a lot and I looked at specialties that are different and unique. And I came across something called aviation medicine. And it just lit a spark in me."
Following that training, Bastaki returned home to the United Arab Emirates, where she was recruited by Etihad. One of her duties as the airline's medical officer was to examine pilots in order to grant or revoke medical certifications. Having trained as a private pilot herself, Bastaki felt she was in a position to better understand the holistic effect of flying on crew.
"I wanted to be the doctor that could relate to them," she says. "I had a good perspective about the mental and physical well-being of a human, and the connection with their [aircraft]." So if something goes wrong in flight, she says she has a solid understanding of how that affects their overall health and well-being.
As a young woman in her field, she often had to deal with stereotypes, and her expertise and skills were questioned.
"The first pilot who saw me said, 'Where's the doctor?' I said, 'I'm the doctor'. I am a Middle Eastern woman who wears a scarf. When I asked him to remove his shirt he says, 'You are going to examine me? Are you sure you want me to remove my clothes?' It took some time to get to the point where they could trust me."
"When I had to advise them on their licensing or revoke their license, they would say, 'You're not experienced enough to do that.' And I had to build all that into my personality, into my voice, the way I converse, the way I develop that relationship with the patient. So they understand that yes, I am very up with my culture, but at the same time I am your doctor."
In the almost 14 years she has been with the airline, Bastaki has moved up through the organisation's ranks to become a well-respected leader in her field, both in the UAE and abroad.
She helped establish Etihad's medical well-being centre for staff, and as she joined management, she developed specialties in employee engagement and corporate social responsibility. Bastaki was the first woman to be elevated to an executive level at the airline, and is currently one of five female VPs. She now also leads Etihad's initiatives on diversity and female empowerment.
With age and experience, has also come wisdom, she says.
"In the beginning I thought I had to be harsh, and … very loud, for people to hear me. Then I realised, no, I don't have to change my personality, my demeanor. I need to have good negotiation skills, for them to understand me."
"Also, I need to put my foot down if someone crosses the line, so they understand that I'm here for a reason. I make decisions based on my merits and my knowledge and my skill. You have to be confident of what you know… and say, 'This is what I am. And this is what I'm going to deliver'."