As the first woman to command the USA's largest Air National Guard unit, Brigadier General Denise Donnell wants to use her position to inspire anyone to follow their aviation dream.
Denise Donnell was a third-year undergraduate student at Georgetown University when she had her first taste of flying, in the early 1990s. While home in Montana over Christmas holiday, the international politics major was gifted 10 hours of flight lessons from her father.
Donnell made the hour-long drive across the frozen North American prairie from Helena to a local airport in Butte. The experience changed the course of her life.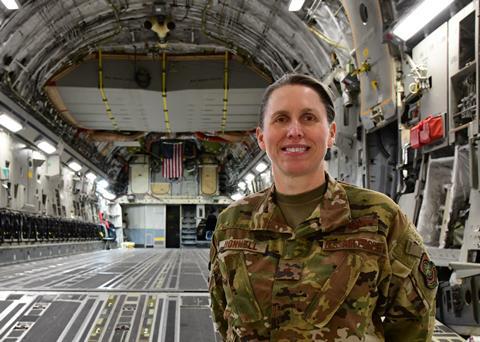 "I was hooked," she recalls three decades later. At the time of that first flight, Donnell was enrolled in Georgetown's Naval Reserve Officer Training Corps programme, and on the path to becoming an officer in the US Navy (USN). "Initially I thought I wanted to be an intelligence officer."
But when she returned to Washington, DC after her Christmas flight, Donnell changed course to pursue a set of naval aviator's wings. Some 30 years later, she is now a Brigadier General and the first female commander of the New York State Air National Guard, a sub-component of the US Air Force (USAF).
In the US military, national guards act as a reserve force of army and air force troops. There are 54 such units: one in each of the 50 states, plus in the national capital Washington DC, the territories of Puerto Rico, the US Virgin Islands, and Guam.
National Guard forces can be activated at the local level for disaster response, as was widely the case during the Covid-19 pandemic, or at the federal level for military and national security missions.
While Army National Guard units are typically activated for discreet periods of time, the USAF regularly makes use of pilots and support troops in the Air National Guard for its day-to-day operations.
New York's Air National Guard is the largest in the country. It contains a squadron of General Atomics Aeronautical Systems MQ-9 Reaper unmanned air vehicle pilots, a pararescue combat search and rescue unit, and the USAF's only wing of Arctic resupply Lockheed Martin LC-130 cargo aircraft – all of which are now overseen by Donnell.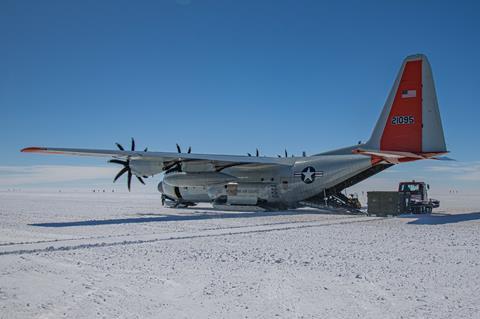 In addition to her historic appointment by the first female governor of New York State, Donnell's career in military aviation has taken her all over the world in a variety of aircraft. She has more than 4,000 flight hours on five USN and USAF aircraft types, with 280 of those hours in combat.
She is qualified on five operational models, including the Lockheed P-3 Orion anti-submarine warfare aircraft, Lockheed C-5 Galaxy and Boeing C-17 Globemaster strategic transports, and two variants of the C-130 Hercules transport.
Donnell took a winding road to arrive in her current role commanding 5,900 part-time airmen; not a typical career destination for a USN midshipman (the term for a naval officer in training).
She was raised as a "navy brat", in military parlance, with her father a USN doctor and her mother a service nurse. Donnell had already lived all over the world before joining up herself; she attended elementary school in Japan, middle school in Tennessee, and graduated from high school in Montana.
"All I knew was navy," Donnell says. "That was what I grew up in and that was what I was planning to do."
After graduating from Georgetown in 1993, she entered the navy and earned a slot in the highly competitive naval aviation programme, ultimately selected to fly the P-3.
Donnell describes a feeling of shock when she opened the envelope revealing she had been admitted to flight school. It contained an image of the iconic "Wings of Gold" worn by USN aviators.
It was early 1993; the US military was being downsized by Clinton-era "reductions in force" as the Cold War receded. It was also a time when women were becoming more widely integrated into the force.
Just 19% of the USA's total military force are women, according to a 2020 report by the US Department of Defense, with the breakdown fairly consistent across the five service components measured and between the officer and enlisted ranks.
US Federal Aviation Statistics for 2021 show that this gender imbalance is even worse in civil aviation, where only 9% of pilots and flight students in the USA are women.
Donnell acknowledges that "double whammy" of male domination, but says she has never felt held back by her gender throughout her military career. She cites an incident that occurred just before her joining as having spurred positive change within the USN on integrating women.
The 'Tailhook' scandal was a 1991 naval aviation conference in Las Vegas, Nevada at which USN and US Marine Corps officers were alleged to have sexually assaulted 83 women and seven men, prompting outrage and calls for change.
"That started a tremendous change in the navy," says Donnell, who joined two years after 'Tailhook'. "I was very fortunate to have benefited from that change."
Donnell says that by the time she reached flight school, "what people really cared about was how well you could fly". She believes that her gender was a neutral factor during flight training, neither hurting nor assisting her in completing the multi-year activity, describing it as "a very positive experience".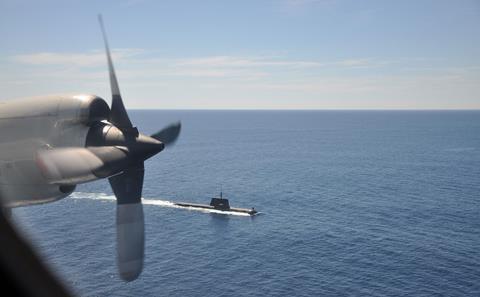 For the next four years, she flew patrol missions, operating just 300ft feet above the water in a P-3 hunting Russian Oscar-class submarines and chasing pirates in the South China Sea. At the age of 27, she deployed to the Persian Gulf, where she commanded flights with "release authority" to launch live ordnance.
However, she also caveats that many patrol missions were "quite boring", often consisting of flying in circles for eight to 10 hours, to discourage enemy submarines from surfacing. Donnell also deployed twice to Japan and flew cargo missions to far-flung locales like Kurdistan.
RESCUE CALL
Her favorite navy flight experience came during one of those deployments to Japan. Donnell's aircraft was on "Ready One" status, meaning the entire crew had to be prepared to take off on just one-hour's notice, when a search and rescue call came in.
Donnell was the aircraft commander on the mission, which was to locate a sailing boat that had been severely damaged in the western Pacific. Her crew launched in the evening and flew through the night, combing the vast expanse of ocean with radar and visual scans for any sign of the stranded craft.
Their plan was to fly the P-3 to the "prudent limit of endurance", minimising fuel consumption so they could continue the search during daylight. After hours of searching unsuccessfully, with the sunrise approaching and the crew still a three-hour flight from land, just 15-20 minutes of fuel remained in the tank before the crew would have to turn for home.
"It was like something out of a movie," Donnell recalls. "The sun rose and we saw a flare off in the horizon."
Following the flare, the crew finally laid eyes on their target: a now mast-less vessel. Donnell dropped to an altitude of 300ft and the crew opened the P-3's main cabin door, pushing out a life raft containing food, water, and an emergency radio.
During their return flight, Donnell's crew were able to make radio contact with a passing cargo ship and direct it to the stranded boat. They were credited by the navy as having saved three lives aboard.
Donnell estimates that she was 25 at the time and describes the experience as one of her most memorable. Although there were technical procedures for that kind of rescue, it was not something on which P-3 crews trained at the time.
After six years of flying, Donnell was ready to resign from the navy to pursue a career in maritime law and settle down with the boyfriend who would go on to become her husband.
Then the terrorist attacks of 11 September, 2001 happened. At the time, Donnell was assigned to a squadron outside of Washington, DC and combat aircraft were patrolling the skies above the capital city. During a flight briefing for other pilots operating in the area, Donnell learned about an opportunity to fly the largest transport in the USAF inventory – the C-5 – in Upstate New York, not far from where her then-boyfriend was living.
DIFFERENT GALAXY
She applied for a position in the 105th Airlift Wing and was accepted into the New York Air National Guard. After attending C-5 flight training in Oklahoma and settling in New York's Hudson Valley, Donnell married and started a family.
She quickly ran into the obstacles of being a mother and a working pilot, describing these as very challenging.
"Especially with strategic airlift, you're gone for five, six, seven days," she says. Once or twice per month, the unit would fly resupply missions to Afghanistan and Iraq and then return cargo to the USA, as the nation rapidly expanded worldwide operations during the so-called Global War on Terror.
Donnell describes that mission as gratifying, delivering combat supplies to troops overseas. She delivered heavy armoured vehicles, helicopters, and even a special patrol boat used by USN SEAL commandos.
Sometimes the missions were more humanitarian in nature, such as bringing the families of US service members stationed in Europe home for summer vacation.
By far, Donnell says the most emotionally moving missions she flew during that time were flights to repatriate the remains of American troops killed overseas.
"It really makes you take stock of what you're doing when you see to those transfer cases with flags," she says.
In fact, three C-17 aircrews from the New York air guard were sent to Afghanistan in the summer of 2021, during the chaotic and deadly US withdrawal from the country. During the retreat, 13 US marines and dozens of Afghan civilians were killed in a suicide bombing at the makeshift perimeter around Hamid Karzai International airport in Kabul. One of the New York aircrews brought home the marines' remains.
Donnell was not personally on that mission, but says that when she saw a photo of several marines kneeling while that aircraft taxied toward take-off in Kabul, it invoked the same feeling of solemnity she had when flying repatriation missions.
In her new role commanding New York's "citizen airmen", Donnell is now a strategic policy planner on top of overseeing the air guard's operational units. Her top priority is securing funding to recapitalise its LC-130 'Skibird' turboprops.
Flown by the 109th Airlift Wing in Schenectady, the Skibird resembles a standard C-130 with one notable exception: there are large metal skis surrounding the landing gear.
The USAF only has 10 operational LC-130s in its fleet, all of them belonging to the New York air guard. The 109th's mission is to resupply remote outposts in the snowy high latitudes of the Arctic and Antarctica.
The first such mission was flown in 1975, delivering cargo to a network of early warning radar sites in Greenland. In 1988, the first mission to the southern-most continent was flown by the unit, with full responsibility for Antarctic deliveries coming in 1998. After 9-11, it was called on to deploy emergency response personnel to nearby New York City less than 24h after the attack in Manhattan.
Today, the 109th's Skibirds still support scientific research missions in Greenland and Antarctica. During the austral summer, the transports will make the 11,000 mile (18,000km) trip from New York to Antarctica several times. The route takes five to seven days, with stops along the way in California, Hawaii, American Samoa, and New Zealand.
The first LC-130 was fielded to the New York air guard almost four decades ago, in 1984. The aircraft delivered all the materials for the current US station at the South Pole, which Donnell describes as being akin to a space station.
Donnell is qualified on the LC-130 and has herself made several trips to Antarctica, including three landings at the South Pole. She says an LC-130 ski landing on open snow is bumpy, equating it to a seaplane landing. However, crews can also land on groomed "ski-ways" that are much smoother.
But Donnell says an LC-130 take-off from snow is unlike any other aircraft. Pilots must adjust the flaps to get the nose of the aircraft pitched upward from the snow, a manoeuvre she says is not standard in any other aircraft. The unique physics associated with the Skibird's landing skis, which have a much greater surface area than conventional wheeled landing gear, necessitate the move.
Snow creates substantially more friction than tarmac. Combined with the added surface area of landing skis, the two factors produce extra drag that must be overcome to achieve take-off. Manipulating flaps to get the forward landing gear off the ground allows the aircraft to gain ground speed faster.
Donnell says she has heard anecdotally of one LC-130 take-off that took five miles to achieve lift. Earlier flights occasionally used an external rocket system known as jet assisted take-off (JATO) to overcome that challenge. That system is rarely used now, after a C-130 propeller modernisation allowed the aircraft to produce more thrust.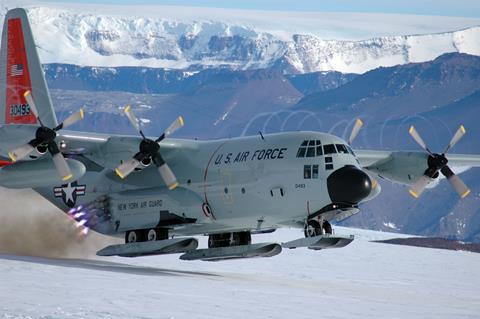 The USN's Blue Angels aerobatic display team has also previously used JATO on their demonstration C-130, known colloquially as "Fat Albert".
Revitalising the LC-130 fleet is among Donnell's top priorities during her command, noting the small fleet size and the oldest examples being almost 50 years old.
Donnell describes the Skibird as a "priceless national treasure", both in historic terms and for the current operational capability it brings to the table. She points to increased competition in the Artic between the USA, Russia, and China as providing an immediate need to support the ageing LC-130 fleet.
It is a topic that has been on her mind for years. While earning her master's degree, she authored a paper laying out the strategic imperative of expanding the nation's fleet of icebreakers, which has since been funded, and the USAF's LC-130 fleet.
Arctic assets and polar competition are now hot topics in US defence policy circles, but Donnell laughs recounting the feedback she received from her professor at the time.
"You needed to write on something more strategically relevant," she recalls him saying.
Donnell also wants to deepen the New York Air National Guard's foreign partnerships. The US Department of Defense runs a State Partnership Program, aligning state national guards with foreign militaries around the world to improve training and skill development, while also building strategic relationships.
Troops from the Florida National Guard were helping to train the Ukrainian army in February when Russia invaded the nation. The guardsmen were relocated to Germany, where they eventually began training Ukrainian counterparts on weapons supplied by the USA.
Donnell says the unexpected outbreak of hostilities in Ukraine is a timely example of how impactful the State Partnership Program can be to the national security, both for partner countries and the USA.
The New York National Guard is partnered with Brazil and South Africa. Donnell says the Brazilian military is interested in expanding its space capabilities, which she believes can be strategically beneficial to both parties.
INSPIRING OTHERS
Beyond her technical objectives for her time in command, Donnell hopes that she can serve as an inspiration to young women, but also young men, who may be considering a career in aviation or the military.
She acknowledges the groundbreaking nature of her latest professional accomplishment, but is hesitant to put too much emphasis on her gender.
"The airplane doesn't care if you're a man, or a woman; black or white," Donnell says. "The passengers don't care either. They just want someone to operate the aircraft safely and return them home."
However, she is not shy at all when it comes to describing the unique opportunities of a career in the military and the Air National Guard specifically, calling her own experience phenomenal.
"I have had experiences that most of my classmates at Georgetown only read about in the newspaper," she says. "Responding to tsunamis in Japan, taking a cargo to the South Pole. Those are adventures that most people read about in a fiction novel."
Donnell does have a piece of advice for anyone interested in turning that kind of fiction into their own reality.
"You can't wait for someone to bring it to you," she notes. "You have to pursue it."