In the aftermath of the Soviet Union's collapse and subsequent break-up, its once-powerful state-owned aerospace industry did not escape the stresses of that process. As parts of the union became independent nations again, they took with them their share of that industry – and in Russia itself, many of its aviation interests ultimately ended up in private hands.
But in recent years this trend has been reversed, with all of the country's aerospace businesses now controlled by the state-owned holding company Rostec.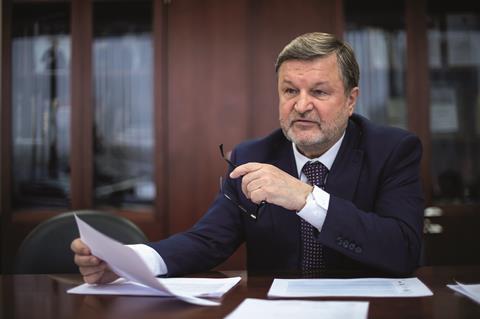 Within its aviation cluster sit the designers and manufacturers of fixed- and rotary-wing aircraft and aero-engines – United Aircraft (UAC), Russian Helicopters and United Engine (UEC) – plus suppliers of avionics, communications equipment, and so on – essentially a supply chain able to provide almost everything required for an aircraft.
STATE OWNERSHIP
There are clearly arguments for and against state ownership of an entire industry – particularly one that seeks to compete on the global stage – but, says Victor Kladov, director for international co-operation and regional policy for Rostec, the effective renationalisation of the sector was needed to allow it to recover from the disruption of the post-Soviet era.
"The reality is that only very large players survive in the global aircraft market, and the success of these companies depends mainly on how important they are for their respective state. The aircraft industry brings technology, jobs, added value and taxes to the countries where it operates. Russia is no exception here," he says.
"In our country, the state turned out to be the most interested player in consolidation. As a result, design bureaux and aircraft factories have started working more effectively [together], and will do so even more in the future. I consider this to be a positive outcome."
Consolidation is also necessary to facilitate effective competition with western rivals, he argues. While in the military market – in particular MiG and Sukhoi – Russian airframers have been "successfully competing with world leaders for a long time", in the civil sphere "we are still catching up", he observes.
"Unfortunately, there was a difficult period when our aviation industry was practically destroyed and the market was left at the mercy of foreign suppliers," Kladov says. "That was true across the entire spectrum of high-tech industries," he adds.
DOMESTIC PUSH
That is now changing, he says. Russia's next narrowbody airliner, the Irkut MC-21, "even uses a number of technical solutions that are not yet used by our global competitors."
With the re-emergence of a domestic industry, Russia has also been able to institute a policy of import substitution, swapping western-sourced aircraft components for those built at home. "The share of imported components in our military equipment has already been practically reduced to zero. The same will eventually apply for the civilian segment," says Kladov.
The development provides the twin benefits of being better economically for Russia, and, given the strained relations between Moscow and the West, it also mitigates against any sanctions that could be imposed by external governments.
For example, development of an updated variant of the Sukhoi Superjet 100 – the SSJ-New – sees around 97% of the imported components on the regional jet switched for those of Russian origin, "making the aircraft more cost-effective".
Most notable among the changes are the replacement of the Superjet's current SaM146 engines – which are built by the PowerJet joint venture between Safran and NPO Saturn, part of UEC – with the Aviadvigatel PD-8.
That powerplant is in turn based on the PD-14, which is being developed for the MC-21 as an alternative to the Pratt & Whitney PW1400G. While the narrowbody will enter service with US-built engines, flight-tests of a PD-14-equipped MC-21-310 version began last year.
Also on the MC-21, imported composite material has been supplanted by domestically-produced carbonfibre. "Recently, the first 17.5m [57ft] outer wing panel of MC-21-300, made entirely of Russian composite materials, was delivered to the Irkutsk aircraft plant to be installed on the aircraft this year," Kladov says.
Similar moves have been instituted by Russian Helicopters too, where domestic engines are being offered in place of western powerplants. But the word alternative is key: Kladov sees it offering customers a choice.
CUSTOMER CHOICE
"This does not mean that we are striving to completely abandon all imports. The optimal scenario for us is to give our customers the choice to use components from different manufacturers, in accordance with the best international practices," he says.
"In general, our foreign partners are still fulfilling their obligations. But Russian new generation aviation systems are being developed simultaneously, which reduces the risk of breaches in contracts."
Additionally, Rostec still remains open to collaboration with western partners, he says, pointing to its long-standing relationship with France's Safran. "Over the decades, we have built a high level of mutual trust and understanding, and hope that in the future we will continue to develop this synergy," he says.
"We are definitely open for co-operation and ready to expand mutually beneficial relations. This will allow the cluster not only to strengthen its positions, but also to acquire relevant competencies and enter the world market for aircraft engines, components and avionics."
In many ways, the recent rebuilding of Russia's domestic aerospace industry has been enabled by its knitting together under Rostec, says Kladov – both through increased efficiency and ultimately through making its products "more attractive to the market".
Although both Russian Helicopters and UEC had been owned by the holding company for some years, a decision was taken in 2018 to also incorporate UAC.
The cluster's creation was "of paramount importance both for Rostec and for the country as a whole", Kladov claims.
"We were able to unite advanced design and manufacture competencies for engines, avionics, all necessary material components, planes and helicopters.
"The aviation cluster is doing an enormous amount of work. It covers the whole production cycle, from design and manufacturing of individual components and systems to finished aircraft," he says.
That will also extend to service and support activities, as "experience suggests that there is a strong correlation between aircraft sales and the quality of after-sales service offered throughout the product lifecycle."
Further consolidation is also taking place at company level. Russian Helicopters has, for example, brought its Mil and Kamov design houses together as the National Helicopter Centre and UAC "is undergoing an extensive corporate transformation" to centralise management, eliminate duplicate functions and "expand the co-operation between production facilities for more efficient implementation of aircraft-building programmes," says Kladov.
A unified aviation and engineering and design centre will also be created in Moscow, incorporating UAC's storied design bureaux, including Ilyushin, MiG, Sukhoi and Tupolev. Kladov insists these brands will "not disappear" but will be strengthened by the move.
"The only goal of this reform is to make our aircraft industry stronger and more competitive. We assume that the combined optimisation effect from the ongoing transformations in the next three years alone should reach 130 billion roubles," he says.
Indeed, the success of a strategy such as this is borne out in the balance sheet. In a "difficult" 2020 characterised by pandemic-driven disruption, the total consolidated revenue of all the companies in Rostec's aviation cluster stood at around Rb1 trillion ($14 billion) – representing over half of the holding company's Rb1.9 trillion total.
FINANCIAL GROWTH
UAC increased its revenue by 23% to Rb401 billion; Russian Helicopters saw its global market share increase to about 14% and turnover hit Rb144 billion; and UEC grew revenue by 10% year on year to Rb287 billion.
At Rostec, total consolidated revenue increased by 6% to Rb1.9 trillion, with the expectation that will top the Rb2 trillion mark in 2021. Last year, net profit margin was 5.9%, against a forecast 3.9%, while EBITDA stood at 15.1% – around Rb286 billion – against a predicted 11.3%.
Crucially, however, money is being ploughed back into the business. As Kladov points out, "an industry such as aircraft construction has a long-term investment cycle".
"In order to bring breakthrough products – such as engines or aircraft – to the market in a few years, it is necessary to invest in the appropriate technological base and developments today, and this is what we are doing," he says.