In her first meeting shortly after joining what was then known as ST Aerospace Services Company (SASCO) more than 15 years ago, Lee Hui Fung recalls entering a meeting, notebook in arm, and taking a seat among the many men in the room.
Shortly after, a male attendee turned to her and asked: "Are you the minutes taker for the meeting?"
It was an innocuous question, but one that has stayed in Lee's mind.
In a similar incident, Lee was walking the hangar floor days after she joined SASCO as a marketing and programme manager, when she greeted an elderly male cleaner. He returned the greeting, before politely asking her: "Are you the [lady] who is replacing the administrative assistant because she has gone on maternity leave?"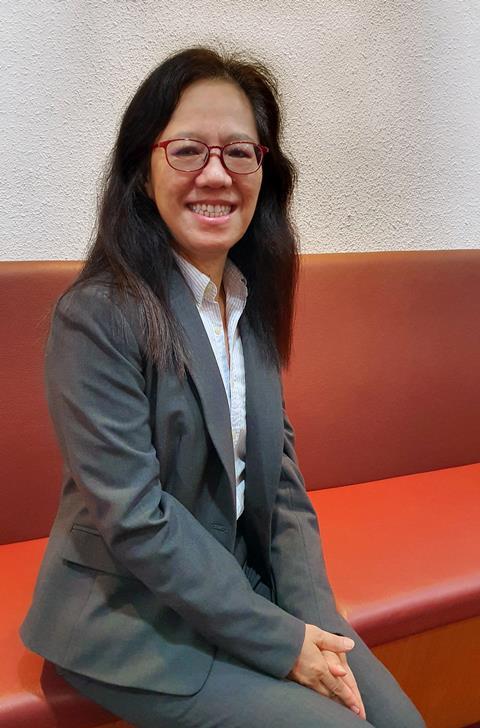 Recounting these incidents, Lee, now vice-president of Smart MRO at ST Engineering's aerospace division, tells FlightGlobal she felt more "amused" than offended or "humilated" by the questions.
Still, it showed the perception that "women's role in MRO and aerospace is always about playing the supporting role", says Lee.
"You're [seen to be] either a secretary, in the finance department, or in human resources," she adds.
Lee entered SASCO, now known as ST Engineering Aerospace Services Company, in 2003, after moving over from ST Engineering's Engineering and Development Centre (EDC), which she joined after graduating with a master's degree in engineering.
Coming from the research-centric work environment in EDC, it could not have been a more "stark contrast" for Lee upon entering the operational part of the business at SASCO.
At EDC, Lee says about 80 to 90% of her colleagues were engineers by training, of which about 30 to 40% were female.
By contrast, in 2003, upon joining SASCO, Lee realised there was nary a female engineer working in the hangars.
So she took it upon herself to push for change on the shop floor, after realising that this was not the norm in European countries such as Germany, where female engineers in the hangar were a common sight.
"I questioned management, and soon enough, we had female licensed engineers… we started taking them in, under apprenticeships and trained them," Lee recalls.
AEROSPACE 'BY CHANCE'
Listening to the excitement in Lee's voice as she takes us on an impromptu hangar tour at the end of the meeting, it is hard to imagine that her foray into the aerospace industry was purely "by chance".
"I liked math [and] science, and my two elder brothers also studied engineering, so in a way, I was influenced," she says. "I wanted to become a teacher actually," Lee discloses.
She finished her undergraduate studies at the National University of Singapore, studying mechanical and production engineering, before pursuing her master's degree at Singapore's Nanyang Technological University, specialising in composites.
In 1993, as she neared completion of her master's degree, her professor told her of a job opportunity at ST Engineering, and felt that she fitted the bill, given her background in composites engineering.
"Coming into [ST Engineering], I asked myself, would I be here for two years, or maybe five years? But here I am, close to 30 years already," Lee says.
Her first project in ST Engineering's EDC was the development of the then-Eurocopter EC120 helicopter, a joint venture between Eurocopter, ST Engineering, and the China National Aero-Technology Import and Export Corporation (CATIC).
She was also part of the Boeing 757 freighter conversion programme at the EDC, focusing on stress analysis of the conversion design.
Then she moved to SASCO, where she spent a good 15 years, rising to the position of deputy general manager of the unit.
At SASCO, Lee oversaw a number of key programmes, including MD-11 passenger-to-freighter conversions, as well as the 767 Boeing Converted Freighters. In 2018, she was appointed to her current role to oversee the unit's smart MRO initiatives.
Reflecting on her journey in aerospace, Lee acknowledges she has come a long way since the days of being mistaken on the hangar floor for an administrative assistant.
"I can tell you that now, when I go down to the hangar, I feel very good because everyone will say hello…When I chair a meeting, [people] don't treat me any differently," she says.
She credits having supportive mentors and bosses at work – something she hopes will be more commonplace in the future.
ENCOURAGING SIGNS
Lee is also encouraged by the increasing gender diversity in the MRO and aerospace engineering sector in Singapore, including at ST Engineering.
"It is an encouraging sign that there are more and more [women in aerospace], but I always wish there are even more," says Lee, noting that Asian countries tend to have a lower level of women in the aerospace industry.
Another area she sees as equally important is retaining the female talents that enter the industry.
"How do you move them to the next level [to] become the leaders? This is not easy… because there are so many obstacles to discourage them. And our job is… to help them to clear the path and [let] them feel that this is a possibility," she adds.
For women wanting to pursue a career in aerospace engineering, she has this advice: "Whatever the guys can do, the girls can do as well."
She adds: "Your start [will be] a bit rocky: people will tend to doubt you [and question your abilities]. If you have an interest, just go for it, follow your heart, work on it, and let your results speak for itself."
"I mean, look at me and the stories I have shared!" she adds, breaking into laughter.