Royal New Zealand Navy (RNZN) Lieutenant Michaela Curtis has found her calling as an observer aboard the Kaman Aerospace SH-2G(I) Super Seasprite helicopter.
Curtis has served in the navy for seven years, but her early role had nothing to do with aviation. As she puts it, her job as a warfare officer was "driving ships".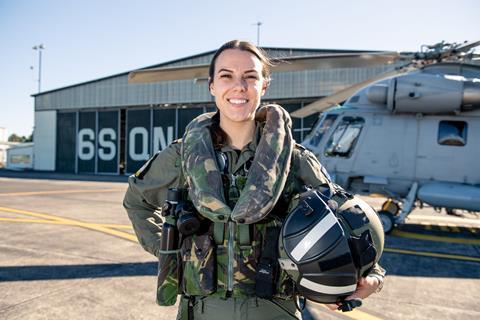 Then a pivotal moment came: Curtis was asked to snap some photos of a Seasprite operating from the ship on which she was embarked.
"I pretty much thought that that's exactly what I want to be doing," she says of that moment. "And so I submitted a trade change request."
Although getting close to shipboard helicopter operations was an epiphany for Curtis, it was by no means her first exposure to aviation. She recalls that in her teenage years she was hooked on the television series Air Crash Investigation.
The year following her decision to move from ships to aircraft was challenging. She underwent a comprehensive training course conducted by the Australian military to learn how to be an effective observer aboard a Seasprite.
Her flying during this time was mainly in a Royal Australian Air Force (RAAF) Beechcraft King Air 350 operating from East Sale. According to the RAAF, the type plays a key role training air force mission aircrew and navy aviation warfare officers.
"I found it the most demanding and exhausting year of my life, but I still loved every minute of it," she says.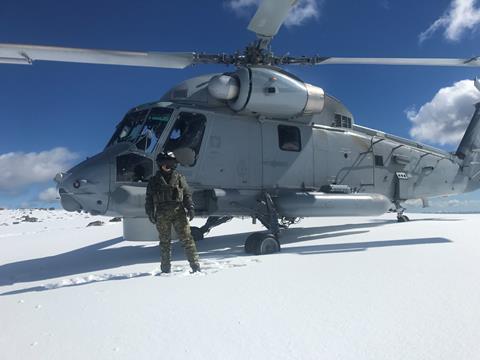 The work prepared her for operating in the Super Seasprite, of which the Royal New Zealand Air Force's 6 Sqn has eight examples. The rotorcraft are operated by navy personnel, but maintained and supported by the air force. Though she is not qualified as a pilot, Curtis has a broad range of duties as an observer within the helicopter's three-person crew, which includes the pilot and loadmaster in the rear cabin.
As an observer, her work involves planning missions, and then using the full capabilities of the helicopter.
"The observer's job is to utilise aircraft sensors to act as an extension to the ship's sensors, search for targets, or conduct reconnaissance," she says. "Then, if required, utilise the weapon systems to neutralise targets. Tactical employment of the aircraft is the primary role."
When embarked, Curtis also plays an important role advising the ship's commanding officer on the optimum way to employ the helicopter. In addition, she informs the ship's crew on all aspects of aviation.
The Super Seasprite's primary weapon is the Kongsberg Penguin anti-ship missile. It can also carry torpedoes and a machine gun. In addition to anti-surface warfare, other missions include maritime patrol, surveillance, search and rescue, force protection, and utility operations such as winching and load lifting.
Formerly a mainstay of the US Navy, the SH-2G is today flown only by the militaries of Egypt, New Zealand, Peru and Poland. Wellington acquired its examples in 2015, noting that the type offers a good mix of capability for the country's needs.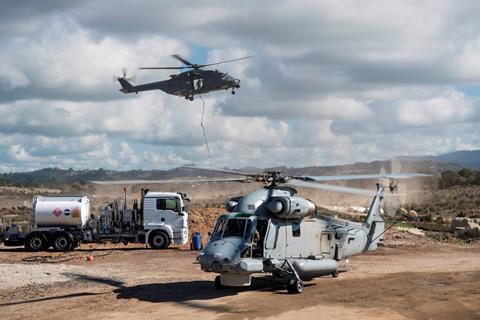 "They are a very powerful small-ship helicopter and extremely reliable," says the New Zealand Defence Force. "They have the ability to operate from the larger seven of the navy's nine ships and have excellent range. They and their earlier-model predecessors have proven themselves in RNZN operations at home and around the South Pacific over the last 20 years."
Asked about her most interesting experience on the type, Curtis recounts a mission called Operation Endurance, for which she was embarked on HMNZS Canterbury. The mission involved sailing south to resupply New Zealand's sub-Antarctic islands: Campbell Island and the Auckland Islands.
Curtis had been to the islands in her pre-aviation days, experiencing them from the bridge of a ship. Initially she was not thrilled about the trip, given it would involve heavy sea states and incessant rain.
She soon realised, however, that the remote islands offer quite a different experience from a helicopter.
"The experience I had was just so different from when I was stuck on the bridge of the ship," says Curtis. "I got to see so much more. I got to land on all the islands, I got to see all the wildlife. And then because we were transporting equipment and personnel to and from the islands every day, I felt like this time I was just a much more integral part of the mission."
As for how more young women can be brought into the aviation sector, Curtis feels that people tend to find passion on their own, but believes that women with careers in aviation can serve as role models for girls.
She also notes that the Royal New Zealand Air Force has a programme called School to Skies, which promotes the field of aviation to female students. The programme gives 40 students a chance to spend six days with the air force learning about aviation roles such as engineers, technicians, and pilots.
Curtis herself is sometimes involved in efforts to educate children about the New Zealand military and aviation. From time to time, Super Seasprites land in sports fields at schools, with the crew discussing their work with students.
Curtis is keen to stay in aviation and aims to become an instructor in the navy. She is also studying for a Bachelor degree in aviation management in conjunction with a diploma in air traffic services. Longer term, she aspires to work as an air crash investigator.
"Aviation is definitely my passion," she says. "I can't see myself doing anything other than some kind of job within the industry."

Greg Waldron is the Asia Managing Editor of FlightGlobal, responsible for the team's airline, aerospace, and defence coverage across the region. He has worked at the company since 2009. In the airline space, Waldron has conducted dozens of interviews with airline leaders in the Asia-Pacific. He also covers areas such as MRO and safety. On the defence beat, Waldron has written extensively about the rise of Chinese airpower, as well as broader airpower developments around the region, such as indigenous fighter programmes, and regional acquisitions of foreign equipment. In addition, Waldron writes about commercial helicopters in the region and business aviation. Waldron worked has a freelance journalist with his work appearing in several business publications.
View full Profile