A veil of secrecy has finally been lifted from Northrop Grumman's B-21 Raider – the next-generation stealth bomber under development for the US Air Force (USAF).
Joined by senior members of the US Department of Defense, Northrop revealed what it describes as the world's first "sixth-generation" military aircraft on 2 December in Palmdale, California.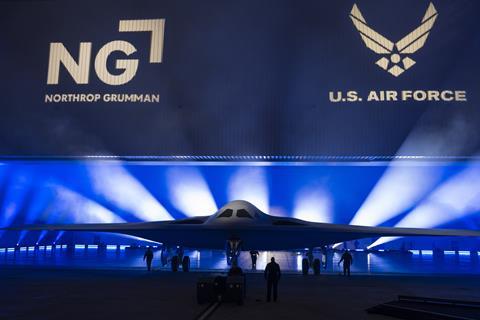 "The B-21 looks imposing," said US secretary of defense Lloyd Austin, with the streamlined aircraft behind him. "But what is underneath the frame and space-age coating is even more imposing."
The unveiling came some 34 years after the B-21's predecessor and current USAF strategic stealth bomber, Northrop's B-2 Spirit, had made its first public appearance – also at the company's Palmdale prototyping and testing facility, which sits on the USAF's Plant 42 site northeast of Los Angeles.
Chief executive Kathy Warden says Northrop drew heavily on its decades of experience in producing and maintaining the B-2 to create "the most-capable stealth bomber ever built".
DESIGN OPTIONS
The Raider retains the flying-wing design of its predecessor. Warden notes that Northrop settled on the final configuration after exploring thousands of options to meet the USAF's requirements for cost and low-observability.
The B-21 test aircraft, which remained in its hangar during the event, has its engine intakes greatly recessed above the wing, reducing exposure to ground-based radars.
The USAF has set a price target of $500 million per airframe, valued in 2010 dollars; equating to $631 million each currently, and Warden says Northrop is on track to meet that goal.
USAF chief of staff General Charles Brown says the price ceiling is critical to ensuring his service can build-out a sufficiently deep B-21 fleet.
"One hundred is the number we're shooting for," says Brown, adding: "it will be the backbone of our bomber fleet."
"We had a very firm cost target," adds USAF acquisition chief Andrew Hunter. "That will allow us to meet our number needs." He insists that the focus on price does not come at the expense of low-observability requirements, which were "central to the design process".
Northrop aims to perform the B-21's first flight in 2023, using a "production-representative" test aircraft, named T1. The company currently has six airframes in various stages of production and testing, with a first delivery projected for the mid-2020s.
The USAF has selected Ellsworth AFB in South Dakota as its B-21 main operating base, and aims to reach initial operating capability before the end of this decade. Its 28th Bomb Wing currently operates 27 Boeing B-1Bs from the site.
"It's going to be a huge transition from B-1: conventional-only to low-observable, nuclear-capable," says 28th Bomb Wing commander Colonel Joseph Sheffield.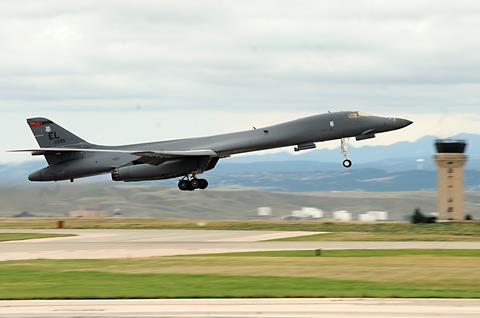 The base will be adding around 1,700 personnel and undertaking construction projects worth $1 billion over the coming decade. That work will include adding an operation and maintenance campus, flight training unit, simulator facility and mission planning centre, along with a new weapons generation facility and command post with communications and control equipment for the nuclear deterrent mission.
"It's over 30 big projects", Sheffield says, with six "well under way", including building a new hangar to house B-21s.
CRITICAL TOOL
The Raider is the USAF's first new combat aircraft since 2016, and only its fourth new crewed strike platform since 1990. Service leaders say it will be a critical tool of deterrence – and, if necessary, combat power – for decades.
"Even the most-significant air defence systems will struggle to detect the B-21 in the sky," says Austin. The type's advanced sensor systems will also allow it to play an important role in other realms of warfare, including intelligence and battlefield management.
Hunter says the Raider "will allow us to carry out our missions in the Indo-Pacific, and anywhere in the world".
Retired Major General Doug Raaberg, a former B-2 pilot and current executive vice-president of the Air and Space Forces Association, predicts the new bomber will become "the essential backbone of US national security strategy".
"Its ability to get in, stay in and kill targets – to hold targets at risk – is how we deter potential adversaries from taking the chance of war with the United States and our allies," he says.
While the Raider shares some general features with the B-2, its manufacturer says the new aircraft has substantial upgrades.
Last September, Northrop vice-president Thomas Jones said the new model's flight computer represents a "leap forward" that will allow for faster and easier upgrades. Engineers also designed the aircraft for ease of maintenance, making it a "daily flyer".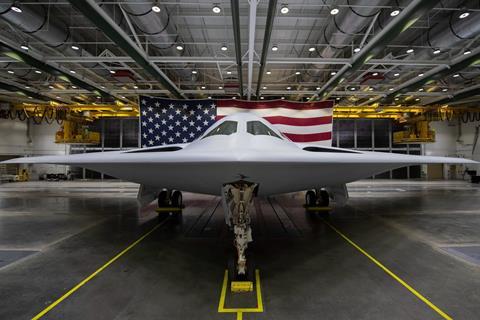 The B-2 – priced at $2.2 billion per airframe – requires a costly and labour-intensive regimen of regular maintenance to retain its stealthy surface and low-observable profile, including a major overhaul every nine years.
The USAF only acquired 21 B-2s, despite initial plans for many more, in part due to spiralling costs during the type's development.
Some observers see the need for an even larger B-21 fleet. "We need a force of at least 200 aircraft," says retired Boeing B-52 pilot Mark Gunzinger, now with the Mitchell Institute for Aerospace Studies.
GLOBAL REACH
Northrop says 90% of the USAF's current bomber fleet is incapable of "penetrating enemy air defences and reaching targets anywhere in the world", referring to its 72 B-52s and 43 B-1Bs.
Randall Walden, director of the USAF Rapid Capabilities Office, in May 2022 described the B-21 test aircraft as the "most production-representative aircraft, both structurally and in its mission systems, at this point in a programme, that I have seen in my career".
While the programme has several years to run before becoming operational, the message from Washington policy makers is clear.
"We are again making it plain to any foe," says Austin. "The risks and costs of aggression far outweigh any gains."
Joint crew prepares for milestone flight in 'production-representative' aircraft
The next milestone for the B-21 programme will be the first flight of its T1 test aircraft, scheduled for some time in 2023. Flying that first mission will be US Air Force (USAF) and Northrop Grumman test pilots Lieutenant Colonel Clifton Bell and Chris Moss.
"There's a few things in your career that you never expect to happen," says Bell, who flew both the Boeing B-52 and Northrop B-2 bombers for the USAF. "Having the opportunity to bring forward the next generation of bomber is very exciting."
Ahead of T1's debut flight, Bell says the test crew are spending plenty of time in high-fidelity simulators, to both evaluate and "get comfortable" with the prototype's flight-control systems.
"Being able to execute those systems and know the difference between something going wrong and the way the system operates", is how Bell describes one of the pair's current main points of focus. "We spend a lot of time in simulators working on that."
"We've had the chance to help develop the flying qualities of the aircraft," says Moss of simulator evaluations conducted over the past six months. Both he and Bell provide feedback to engineers to help improve the "handling qualities of the airplane", he adds.
Although the Raider's first flight will be made using a test aircraft, Northrop stresses that it aims for the "production-representative" aircraft to be as close to a final model as possible.
Part of that effort has involved extensive testing of flight systems using a Gulfstream GV business jet testbed.
Northrop and the USAF say that by doing as much of that testing as possible "off the [B-21] aircraft" will reduce risk and save costs.
However, Moss notes: "We can't validate the model until we actually go and fly. So all we can do is be prepared for everything that we think may be a problem, or could be a problem."
Supporting the flight team are thousands of engineers, who are developing the data objectives and test points that the crew will achieve in the course of the Raider's flight debut.
The USAF says ground-based testing has proceeded smoothly, with the digital models used ahead of loads calibration having proved to be "very accurate" to real world performance.
"We're really happy with the results," says Lieutenant Colonel Joshua Schneider, deputy B-21 programme manager.