Military personnel are trained to always expect the unexpected, but even the sharpest-minded defence planners could not have foreseen the swift pace and staggering impact of the coronavirus pandemic during 2020.
Rather than having normal day-to-day activities or combat commitments at the front of their minds, the world's air forces, armies and navies had to rapidly react and adapt to the health crisis as it swiftly swept the globe after emerging in China's Wuhan province.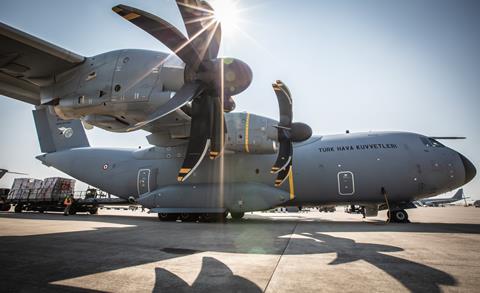 Ordinarily tasked with transporting personnel and equipment in support of military operations, strategic and tactical transport aircraft were re-assigned to more critical supply flights, delivering personal protective equipment, medicines and ventilators from locations including China and Turkey.
MEDICAL EVACUATIONS
The US Air Force (USAF) called on assets including the Lockheed C-5M, Boeing C-17 and Lockheed Martin C-130 to perform such work, while European air forces deployed Airbus Defence & Space A330 multi-role tanker transports (MRTTs) and A400M airlifters. Along with commercial airliners, these assets were also used to repatriate nationals stranded overseas by snap lockdowns, and to conduct medical evacuation tasks.
With every part of the globe affected, most militaries also made full use of their combat helicopter fleets to transfer vital equipment or help move critically ill patients to hospital.
While the commercial air travel sector all but closed down as the effects of Covid-19 spread, air force mobility assets have rarely been in greater demand.
Another example of air forces responding to crises was the reaction to a devastating explosion in the Lebanese capital Beirut on 4 August. Multiple nations conducted relief flights, among them Brazil, which delivered supplies using its air force's new Embraer KC-390 transport.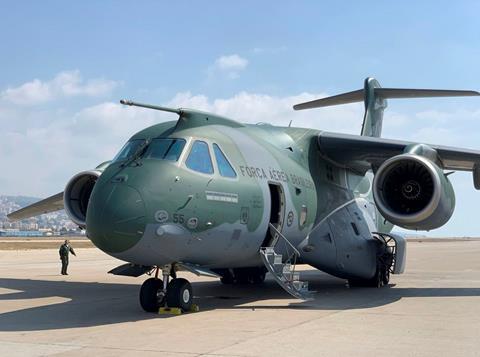 Underscoring the importance of such assets, Cirium fleets data shows that the number of in-service transport aircraft increased by 36 over the 12-month period since our last snapshot, to a new total of 4,301; some 8% of the total fleet.
Overall, the global active military inventory contracted by 327 aircraft during the same time, to 53,563 as of 30 September. This represented an overall cut of 0.6%; up from the 0.2% downsizing seen between our 2019 and 2020 reports.
Latin America experienced the sharpest decrease, with a 3% cut over the review period, to 3,231. This was almost entirely due to 83 retirements made in the combat helicopter category.
However, Brazil's first of a currently contracted 36 Saab Gripen E/Fs arrived in the country and was formally welcomed and flown during a ceremony in Brasilia on 23 October. Locally designated the F-39, the type will enter squadron service with the nation and for Sweden during 2021.
Europe's 8,485 aircraft total was down 129 from last year; a reduction just short of 1.5%. Key contributors included the retirement of 24 Belgian Dassault/Dornier Alpha Jet trainers, and the French air force almost halving its fleet of the same type, from 97 to 57 units.
The French army's combat helicopter fleet underwent major change, with its Aerospatiale SA341/342 inventory trimmed from 165 examples to 112 and 55 SA330s removed from use, leaving only 19. The nation's navy also ceased operations with the Westland Lynx; a reduction of 23. Meanwhile, Paris ordered the first Airbus Helicopters H160s: an initial four for its navy as an interim measure.
BUDGETARY SQUEEZE
Germany trimmed its army's Bell UH-1D fleet from 101 to 62 aircraft, and axed a plan to replace its air force's Sikorsky CH-53s with either the Boeing CH-47F or CH-53K, due to budgetary factors. However, Berlin ordered a pair of Airbus A321LRs, for troop transport and medical evacuation duties, and on 11 November signed for a further 38 Eurofighters.
Elsewhere on the continent, Greece has introduced a large fleet of 57 second-hand Bell OH-58s since our last directory. And in September, Athens announced its intention to acquire 18 Dassault Rafale B/C fighters.
The Irish Air Corps introduced three Pilatus PC-12NGs to use, and ordered two Airbus Defence & Space C295 maritime patrol aircraft to replace its current CN235s. And Hungary signed for two KC-390s, to be delivered in 2023-2024.
Luxembourg received its lone A400M, to be operated within a joint unit with the Belgian air force, which will take seven of the Atlas transports.
Assets directly assigned to NATO are recorded within Europe's fleet total, as it is the operating location for the Alliance's pooled airborne early warning, tanker/transport and strategic transport fleets. Currently involving six countries, the NATO Multinational MRRT Fleet organisation received its first two refuelling boom-equipped A330s, based at Eindhoven, the Netherlands, with at least seven additional aircraft to follow.
Long-term Lockheed F-16 operator Denmark has ordered its first two Lockheed F-35As, from a planned 27-unit acquisition. This came as the in-service fleet of F-35s passed the 500 mark – by one example. However, the stealthy type does not yet appear in our Top 10 listing of combat aircraft, as 175 of the in-use examples are dedicated for use as training assets.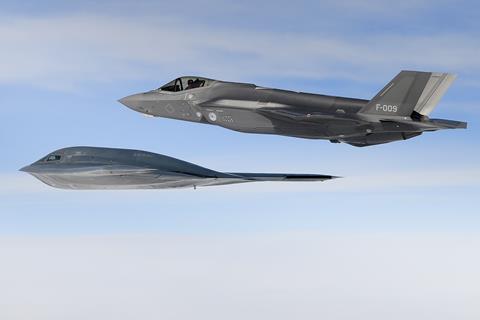 An overall fleet reduction was also recorded in the Asia-Pacific region, with the removal of 190 aircraft equating to a 1.3% reverse, to 14,807.
New additions were outweighed by the retirement of 92 MD Helicopters MD500s by the Japan Ground Self-Defence Force, 75 army UH-1s and 10 navy Aerospatiale SA319s by South Korea, 23 Sikorsky S-61 Nuri rotorcraft by The Royal Malaysian Air Force, and Vietnam's removal of a combined 39 Mil Mi-24 and UH-1H helicopters.
The Indian air force retired the last of its Mikoyan MiG-27s; 42 were listed in our last directory. This leaves only 12 of the type in use, with the air force of Kazakhstan. New Delhi also disposed of its last 12 MiG-23 trainers.
Pakistan's navy retired its seven Fokker F27 special mission aircraft, while boosting its fleet of ATR 42 maritime patrol assets by one unit, to three. The Royal Australian Air Force also waved off its last Pilatus PC-9 trainers, having replaced them with 49 of the more capable PC-21 turboprop.
Meanwhile, the gap between the Asia-Pacific and North America fleet totals came down by 150, to just shy of 1,200 units.
North America's 42-unit in-year decrease – to 13,609 – represented a 0.3% reduction. This came as the US Navy trimmed its veteran Beechcraft T-34 trainer fleet from 75 aircraft to just 13, and the US Marine Corps in October ended operations with its Bell AH-1W attack helicopters. Our previous directory included 59 of these, now succeeded by the service's AH-1Zs. The Marines' last five UH-1Ns also were stood down.
In a move that will influence its future fleet mix, the USAF ordered its first Boeing F-15s for more than two decades, as part of a plan to eventually acquire up to 144 in the new F-15EX standard.
Russia and its Commonwealth of Independent States allies added a combined 13 aircraft, with their collective total rising to 5,029. The Russian air force received its first two Mi-38 transport helicopters, but reduced its fighter fleet by more than 80 Sukhoi Su-27/30s, leaving 342 of the type, plus trainers.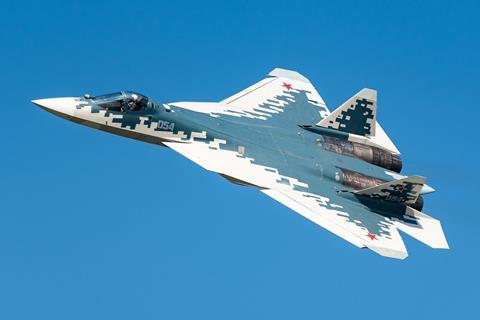 Middle East-region nations added 57 aircraft, representing a 1% growth, to 4,341. This included the Egyptian air force introducing its first five Su-35 fighters, and the United Arab Emirates (UAE) the lead two of a potential five Saab GlobalEye surveillance aircraft; heavily adapted Bombardier Global 6000s. Kuwait also introduced a pair of Airbus Helicopters H225Ms, part of a 30-unit acquisition.
Cairo removed all but one of its Aero Vodochody L-39 trainers from use, cutting 48 examples. The Royal Jordanian Air Force retired its Casa C-101 jet trainers; last year it operated 13 of the type, which now remains in use with only the air forces of Chile and Spain.
A 1% fleet increase was recorded among African nations, partly due to Morocco boosting the size of its operational Dassault Mirage F1 fleet, from single figures to some 46 examples. The continent now has an active inventory of 4,061 military aircraft.
The equipment changes recorded around the globe have had minimal effect on our Top 10 rankings, bar nudging China into second place – ahead of Russia – in terms of combat aircraft fleet size. This is despite a slight adjustment by Cirium regarding the
Su-27 family, with improved data recording 39 Chinese air force examples as UBK-model trainers.
However, Beijing's 11% combat aircraft share, with 1,571 units, still sits a great distance behind the USA's 2,717 (19%), in both volume and capability terms.
NUMERICAL ADVANTAGE
Indeed, the US military heads all six of our Top 10 equipment categories by nation, with its comparative advantage including owning 36% of all special mission aircraft and 76% of the world's in-service tankers.
The placement of two national listings have been adjusted for our 2021 report, which overall includes information about 160 countries. Eswatini is the new name for the former Swaziland, while Macedonia replaces the prior use of the title North Macedonia.
Available to download, our annual fleet review excludes those aircraft recorded by Cirium as not being in day-to-day use, such as the more than 4,900 examples known to be in storage, or involved in or awaiting upgrade. We also do not list the 685 assets permanently assigned to performing VIP duties, or employed by military-operated airlines in some nations.
Other omissions include almost 350 aircraft detailed as permanently tasked with supporting research and development or experimental tasks, including for France's DGA defence procurement agency, Germany's WTD 61 test unit and the UK's Qinetiq.
A further 270 aircraft recorded as for calibration or mapping, firefighting, police support, satellite tracking, skydiving, surveying, target towing, or weather reconnaissance duties are also excluded.
This year, we also have reduced the number of potential future orders included in our listing, narrowing our focus to show those deals which are the subject of a letter of intent to order only. Less definite commitments have been excluded in the majority of cases, with exceptions including showing the full programme of record commitments made by F-35 partner and customer nations, plus the UAE.
Supporting documents
Click link to download and view these files