Taking place in London's Docklands from 14-17 September, the biennial DSEI event marks the first opportunity for the defence industry of the UK and 30 other nations to gather since the emergence and global spread of Covid-19.
For national aerospace champions such as BAE Systems and Rolls-Royce, this year's tri-service show also is the first such chance to highlight their activities since the UK Ministry of Defence (MoD) earlier this year detailed its spending priorities until 2025.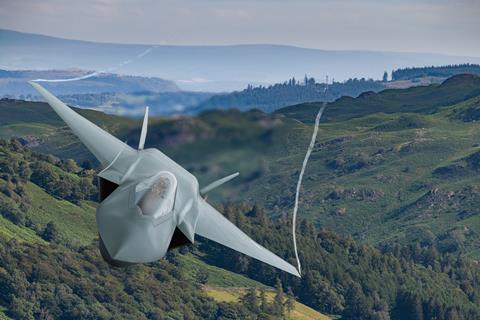 Published in late April, the Command Paper – titled Defence in a competitive age – outlined major investment plans linked to a key future combat air system (FCAS) project, plus requirements to replace multiple aged aircraft types and increase spending on space-related activities.
With the UK Royal Air Force (RAF) planning its largest ever presence at a DSEI show this year, FCAS will be one of the major talking points. Team Tempest industry partners BAE, R-R and the UK arms of Leonardo and MBDA will all be present, buoyed by the project's recent advance into its concept and assessment phase.
Intended to deliver a new manned fighter, along with supporting elements such as unmanned "loyal wingman" vehicles, new-generation smart weapons and an underpinning "combat cloud" data network to co-ordinate operations, the UK's FCAS is being targeted at operational use from 2035.
The UK's four-year spending plan details more than £2 billion ($2.77 billion) in investments linked to FCAS, with additional commitments to come from partner nations Italy and Sweden. The three partners last year signed a memorandum of understanding to further their collaboration on the project.
On 29 July, Team Tempest was awarded an initial £250 million concept and assessment-phase contract. According to the MoD, this will enable the group to "define and begin to design the future combat air system; mature technologies; invest in the skilled workforce; [and] secure digital and physical infrastructure and tools that underpin cutting-edge digital engineering, data and software-based systems".
"The concept and assessment-phase contract will see the partners develop a range of digital concepts, embedding new tools and techniques to design, evaluate and shape the final design and capability requirements of Tempest," BAE says.
PROGRAMME CHOICES
These activities are planned to "enable major programme choices by 2024", the MoD says. Team Tempest has previously outlined a schedule to deliver a full business case proposal before the end of 2025, following a so-called alternate systems review process.
Team Tempest's industry partners have identified smart and heavily automated manufacturing, artificial intelligence and machine learning as among supporting technologies for the future capability.
The MoD says that such a 'digital first' construct means that "simulated design and testing can significantly reduce costs, time and emissions".
On 4 August, the Italian government approved its defence spending plan until 2023, and outlined a roughly €2 billion ($2.35 billion) investment in the Tempest programme over the next 15 years. Its commitment will value €20 million in each of the next three years, rising to €90 million for 2024-2026, and the remainder by 2035.
Rome says its participation will enable "exclusive access to a project of exceptional ambition", describing it as "the champion of innovation" across multiple high-technology sectors.
"A late membership, on the other hand, could preclude the achievement of the optimal production and offset share, certainly requiring additional charges," its defence ministry notes.
Separately, the UK and Japan in late July signed an agreement "intensifying efforts to explore working together on power and propulsion" related to their respective Tempest and F-X fighter programmes.
Elsewhere in the combat air sector, the UK's defence planning document left open questions regarding the strength of its commitment to the Lockheed Martin F-35, stating only that it will "grow the Lightning II force, increasing the fleet beyond the 48 aircraft that we have already ordered".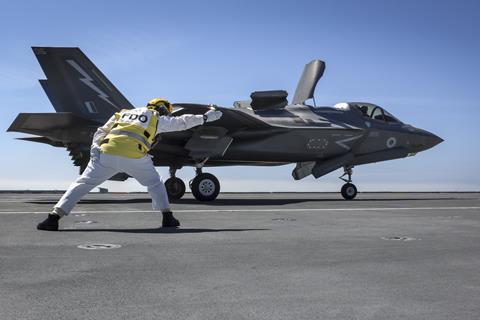 The UK's programme of record requirement for the F-35 stands at 138 examples, with its orders to date being for the short take-off and vertical landing (STOVL) B-model variant. But with plans to also retain seven operational Eurofighter Typhoon squadrons and introduce Tempest from 2035, observers have long questioned the scale of its Joint Strike Fighter purchase plans.
"With aircraft currently contracted [for delivery] through to 2025 there simply was no need for an additional commitment to buy at this stage," Lockheed noted following the spending plan's release. "Contrary to recent speculation, the [UK's] F-35 programme of record has not been cut."
Lockheed has to date delivered 21 of the UK's contracted F-35Bs, with the type operational with the RAF's Marham, Norfolk-based 617 Sqn.
With the UK's Lightning force having recorded its first combat activity in the Middle East in mid-2019, 18 June saw the formal restoration of its Carrier Strike capability, when F-35Bs struck targets after taking off from the Royal Navy's (RN's) HMS Queen Elizabeth.
The 65,000t vessel is currently leading the RN's Carrier Strike Group 21 deployment, with STOVL jets from 617 Sqn and the US Marine Corps' VMFA-211 unit embarked. Due to conclude late this year, the debut operational commitment for the RN's first of two new aircraft carriers has also involved participating in exercises with allied navies in the Mediterranean, Arabian Gulf and Asia-Pacific region.
Meanwhile, BAE says it is close to achieving full-rate production of aft fuselage sections in support of the global F-35 programme. Conducted at its Samlesbury plant in Lancashire, the activity involved shipping 70 structures in the first half of this year.
"We remain in lockstep with Lockheed Martin," BAE Systems Inc chief executive Tom Arseneault said during a half-year earnings call in late July. "We are expecting to hit peak [output] sometime next year," he adds, with further work also pending as part of a Block 4 retrofit activity. BAE's US unit has also to date supplied more than 800 ASQ-239 electronic warfare and countermeasures suites for the stealthy, fifth-generation fighter.
Another hot topic at this year's show will be a looming requirement to replace the RAF's veteran fleet of 23 Aerospatiale Puma HC2 support rotorcraft. The MoD in April confirmed that the type will leave use between 2023 and 2025, replaced via a New Medium Helicopter (NMH) procurement.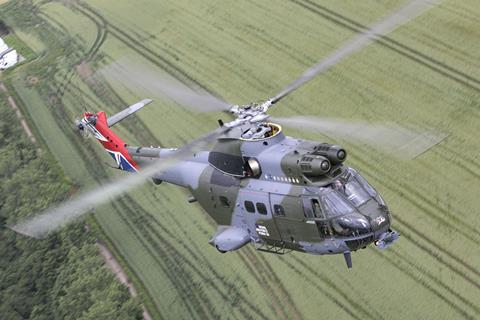 Leonardo Helicopters' presence at the 2019 show had as its centrepiece a full-scale mock-up of the AW149, which it eyes as a solution for the Puma replacement need. The company is currently showcasing the capabilities of the super-medium-twin using a common platform demonstrator for the AW149 and commercial AW189. If successful, it will produce the military variant at its Yeovil final assembly facility in Somerset.
But Leonardo is not alone in its pursuit of the NMH deal, which also seeks to replace a trio of niche rotorcraft fleets operated by the British Army. Airbus Helicopters is pitching a 'westernised' H175M, pledging to replace Chinese-supplied content used in the civilian variant with UK-built parts.
And, eyeing the rapid nature of the procurement, Lockheed Martin's UK operation also is considering making an offer based on the Sikorsky UH-60 Black Hawk. The US manufacturer had offered the type prior to a 2008 decision for Airbus to extend the life of the RAF's Puma fleet.
BLACK HAWK BID
Describing the Black Hawk as offering "a stunning, unparalleled capability," Lockheed Martin UK chief executive Paul Livingston says: "The question is, could we find a way to market it in the UK that is acceptable to meet the challenges of the [nation's] Defence Industrial Strategy?"
Published alongside its Command Paper, the MoD's Defence and Security Industrial Strategy emphasises supporting the UK's so-called prosperity agenda, with the creation and retention of skilled jobs to receive increased weighting during contests.
Highlighting its need to acquire new medium transport helicopters, the RAF earlier this year marked the 50th anniversary of Puma operations. It also passed 40 years as a CH-47 Chinook user, and will greatly extend this after ordering a new batch of 14 Block II examples from Boeing in an MH-47G-equivalent standard.
Also in 2021, the UK service completed its first 20 years of operations with the Boeing C-17 strategic transport. The RAF flies eight of the type from its Brize Norton airlift hub in Oxfordshire.
The MoD in May awarded Boeing an extension to a synthetic training service for the C-17, which will support its continued use until 2040.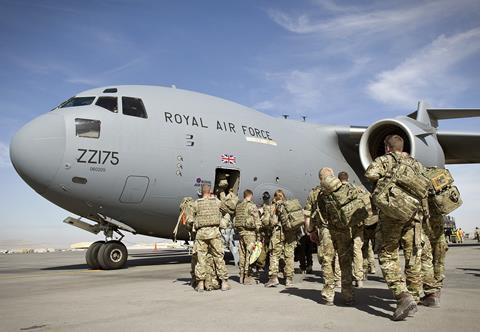 Worth £247 million, the agreement will expand the provision of instruction for aircrew and engineers at an International Training Centre in Farnborough, Hampshire, which hosts equipment including a full-flight simulator. Boeing has provided the service since 2014.
Along with Airbus Defence & Space A400M Atlas turboprops, the C-17s will play a critical role beyond the departure of the RAF's Lockheed C-130J tactical transports, all 14 of which are to be retired by 2023, under an accelerated schedule.
ISTAR TRANSFORMATION
Transformation of the RAF's intelligence, surveillance, targeting and reconnaissance (ISTAR) capabilities is also ongoing. This year has seen the departure from use of its Raytheon Sentinel R1 ground surveillance and Boeing E-3D Sentry airborne warning and control system aircraft fleets, with the latter's replacement – a trio of Boeing 737-based E-7A Wedgetails – not due to arrive until 2023. The UK's originally five-strong E-7A acquisition was earlier this year reduced by two airframes.
Completion of the P-8A Poseidon MRA1 maritime patrol aircraft fleet – the last four of nine adapted 737NGs are due to arrive at RAF Lossiemouth in Scotland before year-end – will be a welcome development for the service.
Its next major ISTAR fleet introduction will be of the General Atomics Aeronautical Systems Protector RG1 remotely piloted air system. To replace its current Reapers, the new type will be certificated to fly in non-segregated airspace, and all weather conditions. The UK in late July ordered the remaining 13 Protectors from a 16-strong acquisition, building on an initial award placed last year.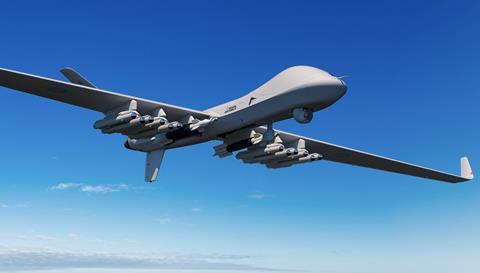 Operations with the Waddington, Lincolnshire-based Protector fleet are scheduled to begin in 2024.
DSEI organiser Clarion Defence in early August announced that this year's event will include 654 companies, from 31 countries. More than 250 of these exhibitors will be present for the first time, it adds.
"We will have 20 international pavilions" on the exhibition floor, says event director Grant Burgham. The four largest of these are for US, UK, German and French industry, with others including Belgium, Estonia, Greece and Portugal.
The exhibition space at the ExCel centre will be divided into five zones: aerospace, land, naval, security, and joint; along with Future Tech, manufacturing, medical, and space hubs.
Additional reporting by Dominic Perry
Flight International is DSEI's Aerospace Zone media partner. To access all our coverage around the event, visit FlightGlobal.com/dsei