NATO's unwavering support for the besieged government in Ukraine has been evidenced through its member states' continued supply of advanced equipment to Kyiv through more than a year of conflict – but by early March had stopped short of providing fighter aircraft.
In an impassioned speech to the UK parliament's House of Commons on 8 February, Ukrainian President Volodymyr Zelensky urged Ukraine's allies to "do everything to provide our pilots with modern planes".
"Every air force pilot is a king – they are so few, they are so precious," he said, after presenting parliament with a helmet used by a Ukrainian fighter ace, inscribed with the words 'We have freedom – give us wings to protect it'.
"I trust this symbol will help us for our next coalition – a coalition of planes," Zelensky said. "And I appeal to you and the world with these most simple and yet important words: combat aircraft for Ukraine. Wings for freedom."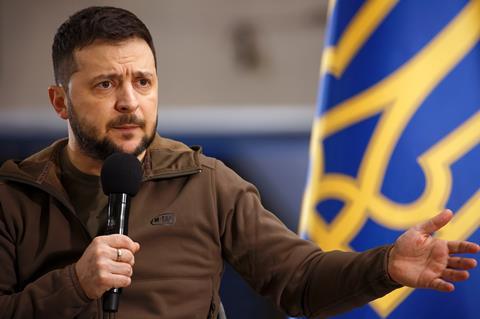 During a meeting earlier the same day, UK Prime Minister Rishi Sunak had offered to "bolster the UK's training offer for Ukrainian troops, including expanding it to fighter jet pilots to ensure Ukraine can defend its skies".
"The training will ensure pilots are able to fly sophisticated NATO-standard fighter jets in the future," the UK Ministry of Defence says of the commitment, without providing further details.
Sunak's pledge prompted calls from his two immediate predecessors in the role, Liz Truss and Boris Johnson, to go a step further and commit to supplying Kyiv with some of the Royal Air Force's (RAF's) Eurofighter Typhoons.
Zelensky's call for the provision of modern combat aircraft came just weeks after multiple NATO nations had pledged to equip Kyiv with main battle tanks. This was spearheaded by a UK promise to transfer British Army Challenger 2s, and was followed by offers of German-built Leopard 2s from Finland, Poland and Spain, plus US Army M1 Abrams vehicles.
ESCALATION WORRIES
Now under way, the delivery of tanks from NATO members will build on the earlier transfer of large amounts of equipment, ranging from small arms ammunition and anti-tank missiles to sophisticated air-defence systems.
In the early days following Russia's February 2022 invasion, Poland touted a proposal to supply Kyiv with its RAC MiG-29 fighters, although NATO's leadership at that time opposed any such transfer, amid concern that it could widen hostilities with Moscow.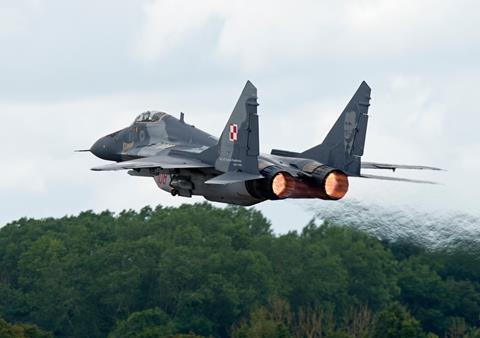 Warsaw is conducting a rapid acquisition of 48 Korea Aerospace Industries FA-50 light combat aircraft to replace its MiG-29s and Sukhoi Su-22s, with an initial batch of 12 jets to be delivered from the third quarter of this year. The Polish air force also currently operates 48 Lockheed Martin F-16C/Ds as its most advanced defensive capability.
But while leaders including Sunak and US President Joe Biden have stated that "nothing is off the table", how well positioned might NATO states be to potentially spare some of their own vitally needed combat aircraft – and could Ukraine effectively field such transformational assets?
The Ukrainian air force's inventory totalled a combined 97 Soviet-era combat aircraft before the war, according to Cirium fleets data. These included MiG-29 and Su-27 fighters, plus Su-24 and Su-25 ground-attack aircraft.
Russia's early efforts to seize the country conspicuously failed to neutralise its enemy's air force, which remains capable of staging operations – albeit under degraded conditions.
The true scale of Ukraine's air force losses are unclear, with Kyiv closely guarding such sensitive information. But in a late-February report entitled Ukrainian innovation in a war of attrition, the US Center for Strategic and International Studies (CSIS) cites a figure of 57 combat jets having been lost since mid-2022.
The CSIS attributes this figure to research conducted by the Oryx group, which claims to have documented the loss of 18 of Kyiv's MiG-29s, 16 Su-25s, 15 Su-24s and eight Su-27s.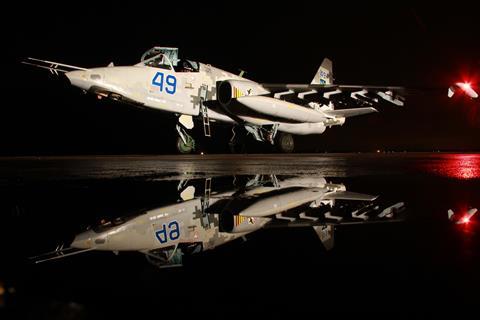 Losing such a high percentage of its aerial combat mass would represent a significant blow to Ukraine's hopes of capably defending its skies now, and also after the conflict concludes.
"With fewer aircraft available, each plane endures more sorties and wears down faster," the CSIS report's authors note. "Without replenishment from the West, Ukraine could lose the ability to defend its airspace and target Russian ground forces."
SURPLUS ASSETS
Noting that the US Air Force has current plans to divest more than a combined 200 of its Boeing F-15, Fairchild Republic A-10 and F-16 strike aircraft, the report suggests: "Ukraine could use some of these aircraft – along with trainers and spare parts – particularly for close air support missions to aid Ukrainian ground forces."
Our analysis of Cirium data shows that the US military has a 62% share of the combined 5,652 fighters operated by NATO members today, with Washington's forces accounting for a total of 3,503 jets.
With the nation's main operating bases having been targeted, Ukraine's remaining combat aircraft must operate from dispersed locations. Once airborne, they face the dual threat posed by air-defence systems and Russian air force strike aircraft armed with long-range air-to-air missiles. But also lacking air superiority above its neighbour's territory, Kyiv's adversary is largely restricted to deploying cruise missiles against targets from within Russia.
"What's interesting through the lens of Ukraine – those outside looking in would say – is that combat air hasn't turned up," observes Air Marshal Harv Smyth, the RAF's deputy commander (operations).
"What has been interesting to watch is the Ukrainians: their appetite to take attrition, to put themselves in harm's way, to deliver effect that they can only deliver with air, and their innovative way to be able to achieve temporal control of the air so that they can get in to deliver that effect and get back out," he says.
"Are you going to allow it all to be attrited in the first six months and have nothing left, if all you've got is a small air force? Actually, you want to keep those because they are quite precious assets to allow you to go after the killer blows when you can achieve them," he said during a Royal Aeronautical Society lecture in London on 1 February.
"It doesn't have to cost millions or billions," Smyth notes. "Some of this can be done quite innovatively for not that much money, and really have quite an effect on your adversary."
Referring to the Russian air force's performance in the war, he says: "We know a lot of their equipment – particularly the newer stuff – is very good. The Su-35 is a very good aeroplane. [But] it's about the person in the cockpit, and how well they have been trained.
"Things that we would have expected to see happen with those types of high-end platforms have not necessarily panned out that way."
Looking beyond the conflict, he asks: "What does this look like after the shooting stops? Ukraine might not be configured to police its own skies." He draws a potential comparison with the Dayton Accords, which led to NATO performing air policing duties over the Balkans after the war in Kosovo ended in 1999.
Should momentum continue towards equipping Kyiv with advanced combat aircraft, analysis of the current 30 NATO nations exposes the significant challenge facing any would-be equipment donors.
Twenty alliance members have fighters in current use, while another nine – Albania, Estonia, Iceland, Latvia, Lithuania, Luxembourg, Montenegro, North Macedonia and Slovenia – lack such a capability.
Slovakia's government last year halted the use of its 10 remaining MiG-29s – and indicated a willingness to transfer them to Ukraine – but has 14 new F-16s on order.
SECOND-HAND JETS
NATO's eastern European members are rapidly phasing out their remaining Soviet-era combat aircraft. In addition to Poland's soon-to-depart MiG-29s and Su-22s, Romania plans to retire the last of its MiG-21s by mid-May. MiG-29 and Su-25 user Bulgaria is acquiring F-16s, and Croatia's MiG-21s will be replaced by ex-French air force Dassault Rafales.
The most popular suggested way to strengthen the Ukrainian air force would be for the service to receive used F-16s, but apart from the USA it is difficult to see where these could come from. Norway, for example, last year retired its fleet of A/B-model examples, but has sold 32 to Romania and another 12 to adversary training company Draken International.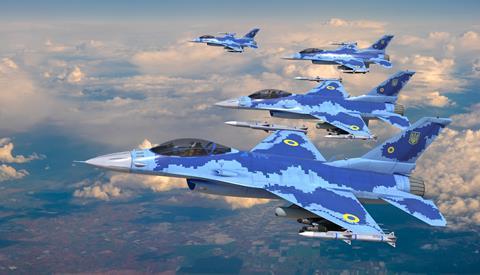 Other surplus F-16s freed up as several European nations transitioned to operating the Lockheed F-35 have been the subject of previous similar sales. The Netherlands is continuing its move towards being an all-F-35 force, while F-16 operators Belgium and Denmark will do the same in the coming years.
And any nation considering donating part of its critical fighter inventory should bear in mind that acquiring replacement new-build jets will typically incur a waiting time of at least three years.
So, could a "quick fix" solution be found via a UK donation of some of the RAF's oldest, Tranche 1-standard Typhoons? The service is scheduled to retire these jets by 2025, as it increases the number of short take-off and vertical landing F-35Bs in use.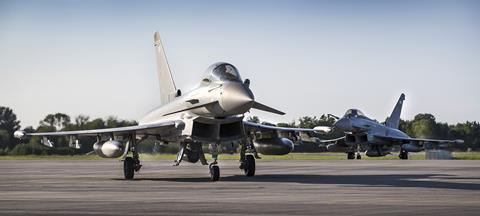 Being retired due to equipment obsolescence issues, the fighters could be used by Ukraine in a defensive counter-air role, but lack the ground-attack potential of newer production examples and cannot deploy MBDA's Brimstone and Meteor missiles.
In an article published on 9 February, Professor Justin Bronk of the UK's Royal United Services Institute described the potential transfer of RAF Typhoons as "a very expensive symbolic gesture".
OPERATIONAL LIMITATIONS
Bronk notes that the Typhoon's design – with underslung engine intakes vulnerable to foreign object damage – makes it "poorly suited to Ukrainian requirements" for austere operation. "It is designed for operations from relatively smooth runways and is not optimised for short-field landings on rough surfaces," he says, while adding: "The same goes for the F-16."
He also notes that as the Typhoon is "fairly complex to maintain", supplied aircraft would need to be accompanied by specialist support personnel and equipment located at bases "that would become prime targets for Russian strikes".
"Western fighters do offer a significantly enhanced capacity to push Russian fighters back further from the front lines and provide a better deterrent against future attempts to push deeper into Ukrainian airspace," he says.
"However, these aircraft will have to fly very low in order to avoid the Russian GBAD [ground-based air defence] threat, and so their missiles will be at a significant effective range disadvantage compared with Russian ones that are being launched from much higher up."
But, alluding to the recent multinational action on supplying main battle tanks, Bronk notes: "If Typhoon Tranche 1 is the symbolic silver bullet required to unlock such a deal, then the UK government must understand the costs for RAF readiness and capability of doing so, and urgently fund replacement aircraft, spare parts kits, munitions and engineering specialists to alleviate the impact on the core of the UK's combat air capability."
The calls to swiftly equip Kyiv with advanced Western fighters are unlikely to quieten down as the war continues, but they cannot gloss over the very substantial challenges faced during the introduction of any new aircraft.
"Kit is not the same as capability," Air Marshal Sir Richard Knighton, the RAF's deputy commander for capability and people, told the UK House of Commons Defence Select Committee on 1 February, responding to a question about supplying advanced equipment to Ukraine. "To deliver meaningful capability, you have to have the training, the support and the supply chain."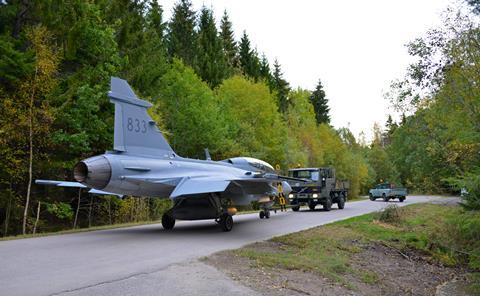 Others have pointed to the apparent suitability of Saab's Gripen C for the kind of dispersed and austere fighter operations now being staged in Ukraine, owing to Sweden's emergency road basing concept. NATO members the Czech Republic and Hungary each have 14-strong Gripen fleets, while Sweden has almost 100, plus 60 new-generation Gripen Es on order.
NATO EXPANSION
While it would seem highly unlikely that Stockholm would consider depleting its own air force strength at a time of heightened Russian aggression, both it and neighbouring Finland also are yet to join NATO. Their accession protocols have so far secured approval from 28 member states, with Hungary and Turkey yet to sign off on their addition to the alliance – an expansion that would be completed at a proposed record pace.
Ultimately, however, a decision on supplying fighters could come down to the USA, which today provides the largest amount of assistance to Ukraine in equipment volume and monetary terms, having so far pledged support worth more than $31 billion.
In the nearer term, Ukraine could indeed potentially field additional combat aircraft – but of the same kind that it already operates. With MiG-29s departing the fleets in Poland and Slovakia, such a transfer could help Kyiv to maintain critical operating mass for now, while longer-term measures are prepared.
But even that would fall short of giving the nation the equipment boost it needs to help propel it further on the path to victory and freedom.

Craig Hoyle joined Flight International in 2003, and has edited the now monthly title since 2015. He has reported on the UK, European and international military aviation sector for more than 25 years, and produces our annual World Air Forces directory.
View full Profile