Global SuperTanker Services' Boeing 747-400 is perhaps the ultimate heavy weapon in the never-ending war on wildfires. "We don't put out fires," says Dan Reese, president of the company that operates the world's largest water bomber, its capacity more than twice that of anything else on the market. "But we contain and control them."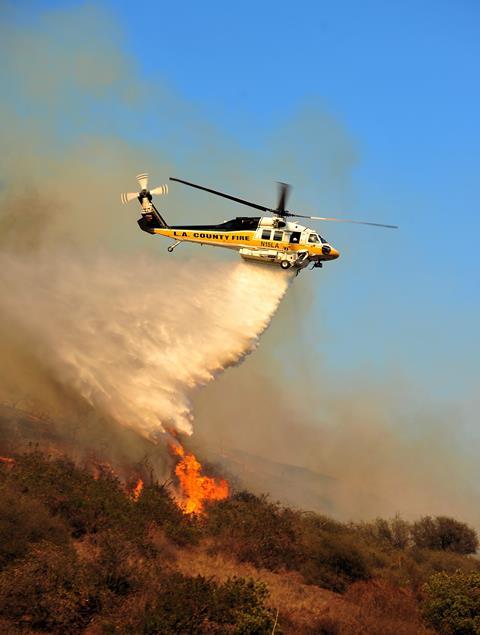 With tanks able to drop 72,700 litres (19,200USgal) of water or 66,300 litres of retardant, the jumbo freighter entered service in 2016 after the only other 747 firefighting aircraft, a -100, was scrapped when owner Evergreen folded in 2013. Reese says his SuperTanker can be dispatched from its Colorado Springs base to anywhere in North America in 4h 30min – or to almost any location globally in 20h.
HEAVY HITTER
It may not be the lowest cost and nimblest asset when it comes to aerial firefighting, but Reese insists that the 747's ability to make a devastating initial assault on a wildfire means its value is unmatched. "Diversity is the key in any firefighting operation," he says. "We never profess to be the best tool for everything, but we are an amazing tool for when people need a big hammer."
Recent years have seen the firefighting agencies' toolbox expanded with an array of new types. Aside from Global SuperTanker Services' 747-400, Canada's Coulson Aviation is introducing a fleet of Boeing 737 "Fireliners", which it fits out itself. At the 2018 Farnborough air show, Lockheed Martin unveiled its "FireHerc" a civil-certificated airtanker variant of its C-130J Super Hercules.
The latest generation of Lockheed subsidiary Sikorsky's Firehawk helicopter, the S-70i, has gone into operation with three Californian agencies. Meanwhile, another Canadian outfit, Viking, has introduced to service with Montana's Bridger Aerospace the first of up to six revamped versions of the CL-415 water bomber, previously built by Canadair and then Bombardier.
The CL-415EAF – or Enhanced Aerial Firefighter – is a modified, low-hours Canadair CL-415. The upgrade is a "bridge", explains Viking executive vice-president sales and marketing Rob Mauracher, to the in-development CL-515, the first "purpose-built aerial firefighter" in decades. British Columbia-based Viking plans to fly the amphibian – an all-new version of the CL-415 – in 2024.
Firefighting agencies and governments whose territories are prone to wildfires will welcome the additional choice on the market. After devastating fire seasons in Australia and California and global temperatures on a seemingly unwavering upward trajectory, authorities are braced for another gruelling campaign - and this year's challenge could be made tougher by the coronavirus crisis.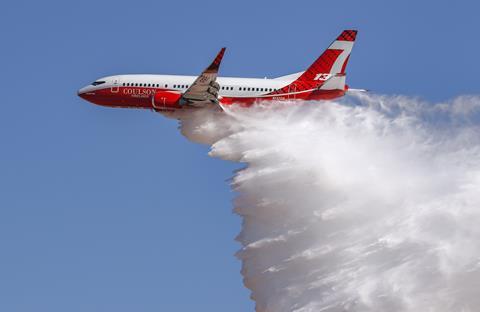 Ground-based firefighters are the foot soldiers in the fight against forest fires, and concerns over restrictions on billeting crews in close quarters could mean an expanded role for aerial assets as the northern hemisphere fire season gets under way. Whether this feeds through to greater demand for the services of operators – and ultimately new aircraft – depends largely on how bad the blazes get.
British Columbia-based Coulson converted its first former Southwest Airlines 737-300 in 2018 and the aircraft has seen action in both Australia and the USA. A second example was sold and delivered to the New South Wales government in August; Coulson will operate it on the state's behalf. A third aircraft is being modified by Coulson and will enter service in 2021.
Chief executive Wayne Coulson calls the Fireliner – which can deliver 15,000 litres of retardant from its twin tanks in less than 3s – the first "multi-purpose fire tanker in the world". It is certificated for 72 passengers, allowing firefighters to be flown to the scene of a fire. The conversion, which includes the installation of Coulson's RADS roll-on tanks, takes 43,000h at its Vancouver Island facility.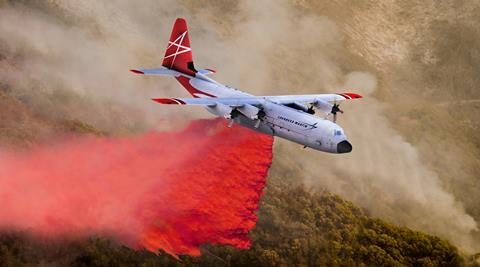 The company – which has 36 years' experience in aerial firefighting and also operates Lockheed C-130Js and helicopters – was in March awarded a multi-year contract with the US Forest Service to operate the Fireliner as part of the agency's Next Generation Large Air Tanker Services requirement.
VERSATILE ASSET
Mauracher dubs the CL-515 – which Viking had planned to launch around now but has delayed until the fourth quarter because of coronavirus – a versatile "multipurpose" aircraft for "year-round use" that can be adapted in 1h to a search and rescue platform using detachable pods. However, with its high wings and amphibious water-scooping hull, its primary role will remain as an aerial firefighter.
Bombardier sold the rights to its CL-215 and CL-415 to Viking parent Longview in 2016 after shipping the last of around 160 water bombers built from 1969 in 2014. Although not a new airframe, CL-415EAF modifications include a Collins Pro Line Fusion cockpit, new Pratt & Whitney Canada PW123AF turboprops and replacement of all "obsolete parts". The conversion takes 80,000h.
Bridger Aerospace is due to take delivery of its second CL-415EAF in June, two more in 2021 and a final pair in 2022. The governments of Indonesia and Saskatchewan have also ordered one each. The CL-415EAF will "keep people focused on the asset", as Viking focuses on the more ambitious effort to certificate and market the CL-515 as a replacement for older-generation water bombers, says Mauracher.
The new-build aircraft, for which Indonesia has six commitments, will deliver a 15% increase in efficiency over the EAF, he says, along with "enhanced corrosion protection", higher landing weight, and "a bunch of system changes" still being finalised. Mauracher says Viking is "working to sign up customers ahead of launch" and is in talks with the EU and several of the union's member states.
Peru and Romania are among those using Leonardo's C-27J Spartan as firefighters. Both nations have carried out operations using on-board Caylym Guardian containers: 1,000 litre corrugated cardboard boxes that can be dropped from rear-loading transport aircraft to create "an instant and accurate rainstorm", according to the Californian systems manufacturer.
Leonardo says the C-27J is in "continuous evolution" as a firefighter, with Simplex Aerospace's Fire Attack System the latest option. A 10,600 litre tank is installed in just over 1h via the rear loading ramp, with no major structural modifications, says Leonardo, giving the type "significantly lower acquisition and operating costs than a dedicated firefighting platform".
Leonardo is also working with the Scodev consortium – which includes Belgium's Sonaca and has been funded by an EU research grant – on a reel-and-hose scooping device that can be deployed at 100ft above the surface of an area of water, allowing an onboard tank to be filled "at high speed". Scodev hopes to have the system certificated this year.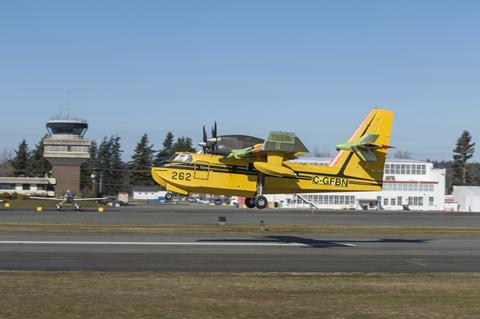 Derivatives of the Hercules transports have been used as firefighters – including by Coulson – for many decades, but the LM-100J, a modernised version of the Lockheed L-100 freighter produced between 1964 and 1992, is Lockheed Martin's first attempt to market a dedicated water bomber. The variant received its US Federal Aviation Administration certification in November last year.
The FireHerc variant of the LM-100J addresses a "boutique mission", says Tony Frese, vice-president business development for air mobility and maritime missions. "One of the reasons we jumped in is that there is a patchwork of different capabilities out there and we think we can take firefighting to the next level and be far more effective," he adds.
STRONG CONTENDER
Jet airliner derivatives are not optimised for firefighting, says Frese, because they "were never designed to fly low, slow and heavy at 200ft off the ground". However, the FireHerc's straight-wing design and turboprop engines "allows it to excel in supporting this challenging low-level, low-speed firefighting mission profile like no other large airliner in operation".
Lockheed, which is working on a night-time firefighting capability for the FireHerc, has not received any orders for the variant, but "we are working closely with governments". Frese adds: "This is the future of aerial firefighting – a purpose-built aircraft that will take us from where we are today to where we need to be, with a full spectrum of day and, eventually, night firefighting."
The S-70i Firehawk from sister company Sikorsky is the latest version of the firefighting Black Hawk derivative that has been in service since 2000. The State of California's CAL FIRE agency, Los Angeles County and the San Diego Fire Rescue Department added the S-70i to their fleets in 2019, and deliveries are continuing, with a total of 12 examples expected to be deployed for this year's fire season.
Enhancements on the new version include an automatic water snorkel reel system with a refill pump that can siphon 3,790 litres in 45s while hovering, rather than 1min on the original version, thanks to a different suction method. Manoeuvrability has been raised to 4g and tank control panels have been modernised to reduce pilot workload, says Jeanette Eaton, vice-president business development.
So far, sales of the Firehawk, which is modified for Sikorsky by Air Methods company United Rotorcraft, have been restricted to the USA. However, with 56 legacy Black Hawks involved in firefighting around the world and 3,600 military variants in service in 30 countries, Eaton believes the type has significant export potential.
One of the most widely used rotorcraft for firefighting is the Russian Helicopters Kamov Ka-32, with its distinctive coaxial rotor design. Sixty versions of the European-certificated Ka-32A11BC variant are in service. Among the users of the helicopter for firefighting purposes outside Russia are the South Korean forest service, Babcock in Spain, and Everjets in Portugal.
The Ka-32A11BC comes with 90 optional equipment items, says the manufacturer, including the Simplex system, SEI Industries' Bambi Bucket, and a water cannon, and, depending on the configuration, can carry up to 5,000 litres of water. Crews can also use night vision goggles.
Russian Helicopters sees the market for firefighting helicopters increasing, and says a modernisation programme for in-service Ka-32 helicopters should increase the family's appeal. The latest Ka-32A11M variant includes an avionics upgrade, higher performance Klimov VK-2500PS engines and a new fire suppression system. Test flights are scheduled for early 2021.
The advantages of a helicopter over a fixed-wing water bomber include being able to hover over a fire and discharge with a high degree of accuracy, as well as being able to take on water from "nearby bodies of water of practically any size", says Russian Helicopters. Rotorcraft have the added capability of being used in urban areas, especially for tackling high-rise fires.
Russia's other main firefighting aircraft in the fixed-wing world is the Beriev Be-200 amphibian. In late 2018, the specialist manufacturer – part of United Aircraft – won an order for four aircraft with six options from US firm Seaplane Global Air Services, with all but the first pair fitted with SaM146 engines from the PowerJet NPO Saturn and Safran joint venture that equip the Sukhoi Superjet.
The Be-200, which doubles as a cargo transport, received European certification in 2010, and has taken part in firefighting missions in China, France, Germany, Greece, Italy, Malaysia and Portugal. Russia's emergencies ministry has operated the aircraft since 2004 and has 12 in service. The government of Azerbaijan also has an example.
One of the most common firefighting aircraft is the Air Tractor AT-802F, with dozens deployed in the recent Australian fires. Swedish aerospace group Saab recently secured its first firefighting deal, a four-year contract from the country's civil contingencies agency to have two AT-802Fs on call for duties in Sweden and other EU countries.
The agency required an aircraft that could take on 3,000 litres of water in a scoop and reach anywhere in Sweden from its Nykoping base within 3h. Because of its size, the AT-802F can be filled from nearby water sources, says Ellen Molin, head of Saab's support and services unit. "It is important to have a prompt national response to forest fires, and this service is going to help deliver that," she adds.
Israel is another country that has found itself more at risk from wildfires. Elbit Systems late last year demonstrated a method of dropping liquid pellets from 500ft – four times higher than the normal altitude for water bombing. Unlike conventional liquid, the pellets do not evaporate before they hit the ground. This, says the Israeli firm, makes firefighting at night less risky.
In the exercise, Elbit and the firefighting squadron of the Israeli air force released 1.6t of biodegradable liquid pellets from an airborne dispenser over a burning field, achieving a "precise hit". Although an AT-802F was used in the trial, Elbit says the system would be compatible with almost any fixed- or rotary-wing firefighting aircraft.
Back in Colorado, Dan Reese and his colleagues enter the northern hemisphere fire season waiting for the phone to ring. The company's business model relies largely on call-outs and ad hoc hires, rather than exclusive-use summer-long contracts. This means that, in a busy fire season, the 747 SuperTanker could be in high demand around the world.
However, if the fire season is quieter than normal, such a hugely expensive asset can sit idle for much of the time, not earning money. It is a dilemma for the fire authorities – invest in keeping operators and aircraft on retainer as an insurance policy – even if they might rarely be required – or go to the market only when there is a need and risk the best weapons being unavailable.
Some believe that fire agencies have for too long relied on an existing pool of ageing aircraft and left the market to carry the risk when it comes to investing in newer equipment. In an ever-warmer world, where forest fires are increasingly proving a danger not just to wildlife and the environment but to human life, this approach may no longer be sustainable.