Montana Aerospace – which despite its name is headquartered in Switzerland – has been quietly making a reputation for itself in recent years. The aerostructures company was new to the rankings last time, but its acquisition of rival Asco of Belgium in early 2022 has seen it vault up the Top 100 and head the sales growth table with a revenue increase of 123%.
Part of Montana Tech Components – a technology group established in 2006 by Austrian entrepreneur Michael Tojner, which also owns battery maker Varta – Montana Aerospace has secured a series of impressive contracts with the likes of Airbus and Spirit AeroSystems. It supplies Airbus with structural aluminium structures up to 18m (59ft) long.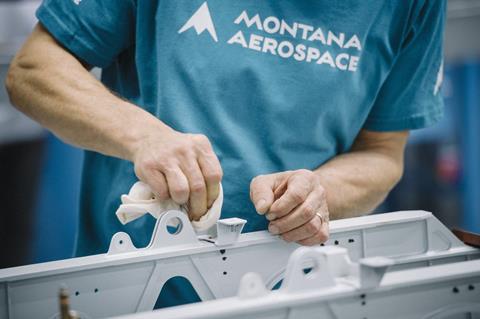 Asco – which had long been sought by Spirit AeroSystems – is a nearly 70-year-old business with around 1,100 employees and facilities in Belgium, Canada, Germany and the USA focusing on fuselage, wing and landing gear components. In its pre-pandemic heyday it generated revenues of up to €260 million.
Paris-based metals supplier Constellium records the second highest revenue growth in our survey at just over 87%. The company, which supplies materials for applications from automotive to soft drink cans, has benefited from the surge in post-pandemic demand for its aluminium alloys from aircraft manufacturers. It moves from 86th place last time to 67.
Third-placed Ametek may not be a household name, even in the industry, but could that change? It has notched up an impressive 76% revenue increase, rising into the top half of the main table at 48, from 60 last time. The Pennsylvania-based business's products range from airborne data systems to vibration-monitoring systems, cockpit instruments and displays, sensors and switches.
FLEET REFURBISHMENTS
In fourth and sixth place, respectively, in-flight entertainment specialist Panasonic – 61 in last year's survey to 55 this time – and seating supplier Recaro – 100 to 91 – have both done well out of a rapid rise in new aircraft deliveries and fleet refurbishments in 2022.
Fifth-placed ATI – formerly Allegheny Technologies – is another engine and aircraft materials supplier that enjoyed a fruitful financial year, moving up the Top 100 from 55 to 44, with its 2022 aerospace revenue reaching $1.87 billion.
Unlike our top operating margin table – which tends to reflect those Top 100 companies that are consistently and comfortably profitable – the sales growth table can vary greatly from year to year, affected, for instance, by one-off acquisitions or a strong performance rebound after a poor 12 months.
Only three of last year's fastest growers – Ametek, AIDC and Spirit AeroSystems – are featured in the list this time.
Supporting documents
Click link to download and view these files
Top 100 aerospace companies ranked by revenue
1

2

3

4

5

Currently reading

Montana Aerospace leads the sales growth climbers