In October 2001, Teara Fraser, a Canadian single mother of two, stepped out of her comfort zone and into a small aircraft for the first time.
Within minutes, the trajectory of her life fundamentally changed.
"All of a sudden I could witness the land from the air, like a bird," she says. "I told myself, 'I don't care what it takes to make this happen. I'm going to fly airplanes.'"
Within a year, Fraser was a certified commercial pilot, and began flying passengers in northern British Columbia. She was a young indigenous woman aiming high in a white man's industry.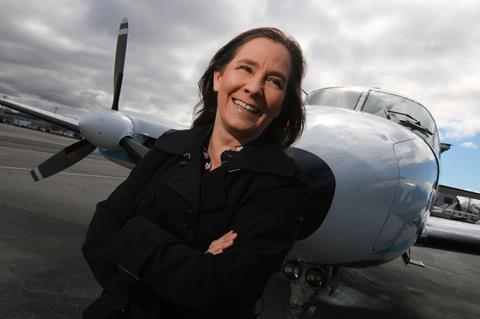 "Like most pilots, I had that dream of flying the big iron," she says. "I thought that the bigger the bird I can fly, the more I have arrived."
Born in Canada's Northwest Territories, the 49-year-old calls herself "a proud Métis woman" – a member of an indigenous group with a distinct collective identity, customs and way of life. In 2020, she was named one of Canada's "Top 25 Women of Influence".
She has arrived, but in ways she never imagined.
Fraser never went on to fly the big iron. With time, the dream shifted to a different, more-difficult path.
In 2010, she became an entrepreneur, founding an aerial survey company, which allowed her to combine two things she loved dearly: aviation and the land of her ancestors. After six years she sold the business and was on the verge of hanging up her wings.
"My wings literally gave me wings for everything else I did in my life," she says. "But being in this industry is hard, it's so tiring."
In the process of letting go, a rebirth happened.
"I began to imagine an industry that was different from the one that I was in – one that welcomed and respected matriarchal leadership," she says. "What would be possible in an industry where there is true diversity?"
"And so then I began to think about, how do I create that for myself?"
In 2019 she launched Iskwew Air, an air charter company that serves remote indigenous communities across British Colombia and neighbouring provinces and territories. "Iskwew" (pronounced "iss-kway-yo") is the word for "woman" in the indigenous Cree language.
She chose the name partly because her company is the first indigenous-woman owned airline. But it also celebrates broader achievements of women everywhere, she says, and efforts by those working to achieve gender equity.
Iskwew Air, based at Vancouver International airport, ferries goods and people throughout the vast, sparsely populated region in an eight-passenger, twin-engined Piper PA-31 Navajo Chieftain. Fraser has christened her aircraft "The Sweetgrass Warrior".
"You have gifts, and you have knowledge, and it is our responsibility to share those. So, for me, it was about, how can I take what I've learned and do good with it? How can I serve and uplift indigenous communities?"
The airline has continued operating through the coronavirus crisis, bringing urgently needed aid to far-flung towns and villages – places that often rely on air bridges to connect them to other population centres.
Iskwew is a member of the new Canadian Advanced Air Mobility Consortium (CAAM), a multi-stakeholder group committed to developing and building the sector in Canada.
"We want to be part of the ecosystem that is co-creating the next frontier of sustainable air transportation, bringing innovative technology solutions to serve social, ecological and environmental justice. The consortium is looking at equity as a core part of the model of rebuilding the air transportation system."
"We need airplanes," she says. "But we also need to be really thinking about reciprocity with the land and how we walk more gently on our Mother Earth." And in so doing, she hopes to be part of the solution that will "honour, uplift and energise [the] indigenous land story, sovereignty and stewardship".
Fraser hopes to pass her passion for aviation to young people, but at the same time takes the industry to task for its lack of diversity, and advocates for improved minority representation.
"Indigenous youth are the fastest growing demographic in our country. They are smart, resilient, creative, innovative, and they are grounded. They bring a whole new much-needed perspective," she says, adding that industry leaders must realise that they are better served with increased diversity of thought, worldview and wisdom.
And to the young people, she advises diligence.
Specialised scientific knowledge, like math or physics, is important, but that is not going to make someone the best at something. Even more vital than the subject matter is, as she puts it, "to show up with intention".
"The technical stuff can be taught," she says. "To be a pilot, you need to care about people and safeguard the well-being of others. Act with integrity and honesty, hold yourself to a high level of capability and accountability.
"I started my own company because I want to be able to show up as my whole self proudly, and I want that for everyone in our industry."

Pilar Wolfsteller, Americas Air Transport Editor, is based in Las Vegas and brings a pilot's perspective to her beat. She covers airlines across the hemisphere and her interests also include future-oriented sustainable aviation technology and urban air mobility projects. Pilar began her journalism career at the global news agencies Bloomberg and Reuters, and has reported from more than 50 countries.