Rafael's latest Spice missile identifies its target using artificial intelligence
Rafael has been a pioneer of precision weaponry since the era when Israel's survival was still in question, but one of the defence technology firm's latest products – the Spice 250 air-to-surface munition – takes intelligent munitions to a new level. So asserts Gideon Weiss, vice-president of business development, marketing and strategy at the company's air and C4ISR systems division. "It is the first AI [artificial intelligence] weapon," he says.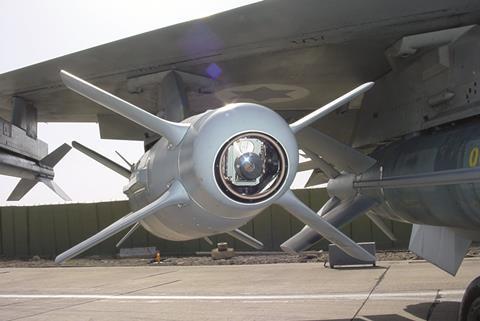 Last year, the Haifa-based company tested and demonstrated a new automatic target recognition (ATR) capability for the smallest member of a family that has been in service since 2003 and also includes the larger Spice 1000 and Spice 2000 variants. The new, deployable-wing missile, which is not yet operational, has a stand-off range of 54nm (100km) and carries a 75kg (165lb) warhead. It is intended mainly to attack moving targets and uses AI to "learn" specific target characteristics ahead of the strike.
Once the pilot has selected the target type to be attacked, the weapons are launched towards the vicinity of the threats, initially using an inertial navigation system. On approach to the target area, the weapons switch to ATR to detect the target itself. The weapon then hones in on its quarry either autonomously or with the involvement of an operator, aided by an ATR algorithm. "By scene matching it can make out a target with no human involvement," says Weiss.
Spice is one of Rafael's flagship ranges. Unlike many long-range air-to-ground rivals, the weapons use electro-optical (EO)/infrared-based guidance systems, rather than GPS, which makes them immune to GPS countermeasures. The original variant, the 454kg-warhead Spice 1000, was last year recognised by the government with an Israel Defence Prize. Rafael also signed a teaming agreement with Lockheed Martin in 2019 to jointly develop, market and manufacture Spice guidance kits for the US market.
Spike is another key weapon family for Rafael, which is also expanding. A tactical armament, it is described by Gal Papier, director of marketing and business development for precision tactical weapon systems, as the first anti-tank EO missile in the world. The product originated from an urgent government request in 1973 after Israel was threatened by Egyptian and Syrian tank units. Originally ground launched, its capabilities have been developed considerably since then and it has been deployed on helicopters since 1985.
Two of the latest variants, which will very much be talking points for Rafael at the Singapore air show, are the Spike SR, for short range, and an enhanced version of the LR, the LR II. The 1nm-range, 10kg SR is a shoulder-launched missile for use at platoon level and as a stepping stone between unguided rockets and the larger Spike MR. Singapore's armed forces began to take deliveries in 2016 as the Spike SR's first export customer.
Meanwhile, the LR II is a fifth-generation missile that entered service in 2018 and is now used by six nations. The weight has been reduced to 12.7kg and its range is 3nm at ground level or 5.4nm from helicopters. Another addition is a datalink that allows operators to fine tune its mission during flight. Rafael has also unveiled a new variant of its longest-range Spike, the ER II, which can reach targets 8.6nm away when fired from a helicopter. The top of the range is the air-launched Spike NLOS – for "non-line of sight" – a missile that uses inertial navigation to seek targets 16nm distant.
All versions of the Spike are in service with 34 nations, including 19 NATO members, and operate on 45 platforms, says Papier. Among the company's marketing targets with the weapon is the German armed forces, currently looking to upgrade the missile system on its Airbus Helicopters Tigers. Rafael produces and sells Spikes in Europe through the EuroSpike joint venture with German firms Diehl Defence and Rheinmetall Electronics.
Rafael's other products include the Python and Derby ranges of air-to-air missiles. It sells these to 13 air forces worldwide. The latest version of the latter, the I-Derby ER, takes its predecessor's range from 32nm to 54nm, thanks to the addition of a pulse device to its rocket motor, and is likely to enter service within three years. Rafael also co-operates with Raytheon on the David's Sling national defence system designed to intercept ballistic missiles and other long-range attacks, as well as with Israel Aerospace Industries on Iron Dome, a second shield of protection against short-range rockets and artillery shells.
Another main line is its Litening and Reccelite surveillance pods, new versions of which it unveiled last year, featuring a synthetic aperture radar mode. This sensor complements each pod's EO suite, adding to its surveillance range, and representing, says Rafael, a "quantum leap in all-weather" capabilities. Litening is used by 27 air forces, with some 1,900 units in service. Reccelite is in operation with more than 10 customers and integrated on fighters including the Eurofighter Typhoon and Saab Gripe