For aircraft seating manufacturers the past two years have been anything but a comfortable ride. The grounding of commercial aviation in 2020 saw heavyweights such as Collins, Recaro and Safran drastically ramp back production. Meanwhile, for some start-ups that had ventured into the market in the booming second half of the last decade, the orders drought threatened their very existence.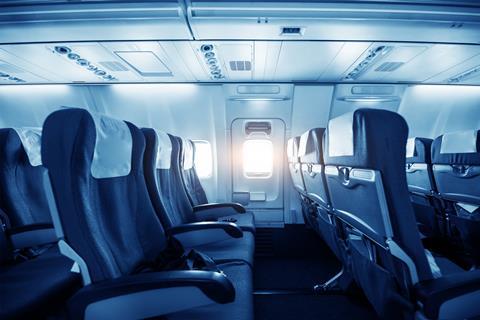 Seating suppliers have two main sources of revenue. The lucrative supplier furnished equipment segment is when aircraft manufacturers list a seat as exclusive or an option on new aircraft, or an airline – usually one with significant buying power – is able to negotiate to have a unique, bespoke seat designed for its premium cabin.
However, for many seat makers, retrofit – often when an older airliner changes hands and is refurbished – is the easiest route in for start-up suppliers. The approval process from the aircraft manufacturer is simpler and it is a more cost-effective option for smaller airlines. But both parts of the market ground to a near halt from March 2020.
Yet, just as the pandemic saw troubled airlines hunker down and sit out the crisis, so the seating sector has seen vendors survive and emerge bruised but confident of a swift recovery. Almost all are keen to show off products that have been up to three years in gestation at Hamburg's Aircraft Interiors Expo (AIX), returning for the first time since April 2019 on 14-16 June.
There is even a new name in seating, despite the sector's notoriously high entry barriers. Unum is the brainchild of Chris Brady, who was chief executive for more than a decade of the now Chinese-run economy seating firm Acro. He set up Unum in late 2019 after being released from a non-compete agreement with Acro's new owners.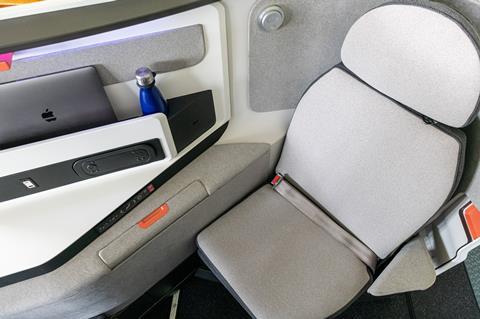 However, the one-time Virgin Atlantic manager has no intention of taking on his former employer and others in the high-volume economy segment. Instead, Unum will try its chances in the higher-margin but extremely competitive business class space, and where suppliers work for years to design and finesse products that meet the exacting brand requirements of premium airlines.
GROWING OPPORTUNITY
Long-haul is also the part of the market that suffered most during the crisis and faces the lengthiest recovery. However, Brady is undaunted. He sees a growing opportunity for retrofit business on older widebodies, particularly the Airbus A330, which he describes as "underserved" by the major seating manufacturers. The segment, he says, also has fewer competitors.
The company's introductory lie-flat seat – developed with design consultancy Acumen – is intended to sit in an outward herringbone configuration with direct aisle access. And, while Brady says it has been shaped with comfort in mind and will be "competitive" with leading products in the market such as Safran's Optima, he admits the product is not "ground-breaking".
Instead, Unum – which plans to establish a production site in Crawley, near London Gatwick airport – will set out its stall based on reliability of delivery. During the pre-Covid period, the rapid ramp-up of airliner production caught many established seating manufacturers on the hop, and the sector got a reputation for late deliveries. "It lost its agility," says Brady.
And, while the pandemic and Boeing's well-documented programme troubles have turned that situation on its head, he insists smaller airlines, with less commercial clout, will consider disruptive start-up suppliers. "Turbulence is great for the entrepreneur. Our offering will be as much about good service," he says, adding that Unum has modest market share aspirations of around 2%.
Brady is raising funds – he has secured £1 million ($1.25 million) and needs another £4 million to take the business to the production stage. There is still no launch order. However, Unum is exhibiting at AIX and Brady says that if a customer comes on board by the end of this year, the company could be generating revenue by mid-2025 with a break-even production target of 18 to 20 seats per month.
While Unum had the advantage of having few overheads when Covid-19 struck, the timing could not have been worse for fellow start-up Mirus Aircraft Seating. Mirus set up near Norwich in the UK in late 2017 after securing a launch order from AirAsia for up to 100,000 of its Hawk economy seats, as line fits and retrofits on the Malaysian carrier's existing and on-order fleet of A320s and A330s.
SUDDEN BRAKE
Bolstered by a second order from leisure airline TUI to retrofit the Hawk seat to Boeing 767s, by the start of 2020 Mirus was gearing up to produce 3,000 seats per year. However, the pandemic put a sudden brake on its plans. While AirAsia did not cancel orders, "everything was pushed to the right", says chief executive Ben McGuire. The young company was forced to halve its 120-strong workforce.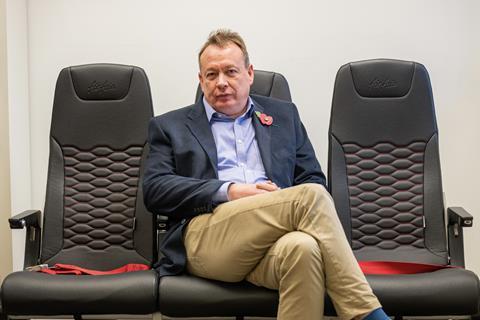 While being a start-up helped "as we had no cost of stock", the dramatic slowdown in revenues created a cash crisis. "Without the benevolence of our shareholders, we would not be here. They kept us going," admits McGuire. The company is now rehiring staff as production restarts. "We are coming out the other end stronger," he says.
Evidence of that is clear from a visit to its factory in the Norfolk village of Hingham. A dynamic test facility, featuring a 30m (98ft) test sled, is due to open in July. It will avoid Mirus having to outsource to third-party labs where lead times are long, and will speed up product development. It will also be "a statement to customers and OEMs that we are a serious player", suggests McGuire.
Boosted by a third customer, whose identity McGuire will not reveal beyond saying it is "Middle Eastern", the company aims to produce around 4,000 seats this year. That is well below where it had hoped to be by now when the business was launched. However, McGuire expects production to double each year until "we are close to capacity in the 30,000s".
ECONOMIC RIVAL
Also helping to achieve that target could be the company's latest product, Kestrel. Mirus unveiled an "early prototype" at AIX 2019 and is showing the finished design – a lightweight, "hybrid composite" fixed-back seat – at this year's show, with a view to launching production in the second half of 2023. This is regardless, says McGuire, if Mirus has secured a launch order by then.
Arguably Mirus's biggest rival in economy is Recaro. In common with its peers, the privately-owned German company has yet to rebound fully from the crisis – sales of just under €270 million ($285 million) in 2021 were down on the previous year, but that was largely due to a strong first quarter in 2020. Deliveries of almost 60,000 seats were slightly up on 2020, but just 40% of the 2019 figure.
However, chief executive Mark Hiller sees strong signs of market recovery. "We have rock-solid programmes, and have had no cancellations from customers," he says. "Demand is picking up from a passenger point of view, and business trips are coming back. We have been getting new [requests for quotes]."
The one area Hiller believes will be substantially slower is long-haul, with the sector further depressed by hitches to Boeing's 787 and 777X programmes. Recaro entered the business-class market in earnest late last decade, with Hiller stating in 2019 that it was the company's intention that it could be the leader in this area – as well as economy – within 10 years.
"That is still our plan," he says, noting "additional wins in recent months", including a retrofit deal from an unnamed major airline. Last September, Air China became launch customer for the CL6720 business-class seat for its A350s, with an order for 10 shipsets. "There are fewer programmes in this segment," admits Hiller, "but revenues [per unit] are 10 times higher than in economy."
Crucial to those ambitions is its new research and development centre at its Schwaebisch Hall main site in south-west Germany, which opened last autumn. The €50 million investment is intended to cut the risks and costs of outsourcing testing. "It speeds up feedback loops," says Hiller. "It also shows customers and partners the expertise we have in-house. It is the pride of our engineers."
In addition, Recaro has spent €3 million refurbishing a final assembly line at Schwaebisch Hall for premium products. Hiller admits breaking into business class will not be easy. "We need to do it step by step," he says. "Certifications are complex, and there is a lot of competition from niche and big players – the same ones are still there in a market now half the size."
While the business-class segment is very much part of Recaro's long-term plans, the rapidly recovering economy market remains its core activity. One of its most recent deals has been with established customer Etihad Airways, which introduced Recaro's long-haul CL3710 seat to service in April on its A350-1000s.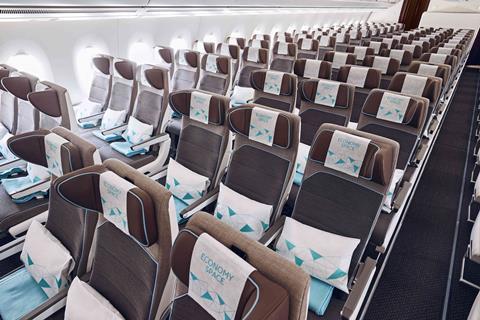 Recaro has also been pitching at another niche market, regional jets, with KLM last year selecting its BL3710 and lighter SL3710 offerings for its subsidiary Cityhopper's 132-seat Embraer E195-E2s. It was the company's first regional aircraft contract, and was selected as a buyer-furnished option in preference to "preferred" original-fit seating supplier Safran.
"The regional market is not big volume for us, but it is important for us as a supplier to be able to deliver across an airline's range and offer commonality," says Hiller, who also hopes to secure future deals on A220s. "We want to be seen as a specialist in all areas of seating, so this kind of diversification is vital."
CULTURAL HISTORY
Collins' seating factory is by far the biggest employer in the Northern Ireland coastal town of Kilkeel and is one of the reasons that the province has become a world centre of excellence for aircraft seating. Premium specialist Thompson Aircraft Seating is based an hour's drive away in Portadown and there is an extensive local supply chain that feeds off both businesses.
Collins' factory was established in the late-1960s as Aircraft Furnishing and was bought by US interiors specialist B/E Aerospace in 1993, before that business's absorption into Rockwell Collins and eventually Raytheon-owned Collins Aerospace. While the workforce has shrunk from its 2019 peak of over 1,000, 730 employees remain, making Kilkeel the world's largest aircraft seating plant.
With second- and even third-generation staff among them, the "culture is unlike any I've seen elsewhere in the industry", notes the factory's managing director Stuart McKee. Good access to road, air and sea infrastructure, despite Kilkeel's semi-rural location, coupled with support from Northern Ireland's devolved government are major advantages, he adds.
Collins economy and premium seats are assembled at Kilkeel, which, along with two sites in North Carolina make up its seating business. Key lines produced at the Northern Ireland plant include Finnair's distinctive "fixed shell" seat, unveiled as its business-class product on A350s and A330s in March, and developed by Collins with design house PriestmanGoode.
The idea behind the Air Lounge seat, deliveries of which began earlier this year, is to remove many of the seat mechanisms and replace them with a rigid, curved structure that, nevertheless, provides a similar amount of personal space to a traditional business-class seat. Like the rest of the Finnair business-class cabin, the seat is influenced by Nordic themes and luxury hotel furniture, says Collins.
Mark Vaughan, vice-president of aircraft seating for Collins, admits the premium segment is more sluggish than economy, and says that "how nimble and agile you can be" will be a differentiator between suppliers as the market revives. With a hiatus in cabin innovation through the pandemic, airlines are keen to come back with strong products to entice returning travellers, he says.
Carriers with older legacy fleets are looking hard at retrofits to keep their brand appeal current, he suggests. Another trend is the rise in longer flights on narrowbodies, with airlines "pushing the cabin in different directions in a smaller space" rather than relying on the traditional business-class seating found on a US domestic service.
Northern Ireland's other seating supplier is Thompson, now part of Chinese-run Avic Cabin Systems, along with Bournemouth-based monument specialist AIM Altitude. The all-premium manufacturer made the unusual move of launching into the premium market, initially as a design house, before moving into manufacturing and delivering its first Vantage seats to Brussels Airlines in 2012.
"Market entrants traditionally start at the back but we went in at the deep end," says Andy Morris, vice-president commercial. Thompson endured two tough years even before Covid-19 struck, and had to be bailed out by its parent company. However, the firm is now "re-entering a growth phase and scaling for growth", says Morris.
FRESH INNOVATION
Thompson's factory is certainly beginning to bustle again, and, despite the financial challenges, the business has been investing in innovation. Last year, US airline JetBlue Airways unveiled the company's Vantage Solo – claimed to be the first lie-flat product designed for narrowbodies – as the centerpiece of its revamped Mint business class product on A321LRs flying transatlantic routes.
The herringbone product, which has a 33in pitch, comes, unusually, with a suite door, the first business-class seat to have such a feature on an Airbus narrowbody, and offers direct aisle access, claims Thompson. JetBlue flies them in a 24-seat, 12-row configuration on European services, while its New York to Los Angeles route has them in a 16-seat layout.
New at this year's AIX is the Vantage Duo, a reclining version of its flagship product aimed at customers flying mid-haul routes who want a greater cabin density than lie-flat seats provide, but with the same comfort and privacy afforded by the Vantage Solo, says Morris. He explains: "Our aim was simple – greater comfort in the same space."
The UK's third big seating manufacturer is Safran, whose factory in Cwmbran, Wales, specialises in premium products. It was originally the main site of Contour, which was acquired by Zodiac in 2012. Zodiac was absorbed in 2018 by the giant French aerospace group, the purchase coming with Zodiac's other plants in France and the USA which make economy and premium economy products.
Like her counterparts, Victoria Foy, chief executive of Safran Seats GB, concedes that the widebody market has "not woken up" as much as single-aisle post-Covid, but "we are starting to see opportunities again". She says that Safran spent much of the 2020-2021 crisis focusing on new programmes "for the 2023-2024 timeframe", some of which will be previewed at AIX.
While the pandemic disrupted output, Foy says that, despite two order cancellations, "we never stopped the final assembly lines [FALs]" and continued to deliver, albeit at much slower rates than in 2019. "We took the opportunity to prepare for the ramp-up by streamlining the FALs, investing in digital tools, and managing our supply chain," she says.
Another seat manufacturer that emerged just before the pandemic was Adient Aerospace, majority owned by Boeing with automotive seating specialist Adient as co-shareholder. In 2020, the company said it was pressing ahead with development of a lie-flat business-class seat for narrowbodies, called Aspect, that it had intended showing at that year's postponed AIX.
The company's first widebody business-class product, Ascent, which was presented at AIX 2018 for the first time, is flown by Qatar Airways and Hawaiian Airlines on their 787-9s. Interestingly, Adient is the second business-class seat provider to the Doha airline, which uses Collins Super Diamond product in its 787-8s and (currently grounded) A350s, respectively.
The launch of Adient Aerospace was a response to the need by Boeing to gain back some control of its supply chain. Boeing felt this had strained during its ramp-up that preceded the 737 Max grounding and the pandemic. Boeing had already bought in June 2019 Californian company Encore, which makes the Lift economy seat – the business transferred to Adient Aerospace control later that year.
Of course, that preceded the Max crisis and the pandemic, which along with problems with the 787 programme, has reduced Boeing's need to broaden its seating supplier base. However, with demand for seating stepping up again, the question the sector faces is whether, after two years of slowdown, it can keep up with renewed demand.
As Vaughan at Collins remarks: "We have continued to invest in new products, and some of the things we have done in the past two years have been among our most complex projects. But the biggest challenge we have is managing our supply chain. Being able to innovate is important, but now we also have to deliver."
LOGISTICAL PRESSURES
A suspicion that the sector will return to its old ways of lapsed deadlines as demand ramps up, frustrating smaller airlines without purchasing clout, is what the likes of Unum are banking on. But no matter how efficient factories and management are, small and large vendors alike will be subject to the same supply chain pressures over the next few years – from shortages of raw materials and rising prices to logistical complications resulting from China's zero-Covid policy.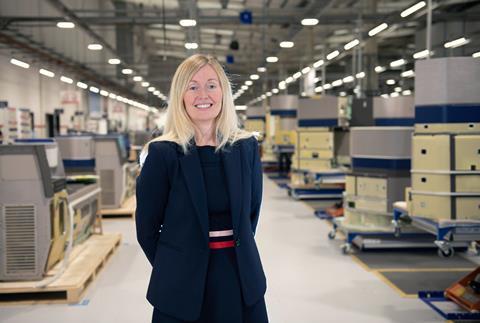 For now, however, the emphasis is on anticipating what the designers and engineers have been developing during AIX's long absence. That and meeing face to face again. For Safran's Foy, this will be her first Hamburg show – she switched from another Safran unit in January 2020. "I can't wait to get in front of customers," she says. "The energy and excitement in my team is incredible."