Savannah airframer Gulfstream caught the aerospace industry by surprise last October when it rolled out the prototype of its newest ultra-long-range business jet, the G800.
The company had somehow managed to assemble the first test aircraft in secret, and aside from a few rumours managed to keep the programme's existence under wraps.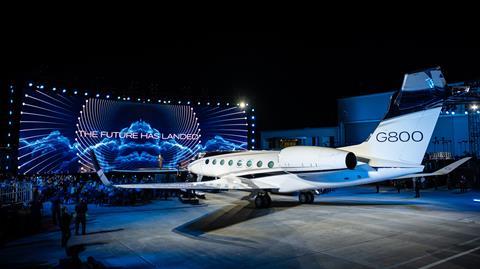 Perhaps this should not have been such a surprise.
The G800 has long been a central component of a product development initiative Gulfstream set in motion with the G500 and G600 about a decade ago, says company president Mark Burns.
Gulfstream had always intended for the G500 and G600 to be first-borns in what was to be a larger family of modern, technologically similar business jets. Toward that end, the company followed the G500 and G600 with the G700, which it launched in October 2019 and which remains in flight testing.
Gulfstream is now rounding out the family with two additional types: the 19-passenger G800; and the smallest member of its large-cabin family, the 12-passenger G400. The airframer, a division of General Dynamics, launched both in October 2021.
"When we announced [the] 500 and 600, we were actually working on all of these airplanes – the 400, 500, 600, 700, 800," says Burns. "What we've been doing for a decade now [is] developing this new family."
That family is now nearly rounded out. The G500 and G600 have long since entered service and Gulfstream plans to deliver the first G700 this year, followed by first shipments of the G800 in 2023 and of the G400 in 2025.
The line-up gives Gulfstream an answer to every segment of the large-cabin market – "an aircraft for every mission", in Burns' words.
UNMATCHED RANGE
The Rolls-Royce Pearl 700-powered G800, with a list price of $72.5 million, is not the largest of the family – that title goes to the G700. But no other dedicated business jet can lay claim to the G800's range. The jet can cover 8,000nm (14,800km) when cruising at Mach 0.85, or 7,000nm at a high-speed M0.90 cruise.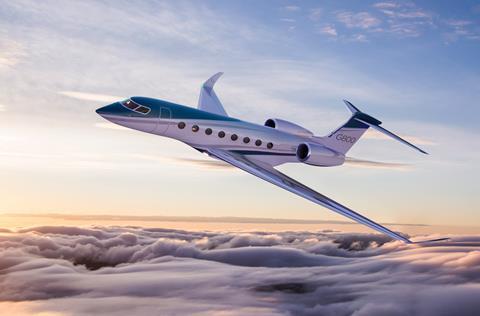 That betters – although not by much – the range of the G800's two prime competitors: Bombardier's Global 7500 and Dassault Aviation's in-development Falcon 10X.
The GE Aviation Passport-powered Global 7500 entered service in 2018 and can connect cities as distant as 7,700nm, according to the Canadian airframer. Bombardier also has on its books an undeveloped 7,900nm-range sister ship called the Global 8000, but the company has not moved that aircraft through development.
Dassault's Falcon 10X, with R-R Pearl 10X turbofans, will surely be an admirable competitor, with a range of 7,500nm. But Dassault expects that jet will enter service in 2025, meaning the G800, assuming it keeps to schedule, will have a two-year head start.
Range titles are great for marketing departments and bragging rights. But aerospace analyst Brian Foley sees minimal operational differences between the three competitors.
"Each of the ultra-long-range competitors now offer relatively comparable range capabilities," enabling them to reach anywhere in the world with one stop, he says. "There will be some buyers who feel they need the highest range, but those reasons probably aren't practical or will never be needed."
Foley, founder of advisory Brian Foley Associates, doubts Bombardier or Dassault will rush forward with developing a jet that can match or exceed the G800's benchmark, noting that Dassault has a full plate developing two jets (the Falcon 6X and 10X) and that Bombardier faces the challenge of managing its debt load.
Another analyst, Richard Aboulafia, with AeroDynamic Advisory, views Gulfstream as best positioned.
"Gulfstream will stay on top," he says. "They have the largest installed base, and a strong position with two different price points, with the G700 and G800. They've got the best overall global brand, too, he adds of Gulfstream.
The G800 will have a maximum speed of M0.925. At its maximum take-off weight of 47,890kg (105,600lb), the jet will need 1,830m (6,000ft) of runway to get airborne.
Its 8,000nm range means that "from New York, you can pretty much go anywhere in the world other than Australia", says Gulfstream senior vice-president of innovation, engineering and flight Vicki Britt.
Burns says Gulfstream has landed G800 orders, but declines to say how many or to name its customers.
"When we announced [the] G800 and the 400, we saw not only 800 orders but a surge in 650 and 700 orders as well," he says.
Gulfstream introduced the G800 and G400 during an event in Savannah on 4 October 2021. The 4,200nm-range G400 joins the G500 and G600 family, while the G800 joins sister ship G700 in its ultra-long-range line-up.
G700s and G800s are incredibly similar, sharing a fuselage cross section, 18,250lb (81.2kN)-thrust R-R Pearl engines and Gulfstream's Symmetry Flight Deck, which has 10 touch-screen displays. Like all Gulfstream's large-cabin jets, the G800 has active-control sidesticks (both sidesticks move in tandem, so each pilot feels the other's commands).
"We wanted to build a family of airplanes with significant commonality, so that we could get efficiency out of building the airplane, but also efficiency out of supporting it for the next 40 years," Burns says.
While the G700 measures 33.5m from nose to tail, the G800 comes in about 3m shorter, measuring 30.4m – a trade off delivering the extra range. Burns view the G800 as a successor to the G650, which the company plans to produce "for a few more years". That jet entered service in 2012.
Gulfstream has produced two G800s and says the programme is on track for deliveries starting in 2023. The jet has not yet taken flight.
CERTIFICATION TIMELINE
"We'll fly soon," says Burns, without specifying a timeline. "We are not that far away from being ready to fly. There's some laboratory stuff that we need to do."
He concedes that certification has become more time consuming due to increased scrutiny by the US Federal Aviation Administration (FAA) in the wake of two Boeing 737 Max crashes. The FAA faced criticism over shortcomings exposed via the Boeing jet's originial certification process and has since has stepped up diligence.
"They are more cautious," Burns says, adding that Gulfstream has needed to perform more laboratory tests. "It's laborious… it's just one of those things you have to do."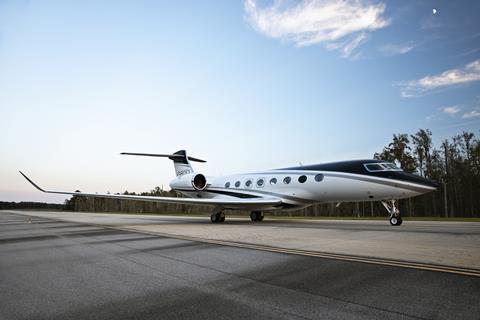 On the bright side, Britt says some G700 certification work should carry over to the G800.
"From a flight-test standpoint, because of the commonality with the 700, there are a lot of certification tests that we will not have to repeat," she says. "It's a much-reduced flight-test programme."
That is why Gulfstream will use just three G800 flight-test aircraft, including one jet dedicated to cabin evaluations. By comparison, the G700 programme involves seven test jets – six for flight testing and one for cabin tests, says Britt.
Gulfstream engineering manager Walter Dumas has no shortage of enthusiasm about technologies beneath the skins of Gulfstream jets. That is a good quality for an employee with his job: Dumas oversees RDC III, Gulfstream's research and development facility near Savannah/Hilton Head International airport.
Once a cotton gin, Gulfstream bought the RDC III site early last decade and transformed it into a high-tech centre for integrating and testing aircraft systems. Those include the flight control system, active-feedback sidesticks and GE-made "data concentration network" (DCN), a hub linking major systems.
One morning in early March, Dumas stood in the cavernous RDC III, ticking off acronyms for FlightGlobal.
"It houses all of our AAP aircraft labs, and our FLC ITF and systems integration bench," Dumas says. "This is where we cut our teeth on a brand-new technology."
AAP is Gulfstream shorthand for Advanced Aircraft Programs, meaning the G400, G500 and G600. FLC means Future Large Cabin – the G700 and G800 – while ITF stands for Integration Test Facility, a lab where Gulfstream evaluates systems.
Work inside RDC III broadly follows a three-stage process, starting at a Systems Integration Bench, moving to an Integrated Test Facility and ending at an Iron Bird.
The Systems Integration Bench is where Gulfstream begins connecting various systems to the DCN. At first glance, it could be mistaken for any technology laboratory. But a closer look reveals that the lab's layout generally mirrors an actual aircraft – a theme found throughout RDC III. A simulated flightdeck sits at the head of the integrations lab; behind, extending back on each side, are benches for testing various systems.
SYSTEMS INTEGRATION
"Equipment is essentially positioned roughly where it would be, on the left or right side of the airplane," says Dumas. "The systems integration bench is specifically designed… for integration of equipment to the DCN."
Gulfstream uses one bench to evaluate G400, G500 and G600 systems, and a second to validate those for the G700 and G800.
Dumas walks up a few steps to the next stop in RDC III – an integrated test facility. These stations provide a "full aircraft electrical representation", enabling technicians to evaluate how avionics, cabin systems, the DCN and other systems work together, Dumas says.
Each ITF has a fully representative aircraft cockpit linked to software that simulates characteristics specific to Gulfstream's different jets. Dumas steps inside one such cockpit, noting that all cockpit components – sidesticks, throttles, monitors, and so on – are production parts found on actual aircraft.
From the ITFs, Gulfstream takes integration testing one step further by using iron birds. These are physical structures shaped roughly like aircraft and equipped with actual aircraft mechanical components – flight controls, landing gears and hydraulic systems, for instance.
Standing under the wing of Gulfstream's G700/G800 Iron Bird, Dumas points up to four black actuators. Those, he says, place simulated aerodynamic loads on wing structures.
"We can put this airplane in any flight condition, and it truly is proving out and testing the flight control system," Dumas says. "We are putting the right amount of force on the surface."
Gulfstream has completed some 38,000h of G700 and G800 system tests inside its research centre.
"We can create conditions in the lab that we would never want to go fly – the very corner points of the envelope," says Britt. "It definitely mitigates programme risk and provides a more-mature product."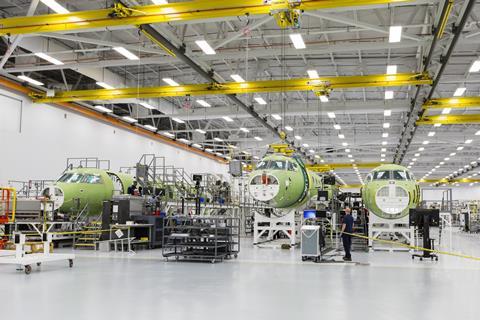 Gulfstream assembles G800s in the same Savannah facility that houses G650 and G700 assembly. Director of operations technology and support Steve Ritchie says G800 production processes benefit from assembly advances Gulfstream made starting with its G650.
COMPONENT DESIGNS
With that jet, Gulfstream transitioned to using more machined components and adopted more automation. It tweaked some component designs to allow for increased use of automated riveting, such that machines install about 36% of the G650's rivets, Ritchie says.
The airframer brought those processes to its G500 and G600, and now to its G400, G700 and G800.
G800s have composite and aluminium airframes, with composite horizontal stabilisers, pylons, engine nacelles and winglets, the company has said.
Aerostructures specialist GKN Aerospace is a partner, helping to produce empennages, floorboards and metal-bonded fuselage panels. GKN also produces such components for the G650 and G700.
Perhaps no aspect of a business jet is as important to customers as its cabin, which is why Gulfstream, in 2020, opened a new cabin mock-up showroom in Savannah. This houses cabin demonstrators of both the G400 and G700, and a "materials experience area" where customers can see and touch optional cabin fabrics. The G700's cabin is so similar to the G800's that one can stand in for the other, says Gulfstream director of interior design Tray Crow. "In terms of interior architecture, it's exactly the same as the G700, just one less living area."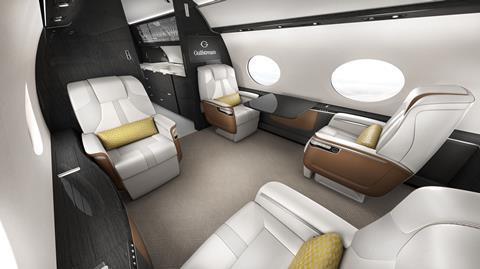 Gulfstream sources much of its leather from cattle in Northern Europe, where ranchers do not use barbed wire fences. "You get a higher-quality hide, with fewer scars," says Crow.
The company completes upholstery work for its large-cabin jets at a Savannah site. The aircraft undergo finishing at several of Gulfstream's US facilities.
Excluding its baggage compartment, the G800's cabin stretches 14.3m front to back – about 3m less than the G700's cabin.
Customers can choose from several cabin layouts; G800s can accommodate either four living areas, or three living areas plus a pilot rest compartment. The cabin has 16 windows, sleeps up to 10 people and has forward and aft lavatories.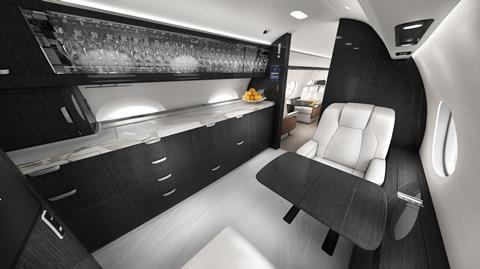 Gulfstream pays attention to the smallest details, says Crow. For instance, the G700/G800's galley cabinet door opens up, toward the ceiling, leaving the galley unimpeded. Wine glasses inside the cabinet are lit by individual light bulbs – one over each.
"We've lit the wine glasses, so there's a little bit of sparkle," he says. "Just simple details."
The galley sink has a pop-up faucet and sits hidden beneath a removable counter-top lid, allowing for maximum usable counter space, Crow adds.
To help reduce cabin noise, Gulfstream has partnered with acoustics experts from General Dynamics' subsidiary Electric Boat.
They used "sound generation equipment" to simulate flight noise, then "measured the transmissivity" into the cabin, says Dumas.
Gulfstream made its cabin so impervious to outside noise that other subtle noises became apparent, Dumas says. "Now, it's the wine chiller fan that is your problem."
The G800's cockpit has the same advanced Honeywell Symmetry avionics as the G700. An enhanced flight vision system provides pilots with infrared images of the outside world, and a synthetic vision system shows computer-generated images. The jet has dual head-up displays which can present pilots with combined vision – meaning a meshing of infrared and synthetic images into a single view.
Gulfstream jets also have a Predictive Landing Performance System that, during approach, determines where on the runway the aircraft will stop, warning pilots of possible overruns.
STRONG DEMAND
Gulfstream is bringing the G800 to market amid a period of unprecedented demand for private aircraft. The sector took a hit early during the Covid-19 pandemic but has since more than rebounded, with customers flocking to aircraft showrooms. Such demand has partly reflected a desire by wealthy buyers to avoid crowded passenger jets during a pandemic, analysts say. But it also aligns with broader economic trends that have seen surging demand for consumer products across sectors.
Speaking in January, General Dynamics chief executive Phebe Novakovic described aircraft demand as "red hot in the fourth quarter" and stronger than "anything we had seen since 2008 with the introduction of the G650".
In 2021 alone, General Dynamics' aerospace backlog jumped 40% to $16.3 billion. Other business jet manufacturers reported similar trends.
Aboulafia estimates global demand for business jets in the $70-million-plus category will increase in the coming years, varying between 84 and 96 aircraft annually later this decade. That is up from demand for 72 jets in 2021.
With the market booming, Gulfstream has been struggling to keep pace. In January, Novakovic said wing shortages will hinder the company's ability to deliver jets in 2022. As such, Gulfstream anticipates delivering 123 aircraft this year, just four more than in 2021.
Gulfstream in 2020 brought G650 wing work in house, acquiring the work from Triumph Group. The airframer also makes wings for G400s, G500s, G600s, G700s and G800s.
"Our ability to ramp up further in [2022] is limited by the wing supply issue," Novakovic says. "We will increase production in 2022, but not to where it needs to be".
Gulfstream is addressing the bottleneck by expanding its wing facility and acquiring more tools and fixtures, Novakovic says. "All of this is underway and will be in place to satisfy our needs for [2023] and beyond."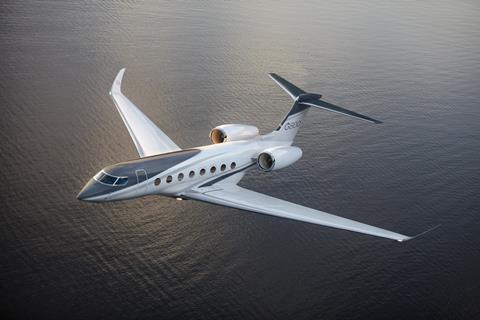 The company plans to hike deliveries to 148 jets in 2023 and 170 in 2024.
Burns frames the wing issue differently. He dismisses talk of a shortage, saying demand is simply so strong that Gulfstream needs time to ramp up.
"It's not a supply chain problem. It's not a manufacturing issue," he says. "The issue is, demand is so great."