For admirers of the Queen of the Skies, it is a sombre sight. Nine former British Airways Boeing 747-400s – former flagships of the flag carrier and still resplendent in their liveries – line up on the hard standing of a rural airfield in the west of England, all but one destined to be broken into bits.
Cotswold Airport, at Kemble in Gloucestershire, is where old airliners come to die, and operator Air Salvage International (ASI) is one of a few aircraft dismantling and recycling specialists in Europe.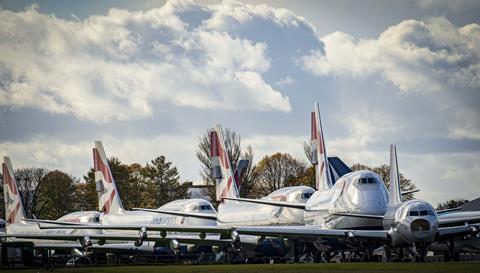 James Cobbold, ASI's global sales manager and self-confessed jumbo fan, admits to a pang of nostalgia as he escorts us around the main-deck first class cabin of one of the 747s, where in seats 1A and 1K – with their prized forward-of-the-cockpit view – BA's most valued customers would have so recently reclined in comfort. This particular example is being saved for posterity (see below), but the 15 or so other 747s at the former UK Royal Air Force (RAF) station will soon be in thousands of pieces.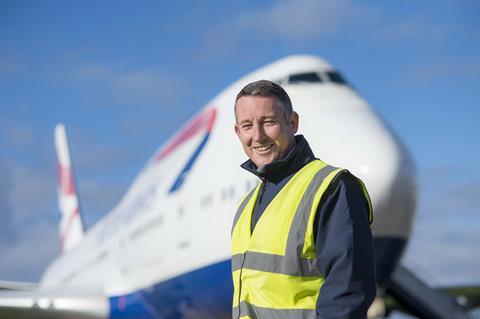 The process of parting out has several stages, and aircraft might sit at a facility such as ASI's for months before an owner decides the sum of its parts on the secondhand market is worth more than the whole. In the case of the BA 747s, the decision was already taken to retire the aircraft before they were flown in, so the tail number is officially removed from the registry. After that, the disassembly process takes four to six weeks for a single-aisle jet; slightly longer for a widebody.
The first items to be extracted are the most valuable – the engines. These are defueled and deactivated before being disconnected from the nacelle, explains Cobbold. At this stage, the work – carried out in the hangar in the case of narrowbodies and outside for widebodies, but only on fine days – resembles a heavy maintenance overhaul. Technicians then board the aircraft to detach the avionics, air conditioning, pneumatics, flight controls and finally the landing gear.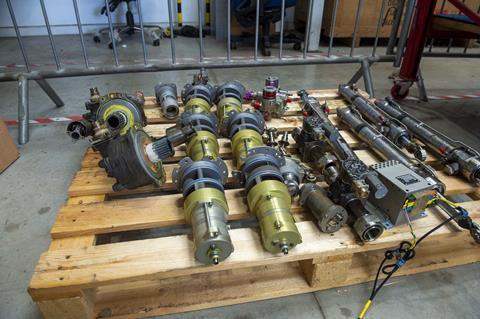 Each of the 800 to 1,000 parts is cleaned and packed, with owners at any stage able to view progress via an iPad. Next, the interior – seats, galleys, lavatories and luggage bins – is stripped, before what is left of the aircraft is transported to a corner of the site where crews get to work with blowtorches and electric saws, carving the fuselage, tailplane and wings into fragments, which are crushed and sent in truck loads to local authority-accredited recycling firms.
While the smashing up of a perfectly serviceable airliner may seem brutal – and for some "avgeeks" heartbreaking – there is a cycle-of-life aspect to the activity, with at least 92% of the aircraft re-used, either as working parts or sections of cockpit or cabin for training. Almost all the metal is repurposed, together with much of any composite material – an area the recycling sector has made great progress with in recent years – with only plastics in the interior usually going to landfill.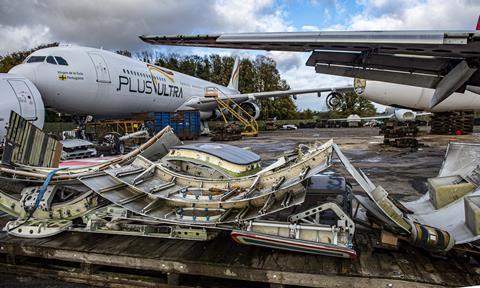 The aircraft dismantling profession has been much cleaned up recently, thanks largely to the work of the Aircraft Fleet Recycling Association (AFRA), a body ASI founder Mark Gregory helped set up 15 years ago, and which Cobbold serves as secretary. AFRA, which includes the prominent recyclers as well as the aircraft manufacturers among its members, describes itself as a "global collaboration to elevate industry performance and increase commercial value for end-of-service aircraft".
As recently as the early part of the century, the market was less professional, says Mike Corne, co-founder of the UK's other main aircraft salvage specialist eCube, based at the former RAF base at St Athan near Cardiff. "When we started in 2011, we wanted to introduce processes into a market that was occupied by people who, let's say, did not necessarily have experience of running complex businesses," he says. "We positioned ourselves as a materials management business."
One of the counter-intuitive aspects of 2020's great aviation downturn is that it has not – at least yet – led to a flurry of aircraft retirements, despite thousands of aircraft being withdrawn from service since the start of the pandemic. While there might be a slight lag in the full-year data, by early February Cirium had recorded around 420 permanent retirements of single- and twin-aisle airliners. This compares with some 500 in 2019.
The reasons for this are several-fold. While the total of Airbus A320-family retirements is similar year-on-year (113 in 2020 against 118 in 2019), the number of Boeing 737NGs permanently withdrawn from service has more than halved, from 56 in 2019 to 24 last year. This is largely a factor of the grounding of the 737 Max, which has "delayed the displacement effect in existing 737 fleets", maintains Max Kingsley-Jones, a senior consultant with Ascend by Cirium.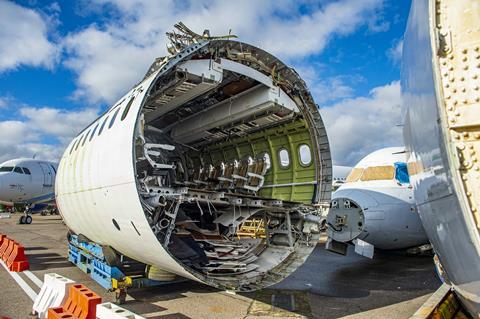 However, a bigger contributor might be the limited market for spare engines and material, which has led lessors and other owners to "wait out" the market before committing to permanent retirements and part-outs, he suggests. That might change this year, with Ascend by Cirium estimating a surplus of some 1,000 aircraft per year as the industry recovers, pointing to an extra 500 retirements per year over the 500 or so typically seen annually, says Kingsley-Jones.
Anecdotal evidence from the aircraft scrappage firms would appear to bear that out. While Cobbold will not reveal exact year-on-year numbers, he says that ASI disassembled 10% fewer aircraft in 2020 than in 2019. However, 25% more aircraft arrived for storage than in the previous year. Meanwhile, Corne at eCube says the "mix has changed", with parking and storage of aircraft "a much more significant component" of the business during 2020 than in recent years.
Airlines are understandably keen not to have unwanted aircraft parked at pricey airports. But unlike the huge US desert "boneyards", ASI and its rivals do not have the space – or climate – to park dozens of aircraft for months or years at a time. However, both ASI, through sister company GCAM, and eCube, via a partnership in Spain, offer the European Union Aviation Safety Agency Part 145 maintenance approvals necessary to look after airliners that might one day be returned to service.
During 2020, leasing companies tended to hold onto aircraft rather than parting them out because lack of flight activity and an uncertain near-term outlook had depressed demand for components, says Cobbald: "Parts sellers can't sell, so lessors are not flooding the market." However, he accepts that the situation might change during 2021 if asset values for whole aircraft remain low. "We genuinely don't know, but we do expect to be busy," he says.
AJW Group is traditionally one of the biggest purchasers of retired aircraft, with the UK aftermarket firm arranging the parting out and selling of components from its warehouse in Sussex. Chief executive Christopher Whiteside says the company has been very careful with what it buys over the past 12 months, only committing to aircraft "where we think there is a market". Its main acquisition in 2020 was a trio of 21-year-old former Thomas Cook A330s, torn down at Manchester airport.
Corne says that with 52 parking stands, eCube still has capacity to accept aircraft for parking, although numbers have risen from "single digits" in 2019 to around 25. A sister facility in Castellon, Spain, has another 20 in storage. Although few of the aircraft have been formally retired, he expects that "except for the occasional A321 or 737-800 which will make it out of here, most will not return to operation".
He adds: "Owners have been bringing them to us because they want to keep their options open, but they are coming here knowing that in all likelihood they will be broken up." While the "bow wave of disassemblies" has not yet happened, "that can only go on so long", he believes. "There is a substantial wave of parting out coming, and we are trying to increase capacity so as not to allow lead times to grow in an unacceptable way."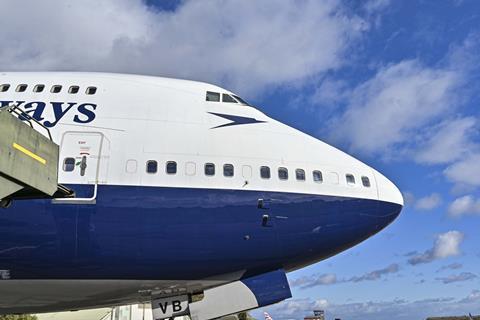 As ever, market forces will decide. If lessors and other owners are confident of a surge in airline traffic this year, at least some grounded types will once again become more valuable as sources of parts than empty assets, and the recycling firms will be busy. If the aviation sector remains in the doldrums, pressure for parking at facilities such as those in Kemble and St Athan may increase, and their operators may find themselves searching for more storage space.
However, even in a depressed market, owners will at some point have to take a decision as to whether it makes more sense to hang onto a piece of equipment that is costing them money to store and has little or no prospect of returning to service, or cut their losses and summon the teardown crews. Either way – whether through scrappage or storage – business is likely to remain buoyant for the world's aircraft boneyards.
Conference centre to keepsake – the fate of two retired giants
A pair of examples of superannuated quadjets illustrate the very different destinies of airliners at the end of their working lives.
G-CIVB is a former British Airways Boeing 747-400 that joined the fleet in 1994 and was recently repainted with a retro Negus & Negus scheme originally adopted by the airline when it was created by the merger of BOAC and British European Airways in 1974.
The jumbo will live on at Cotswold Airport as a private-hire cinema venue for conferences and other functions, after being acquired by airport operator Kemble Air Services. It joins another ex-BA 747-400, that will be based at Dunsfold Aerodrome in Surrey as a set for film and television.
A former Singapore Airlines Airbus A380 (MSN003/9V-SKA), on the other hand, is now, among other things, a series of limited-edition identity tags.
They were fashioned from the fuselage of the 12-year-old aircraft after it was broken up at Tarmac Aerosave in Tarbes in 2019.
German company Aviationtag says each of the items sports the aircraft type, registration number, edition number and size of the doomed superjumbo.
MSN003 has its place in history, having operated the first A380 passenger service on 25 October 2007, from Changi to Sydney. It was retired just 10 years later.