It was early March 2020 and the hard work of persuading companies to confirm chalets and exhibition space at that summer's Farnborough Airshow was all but complete. With the industry in buoyant mood, the team was making final preparations for a biennial event, which – despite Boeing's travails with its grounded 737 Max – was set to be one of the most successful in years.
The only worry was reports of a mysterious and potentially deadly flu-like virus that appeared to be spreading from Wuhan in China into other parts of Asia and even into Europe and North America.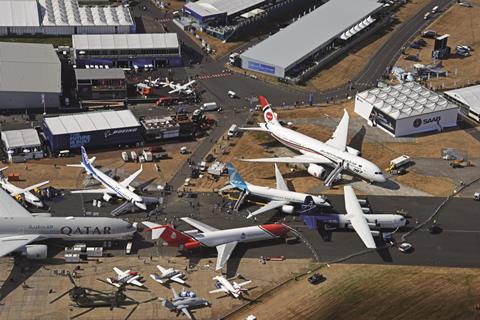 That concern soon turned into a crisis and, on 20 March, just days before Prime Minister Boris Johnson announced a UK lockdown, Farnborough International said it was cancelling the show for the first time in over 70 years. The move caused consternation among some exhibitors after Farnborough refused to refund fees, but rather offered to roll bookings over to 2022.
However, speaking to FlightGlobal ahead of this year's event, Farnborough chief executive Gareth Rogers says the majority of customers backed the decision, especially as the impact of the pandemic became clear. "People understood why we had to do it. We have been very much supported by industry," he says.
Farnborough 2020 was, of course, just one of thousands of events, aerospace and otherwise, that fell victim to Covid-19 over the next 18 months; cancellation of the 2021 Paris air show followed shortly after. However, Rogers, who took over at Farnborough International in early 2018, says that having to scrap the event after almost two years of work was "devastating".
Two years on, his team are readying for the first major summer air show since Paris 2019, and Rogers promises a "celebration". The Covid-19 crisis has given the event an "added dimension", he says. "It's been too long. Everyone is excited to be here."
Visitors will notice a number of differences this year, says Rogers, including the introduction of the Aerospace Global Forum, a series of debates and seminars taking place over the five days of the show and covering issues such as the future of flight, workforce challenges, the digital challenge, and sustainability.
CONVERSATION STARTER
"We wanted to move Farnborough away from simply being a convener of business to where we start to curate the discussions on the topics that are most important to the industry," says Rogers, who was previously chief executive of Southampton Football Club. "We wanted to layer that debate across the air show, to ask the hard questions and create a conversation for the industry."
Another change for 2022 will be the absence of the weekend public days. They were not part of the plan for the 2020 show, and the decision reflects the increasing difficulty Farnborough has had in attracting non-trade visitors to what had become a less-than-inspiring aerial spectacle. Air display restrictions imposed after the 2015 Shoreham tragedy did not help.
However, an aerial element will still be a core part of Farnborough. "Doing an afternoon of displays is not the purpose of the air show," says Rogers. "But it is important for our exhibitors, both military and commercial, to demonstrate their products in real life, in front of potential customers. That will remain at the heart of the show."
Another innovation will be an enhanced focus on careers on the final day of the week. In previous years, the emphasis on Friday had been on bringing primary school children and younger teenagers to Farnborough on what was dubbed "Futures Day" in the hope that many would be inspired to take up careers in science, technology, engineering and maths, including in the UK aerospace and defence sectors.
However, says, Rogers, 2022 will be more about enticing 16- to 25-year-olds to the show, with the focus on career opportunities. "Industry told us they loved Futures Day, but they have a problem they need to resolve in the next two years. This means engaging those embarking on careers right now," he says.
Farnborough will again have an international flavour, with exhibitors from more than 50 countries and visitors from many more. However, there will be no place at this year's show for the Russians. Soviet aircraft memorably featured at Farnborough throughout the Cold War. However, following Moscow's invasion of Ukraine, regular exhibitors such as Irkut and Russian Helicopters will be missing.
Was Rogers worried that after two years where businesses have got very used to virtual meetings and getting by without travelling, the appeal of live events might have diminished? Farnborough itself staged two "Farnborough Connect" webinar programmes in 2020 and 2021 with some success.
"This is something the whole exhibition industry has grappled with, but people do want to get back to meeting face to face," he says. "Virtual meetings have their place, but these technologies existed before Covid-19. The pandemic got people used to communicating virtually, but it would have taken over before if it was a proper substitute."
REVENUE GENERATORS
Before the crisis, Farnborough had been branching out into hosting other events between air shows, boosted by the opening in 2018 of its permanent Hall 1, one of the largest exhibition spaces in southeast England. They have ranged from the British Motor Show to an exhibition for builders. As well as being revenue generators in their own right for Farnborough International, the experience "hones our skills and ultimately helps us put on a better air show", maintains Rogers.
The 2022 Farnborough Airshow will represent not just a fresh start after two years of the pandemic. It is taking place at the beginning of what many believe will be the most exciting decade for aerospace in a long time. Several new disruptive technologies are on the cusp of becoming reality – from urban air mobility platforms and artificial intelligence to the replacement of carbon-burning engines with electric or hydrogen-powered alternatives.
Many of these will be on display – or the topic of lively debate – from 18-22 July.