At a time when some aerospace companies are seemingly hibernating until the pandemic passes, Embraer has come out swinging. By the middle of next year, the Brazilian airframer intends to disclose progress on not one but two conceptual aircraft programmes.
News about a proposed turboprop airliner will likely emerge in the first quarter, followed in the second by developments related to a hybrid-electric military aircraft, says chief executive Francisco Gomes Neto.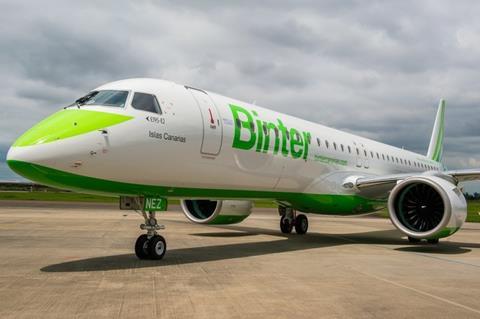 He insists such projects, combined with new partnerships and diversification, will actually leave Embraer a larger company in 2025 than it was before Covid-19 struck.
"We think that, actually, five years [from now] Embraer will be bigger than… before Covid," Gomes Neto says. "From 2022 on, we expect much profitable growth."
It is a bold prediction considering the position in which the aerospace market now finds itself. Embraer too is in the process of stitching itself back together after having separated out its commercial aerospace unit in preparation for a planned $4.2 billion sale to Boeing – a deal from which the US firm backed out of in April.
The pressures on the industry can been seen from Embraer's accounts: it lost more than $723 million in the first nine months of 2020. Deliveries of commercial aircraft have also slumped, falling to 16 across the nine-month period, down from 54 in the same period a year earlier. Although executive aviation has held up better, only 43 jets were shipped in the period, down from 63 in the prior-year period.
But Embraer predicts the pandemic will ultimately drive more demand for regional travel – and consequently for its regional jets – an opinion shared by some analysts.
An 18 December report from BofA Securities cites Embraer's "favourable positioning to the post-Covid commercial aerospace travel recovery", noting the strength of its commercial and executive jet line-ups.
But BofA warns of limited near-term E-Jet sales, noting commercial aircraft orders "may remain depressed for some time".
While E2 orders have been relatively slow, Embraer predicts they will accelerate as some of the around 1,600 first-generation E-Jets approach retirement.
LOOKING AHEAD
A failed merger and the crippling effect of the pandemic might have lead a company like Embraer to adopt a defensive posture.
But the Sao Jose dos Campos airframer has not stayed sulking on a corner. Rather, it has in recent months shouted its ambitions.
Amid the crisis, Gomes Neto unveiled Embraer's "Strategic Plan 21-25", a roadmap he insists will make Embraer stronger and larger.
The plan calls for Embraer to adapt in 2020, begin recovering in 2021, and grow from 2022 to 2025.
To get there, Embraer intends to wring efficiencies and costs from procurement, logistics and production. It will also aggressively market existing aircraft while diversifying, partnering, expanding its services business and developing new products.
"We are open to partnerships with engineering, local production… anything that can help us to introduce our products in new markets," Gomes Neto says.
New products under study include turboprop airliner, a hybrid-electric military transport and an electric vertical take-off and landing (eVTOL) aircraft.
"EVTOL, we believe, can be Embraer´s unicorn in the next year," Gomes Neto says.
He describes studies into the turboprop programme as "well advanced", adding that Embraer is seeking partners to accelerate its development.
"We are expected to have concrete news about some potential partnerships in Q1 next year," Gomes Neto says.
"We are exploring different alternatives," he adds. "Financial partners, or manufacturers as well… But also with technology."
On 29 October, Embraer released, via Twitter, a digital rendering of a new turboprop airliner. That might not seem like much, but the move got people talking. Embraer has for years flirted with the idea of developing a turboprop but this was the first glimpse of what it might look like.
Is Embraer hinting that it actually intends to pull the trigger? Again, Gomes Neto declines to say. But he leaves little doubt Embraer wants to make the 70-100-seat turboprop a reality.
"We like this project very much," he says, estimating the market opportunity to be about "1,000 units in the next ten years".
Embraer commercial aviation chief Arjan Meijer recently indicated that the turboprop, if developed, would share the E-Jet's fuselage and have conventional engines – because hybrid-electric propulsion, at this point, would deliver marginal fuel savings but hike operating costs by 15%.
Less than one month after Embraer released the turboprop image, another rendering surfaced – this one of a conceptual hybrid-electric military aircraft to be made for Brazil's air force.
Called STOUT – an acronym for short take-off utility transport – the aircraft is envisioned as a troop and cargo carrier that would replace Brazilian air force EMB-120 Brasilias and already retired De Havilland Canada DHC-5 Buffalos.
Embraer has said little about the project, but Gomes Neto hints that details are forthcoming. "We expect to have concrete news about the contract… by Q2 next year," he says. "It's moving very well."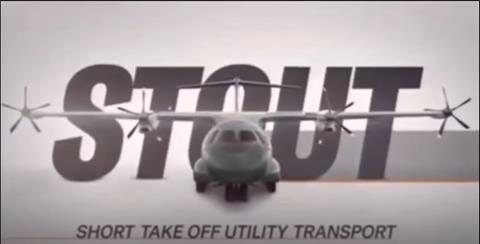 STOUT would be about the size of the Brasilia. It would have 1,310nm (2,430km) range, carry cargo or about 30 troops, and be capable of deploying paratroopers and operating from short and unpaved runways – notably those in Brazil's Amazon region.
Gomes Neto also envisions civilian applications for STOUT. "We are just now waiting for a contract to accelerate the development," he says. "I think the concept is done… It's a beautiful aircraft."
Electric ambitions
Then there's Embraer's hybrid- and full-electric aircraft projects.
"Hybrid-electric and electric, we believe, can have a quick application in between five to 10 years," Gomes Neto says. Hydrogen propulsion, however, might take 20 or 30 years to become mainstream, he adds.
To further its electric aircraft ambitions, the manufacturer's innovation arm EmbraerX this year created Eve Urban Air Mobility Solutions, a start-up developing an eVTOL and related air taxi technologies.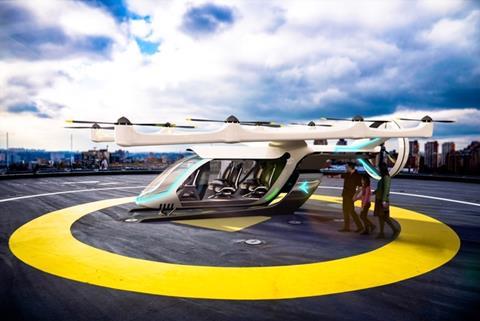 Eve has since partnered with air navigation provider Airservices Australia to develop the systems needed to integrate air taxis into crowded airspace.
Embraer has already flown a one-third-scale prototype of its eVTOL design, and expects to fly a full-scale prototype "in the beginning of next year", Gomes Neto says.
Meanwhile, Embraer is developing a prototype of an all-electric version of its EMB-203 Ipanema, an agricultural aircraft. First flight of that aircraft is scheduled for 2021.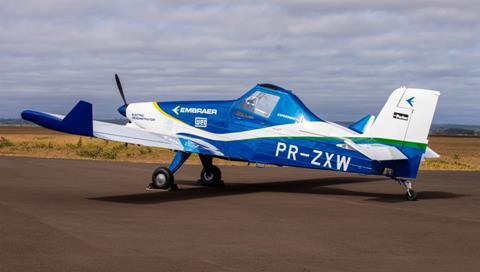 While it works to bring its development projects to market, Embraer's interim focus rests on increasing sales of existing products.
For example, the company sees the opportunity to sell new configurations of existing aircraft. Gomes Neto notes Embraer now offers a medevac variant of its Phenom 300, called the 300MED, and is developing, with the Elta Systems division of Israel Aerospace Industries, a reconnaissance and surveillance version of its Praetor 600, called the 600AW.
It also developed an E-Jet variant that can carry cargo in its cabin, and has sold Hungary two KC-390s equipped with intensive care units.
Another key to Embraer's five-year strategy: expanding its aviation services business. Here, Gomes Neto envisions more partnerships similar to a recent deal with Pratt & Whitney.
Under that agreement, disclosed in November, Embraer's Portuguese MRO arm OGMA became an authorised maintenance centre for PW1100G engines – a powerplant that equips some Airbus A320neos – work that eventually will more than triple OGMA's revenue, Gomes Neto says.
The deal reflects Embraer's intention to become more "agnostic", meaning to service other manufacturers' products.
"We will focus on our core market – that is aviation. But we also want to open new fronts to support our growth, and profitable growth," he says.