Israel's aerospace and defence sector is pivotal in guaranteeing the nation's existence – but success also depends on winning lucrative export deals
No country perhaps has a defence sector as entwined to its national security interests as Israel. Surrounded by hostile territories from its birth in 1948, the Jewish state had to rapidly establish a military-industrial complex to supply its armed forces with assets they could not source from abroad. That capability was put to the test in clashes that threatened the infant state's survival, including 1967's Six-Day War and the Yom Kippur conflict in 1973. And today, with neighbourhood tensions rising with Iran and its proxies, an innovative, capable, and responsive domestic industry remains as crucial as ever.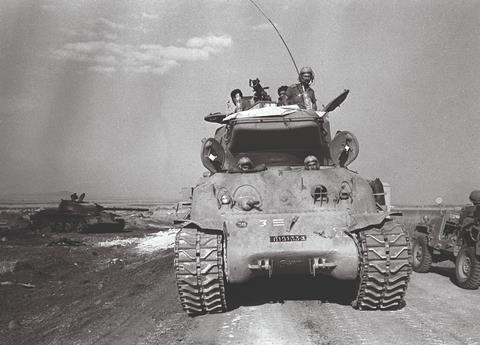 A first-class education system and national service among Israel's Jewish population of around 7 million has helped maintain a talent pool of engineers and developers and close-knit links between customers and suppliers. Almost all of those who work in the defence industry have hands-on experience of its products as users in the military or reserve.
However, the aerospace and defence sector has had to look beyond Israel's tight borders to fully flourish. Despite the country's constant war footing, Israel's defence spending as a percentage of GDP – at 4.3% in 2018 – was less than half that of Saudi Arabia, which spent 8.8%, according to research by the Stockholm International Peace Research Institute (SIPRI). Israel is the eighth-biggest arms exporter in the world, says SIPRI, behind much larger countries such as the USA in first place, followed by Russia, France, Germany, China, the UK and Spain.
Combat proven
Elbit Systems, Israel Aerospace Industries (IAI) and Rafael have been successful largely because they have managed to market their technology overseas – often with a "combat proven" endorsement from the domestic customer. Elbit in particular has also boosted its revenues with major overseas acquisitions, while a considerable proportion of IAI's sales come from the commercial sector, including a unit manufacturing business jets for Gulfstream and an airliner freighter conversion business, almost all the output of which is exported.
At home, the industry has seen consolidation since our previous country focus in early 2018. In November that year, four big contractors to the Israeli government became three when Elbit completed its $495 million acquisition of weapons and land systems house IMI Systems – formerly Israel Military Industries – expanding the reach of the industry's number-two player into munitions.
State-owned rival Rafael, Israel's third-biggest aerospace and defence firm, swooped for venture capital-backed Aeronautics in September 2019 – in a 50:50 purchase with a private investor worth $240 million – propelling the missile and air defence specialist into the world of unmanned air systems (UAS) proper. The move also tightened Rafael's control of Controp, a maker of specialist cameras and surveillance systems, which it co-owned with Aeronautics.
Elbit – the aerospace and defence company with the largest overseas industrial footprint – extended its reach further. It followed its takeover of Tucson-based general aviation cockpit equipment specialist Universal Avionics in March 2018 with the $350 million acquisition in September last year of L3Harris's Night Vision unit. The US-based business had been divested in the wake of the merger between L3 and Harris, and the acquisition has increased Elbit's considerable US presence.
Rafael's takeover of Aeronautics with businessman Avichai Stolero will see the company integrate some of its missile technologies with Aeronautics' competencies in developing UAS. The latter's range spans the man-portable Orbiter 2 to the medium-altitude, long-endurance Dominator, based on the airframe of the Diamond DA42 general aviation aircraft.
Future proofing
According to Aeronautics deputy chief executive for marketing and sales Dany Eshchar, the new ownership structure gives the Yavne-based business – with revenues of some $200 million, less than one-tenth of those of Rafael – "more of a strategic future" and "makes us much stronger". Its venture capital backers had funded the company through a crucial period but were "coming at it purely from a financial perspective", he says. "We needed both a technical and a financial backbone. Government-owned Rafael gives us that."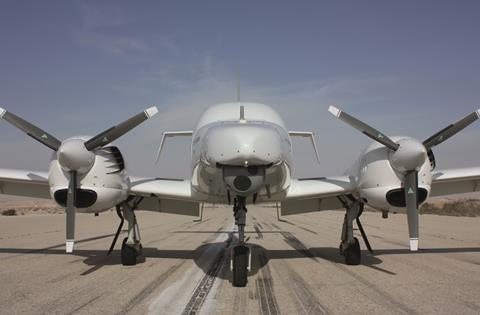 The takeover means Aeronautics will be able to more easily integrate its platforms with Rafael's sensors and communications equipment. "Combining these technologies gives us a huge advantage," he says. "It means that we can now compete on big tenders – the ones for hundreds of millions of dollars, rather than the tens of millions we were used to. We are in the bigger guys' game, able to compete with the likes of Airbus, Northrop Grumman, Thales and Textron, as well as Elbit and IAI."
Likewise, Elbit's merger with IMI allows the former – already one of the biggest names in UAS – to move into the growing market for loitering munitions, or at least bring the technologies under one roof. "IMI brings us munitions capabilities. We bring guidance capability," says Elbit chief executive Bezhalel Machlis.
Israel's aerospace and defence sector may seem a closed shop or cosy cartel, with defence ministers intent on carefully dividing the spoils of their budgets to keep each company in business, and Israeli citizens moving seamlessly from procurement or operational duties to industry, and often back again.
But that would be a misconception. The country's main players – and a number of smaller niche suppliers and start-ups – remain fiercely competitive at home and abroad, aware that their future depends on developing affordable and reliable technologies that address the needs not just of the country's own military but dozens of foreign governments as well. While Israel's defence sector may have a symbiotic relationship with its domestic customer, equally, no other national industry is more export-driven relative to its size.
Israel focus
1

2

3

4

5

6

Currently reading

Why exports are vital for Israel's aerospace and defence sector