Russia's invasion of Ukraine has galvanised the 30-nation Western military alliance, prompting major spending hikes and new membership requests from Finland and Sweden.
Only in the years to come will Russian President Vladimir Putin's war with Ukraine be conclusively ruled a colossal blunder or strategic masterstroke. But if one of his aims had been to undermine NATO and prevent its future expansion, then the campaign can certainly be declared a decisive failure.
Having already seized the Crimea region from Kyiv's control in 2014, Moscow in late February launched its invasion, partly in an attempt to ensure that its neighbour would not seek to join the Western Alliance.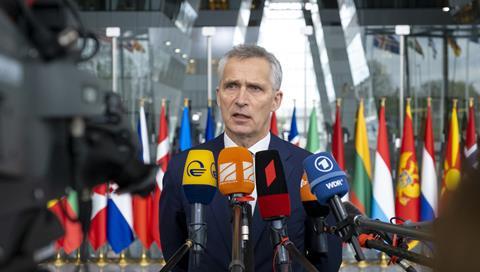 Putin's paranoia over NATO's eastwards expansion stems from it having added 14 ex-Soviet or former Warsaw Pact nations to its ranks since the end of the Cold War. This process began in 1999, with the accession of the Czech Republic, Hungary and Poland, and was followed by a seven-nation boost in 2004, when NATO welcomed Bulgaria, Estonia, Latvia, Lithuania, Romania, Slovakia and Slovenia.
STEADY EXPANSION
These were was followed by Albania and Croatia (2009), Montenegro (2017), and most recently North Macedonia (2020), taking its total membership to 30 countries, and providing protection for roughly onebillion citizens.
Ukraine's government had shown interest in following suit – in addition to seeking inclusion within the EU – while Bosnia and Herzegovina and Georgia also have previously indicated a potential desire to join.
For Russia, such a further strengthening of NATO's eastern flank is unacceptable, because it leaves open the prospect of the Alliance positioning troops and advanced weapons on its doorstep. Abetted by ally Belarus, Russia's forces launched their action in Ukraine to halt President Volodymyr Zelensky's continuing lean to the West.
Despite having issued strongly-worded warnings for months, NATO and its most powerful member, the USA, could do little more than voice outrage as the war began. While the Alliance's Article 5 states that an attack launched against any one member will be viewed as an attack against all – so-called collective defence, in the case of Ukraine it could not intervene.
But if Putin was counting on potential divisions within NATO, such thoughts were instantly dispelled, as many of its member states swiftly moved to supply Kyiv with the weapons and equipment needed to bolster its defences.
"President Putin made a strategic mistake," asserts NATO secretary general Jens Stoltenberg. "He totally underestimated the strength, the ability and the will of the Ukrainian people and Ukrainian armed forces to defend themselves, and he underestimated the unity of NATO, NATO allies and partners to support Ukraine."
If moving armoured convoys towards Kyiv and levelling urban centres such as the southern city of Mariupol had been designed to deter nations from siding with NATO, the strategy also swiftly backfired.
RAPID STEPS
Finland on 12 May announced that it would apply for membership "without delay", and Sweden did the same four days later, citing "the fundamentally changed security environment following Russia's invasion of Ukraine".
"President Putin wanted less NATO. He's getting more NATO: more troops, and more NATO members," Stoltenberg noted on 1 June.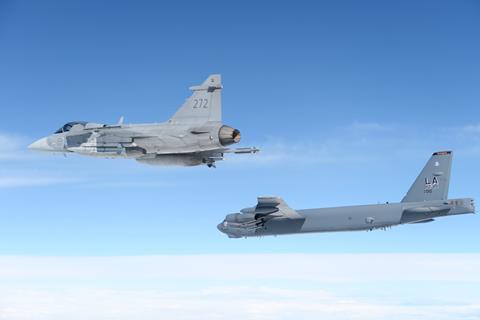 If that was not anticipated by the Russian leader, then at least the addition of Helsinki and Stockholm could be used to support his narrative of the nation facing an aggressively expansionist adversary.
By early June, the US Department of Defense had upped its presence in Europe to more than 100,000 personnel, and deployed additional fighter, tanker and transport aircraft to the region. "European allies and Canada are also stepping up with more troops, higher readiness and increased defence spending," Stoltenberg said.
In June, NATO said there were 130 allied aircraft at high alert at any time along its eastern flank, including those providing air policing cover in the Baltic states, and down through Poland, Slovakia, Hungary, Romania and Bulgaria. Its own surveillance assets also were providing 24/7 coverage.
During its 28-30 June Madrid Summit, NATO approved a new Strategic Concept, promising to strengthen its collective defence and "transatlantic solidarity" in the face of the heightened threat.
"The Russian Federation is the most significant and direct threat to allies' security and to peace and stability in the Euro-Atlantic area," it says. "With determination, resolve, and in solidarity, allies will continue to counter Russian threats and respond to its hostile actions, in a manner consistent with international law."
Condemning the war in Ukraine, the Alliance says: "We will continue and further step up political and practical support" to Kyiv, such as delivering "non-lethal defence equipment", improving cyber defences, and supporting modernisation activities "in its transition to strengthen long-term interoperability".
Meanwhile, it also is to "step up tailored political and practical support to partners, including Bosnia and Herzegovina, Georgia, and the Republic of Moldova". This will help to "build their integrity and resilience, develop capabilities, and uphold their political independence", it says.
Talks about its expansion plan for Finland and Sweden were completed at NATO headquarters in Brussels on 4 July, and Accession Protocol documents were signed the following day.
"Both countries formally confirmed their willingness and ability to meet the political, legal and military obligations and commitments of NATO membership," says the Alliance, which will now wait for each of its current member states to formally ratify the expansion.
TURKISH ENDORSEMENT
Turkey had initially opposed the move, because of what it described as the Nordic nations harbouring supporters of the PKK terrorist organisation, but adjusted its stance with the signature of a trilateral memorandum on 28 June.
"With 32 nations around the table, we will be even stronger and our people will be even safer, as we face the biggest security crisis in decades," Stoltenberg says.
NATO notes: "The security of Finland and Sweden is of direct importance to the Alliance, including during the accession process."
Also during the Madrid Summit, plans were announced to establish a Defence Innovation Accelerator, backed by a multinational innovation fund. NATO says this will "bring together governments, the private sector, and academia".
With its 14-aircraft Boeing E-3A surveillance fleet scheduled to leave use by 2035, it also "endorsed a strategy which will ensure the seamless delivery of the next generation Airborne Warning and Control System and related capabilities". Boeing was in March awarded a risk-reduction and feasibility study contract linked to the effort, leading a coalition of partners under the ABILITI banner.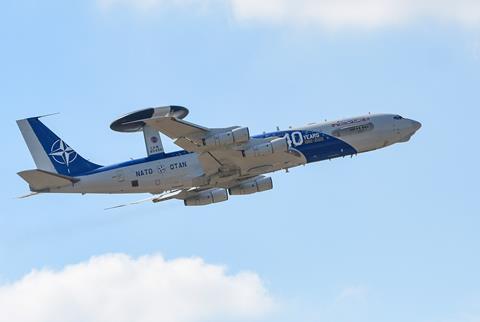 And progress is being made with regard to a key requirement for member states to spend a minimum of 2% of their GDP on defence.
In a report published ahead of the summit, NATO estimates suggested that only nine of its members would hit the target this year: Croatia, Estonia, Greece, Latvia, Lithuania, Poland, Slovakia, the UK, and the USA. Another 10 should spend between 1.5% and 1.99%, while funding from 10 others should be below 1.5%. The remaining member, Iceland, does not have a military.
However, "For the seventh consecutive year, defencespending has been increased, and more and more allies are meeting our guideline," Stoltenberg says.
The picture is more positive when it comes to the percentage of the defence budget a nation allocates to procurement activities each year. Here, NATO has a 20% target, and its figures show that 24 countries should exceed that level this year.
Its latest analysis does not, however, take account of the major spending increases announced by multiple nations in reaction to Russia's aggression in Ukraine. Germany, for example, allocated an additional €100 billion ($102 billion) shortly after hostilities started, and Poland has pledged to boost its outlay to 3% of GDP. Sweden, meanwhile, intends to hit the 2% target by 2028.
But beyond boosting membership to 32 nations and establishing a new Nordic flank along the Russian border, how will the incorporation of Finland and Sweden change NATO's combined equipment strength?
Cirium fleets data used in our 2022 World Air Forces directory shows that as of late last year, NATO nations had a combined 20,669 military aircraft in service. At the same time, Russia's armed forces – which have subsequently been significantly depleted by the war in Ukraine – had just 20% of this strength, at 4,173.
NATO also has its Boeing 707-based E-3As, while Northrop Grumman has completed deliveries of five RQ-4D Global Hawks via the Alliance Ground Surveillance programme.
JOINT EFFORTS
Pooling and sharing arrangements account for additional capabilities, including three Boeing C-17s used by the Strategic Airlift Consortium of NATO and Partnership for Peace members from Papa air base in Hungary.
And five Airbus Defence & Space A330 multirole tanker transports (MRTTs) have so far entered use with the NATO Multinational MRTT Fleet organisation at Eindhoven air base in the Netherlands. This is due to grow to at least nine of the type, but could expand further if additional nations join the initiative, which so far involves Belgium, the Czech Republic, Germany, Luxembourg, the Netherlands and Norway.
Meanwhile, a combined 396 military aircraft were in active use in Finland (192) and Sweden (204).
Helsinki's assets include 165 air force and 27 army aircraft, while Stockholm has 151 air force assets and 53 rotorcraft with its Defence Helicopter Wing.
The nations' most notable ongoing acquisitions are in the combat aircraft sector.
Finland last December selected the Lockheed Martin F-35A for its 64-aircraft HX programme need, to replace its Boeing F/A-18C/Ds. A letter of offer and acceptance for the €8.4 billion deal was signed in early February, and deliveries of its Block 4-standard stealth fighters will take place between 2025 and 2030. Sweden, meanwhile, has 60 Saab Gripen Es on order, with the new-generation model to enter operational use later this decade.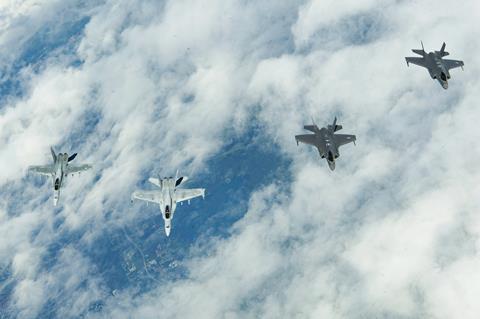 In a strategically significant move, Sweden on 30 June signed a roughly SKr7.3 billion ($714 million) contract to acquire an initial two Saab GlobalEye surveillance aircraft: the announcement came just one day after NATO had approved its membership request.
Deliveries of the extensively modified Bombardier Global 6000s will occur in 2027, with the contract also covering options on up to two additional examples.
Saab points to the more than 300nm (550km) performance of the GlobalEye's Erieye ER extended-range radar, "as well as a suite of advanced sensors and a command and control system". Capable of flying above 30,000ft for 11h, the platform can simultaneously monitor airborne, maritime and land-based threats.
The company has previously said that the Erieye ER has 70% greater detection range than its radar used on the Swedish air force's current pair of Saab 340 airborne surveillance and control aircraft. The sensor also is capable of identifying and tracking low-level threats such as cruise missiles and attack helicopters.
Noting that it is "a defensive Alliance and poses no threat to any country", NATO says it "will continue to protect our populations and defend every inch of allied territory at all times. We will build on our newly enhanced posture, and significantly strengthen our deterrence and defence for the long term to ensure the security and defence of all allies".
How Russia reacts to its adversary defining it as the "most significant and direct threat" at a time when Moscow is out-equipped five-to-one in airframe terms is another unknown. The spectre of a future escalation in hostilities is of concern, with Putin having warned of unspecified consequences for continued expansion and the provision of advanced weapons to Ukraine. Moscow has even alluded to potentially upping the readiness of its nuclear forces.
Stoltenberg points to the wording of a UN declaration that was agreed by China, France, Russia, the UK and the USA in January 2022, which stated: "A nuclear war cannot be won and must never be fought". Their agreement added: "Nuclear weapons – for as long as they continue to exist – should serve defensive purposes, deter aggression, and prevent war."
Craig Hoyle joined Flight International in 2003, and has edited the now monthly title since 2015. He has reported on the UK, European and international military aviation sector for more than 25 years, and produces our annual World Air Forces directory.