Long-simmering tensions between China and Taiwan heightened following a visit to Taipei by US Speaker of the House of Representatives Nancy Pelosi, with Beijing mounting large-scale airspace incursions and staging live-fire exercises near the disputed island.
Pelosi arrived at Songshan airport on 2 August aboard a US Air Force Boeing 737 (C-40C) after a flight from Kuala Lumpur, Malaysia. The VIP transport had skirted the edge of the South China Sea, overflying Indonesia and passing around the Philippines, in order to avoid territory that is the focus of several disputes between China and its neighbours and a militarised island-building campaign by Beijing.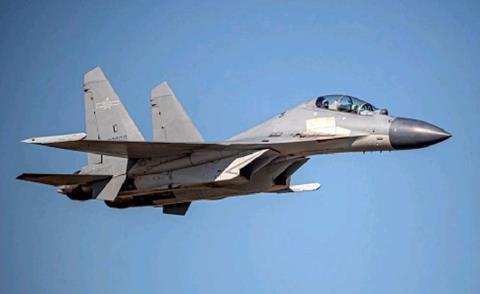 "Our visit reiterates that America stands with Taiwan: a robust, vibrant democracy and our important partner in the Indo-Pacific," Pelosi said via Twitter.
While the USA maintains a so-called "One China Policy" of not officially acknowledging the existence of a Taiwanese state known as the Republic of China (ROC), it has supplied arms and training to Taipei for decades.
On 3 August, Taiwan's Ministry of National Defense (MND) tracked 16 Sukhoi Su-30s, six Shenyang J-11s and five Shenyang J-16s of the People's Liberation Army Air Force (PLAAF) entering its airspace at three different points along the so-called "median line" that serves as an unofficial maritime boundary in the Strait of Taiwan.
This activity came a day before Beijing launched a major series of military exercises at six locations around Taiwan, which it views as a breakaway province.
The English-language Global Times, which has close ties to China's ruling Communist Party, quoted officials within its Eastern Theatre Command as saying PLA forces would advance within 12nm (22km) of the island, with the intent of surrounding it entirely. The drills also would involve the use of Chengdu J-20 stealth fighters, DF-17 hypersonic missiles and – for the first time – firing conventional missiles over Taiwan, it added.
INCURSION PRESSURE
On 4 August, 22 of Beijing's aircraft crossed the median line: 12 Su-30s, eight J-11s and two J-16s. A much larger incursion took place the following day, involving 49 of almost 70 tracked Chinese aircraft. These included 24 Su-30s, 10 J-16s, seven Chengdu J-10s and six J-11s, plus two Xian Y-8 turboprops configured for airborne early warning and anti-submarine warfare duties.
Live-fire drills had originally been set to conclude on 8 August, but Beijing extended its activity, with a focus on "anti-submarine warfare and sea assault operations".
The MND tracked 40 and 45 Chinese aircraft respectively on 8 and 9 August.
Countering the probing of its defences, Republic of China Air Force fighters armed with air-to-air missiles were dispatched to intercept PLAAF aircraft, broadcast dispersion orders and conduct surveillance of their activity.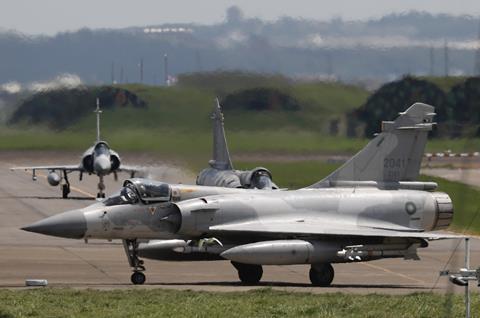 While such incursions have happened for years, data from the MND shows that the number of Chinese military aircraft entering Taiwan's air defence interdiction zone on a monthly basis is increasing.
The disruption prompted civil aviation regulators in Singapore, Thailand and Vietnam to urge their carriers to avoid the airspace around Taiwan during the exercise period, forcing services to be rerouted or cancelled.
Taiwan's foreign minister, Joseph Wu, denounced Beijing's exercises, describing them as a rehearsal for a military invasion.
"[It] gives us a clear image of China's geostrategic ambition beyond Taiwan," Wu said on 9 August. "China's real intention beyond these military exercises is to alter the status quo in the Taiwan Strait and the entire region."
Beijing has made reunification with Taiwan, which has been politically independent since 1949, a strategic goal.
MANUFACTURED CRISIS
"It's very concerning," Wu says. However, Taiwan's top diplomat adds: "We are not scared by China."
The US Department of Defense says five missiles launched during Chinese manoeuvres landed in the waters of Japan's exclusive economic zone.
Speaking on 8 August, US undersecretary of defense for policy Colin Kahl called the military response by China a "manufactured crisis", noting that previous visits by US officials had not provoked such an aggressive response.
"Clearly the PRC [People's Republic of China] is trying to coerce Taiwan, clearly they are trying to coerce the international community," Kahl says. "We are not going to take the bait. It's not going to work."
Under a policy known as strategic ambiguity, the USA has not ruled out the use of military force to help defend Taiwan from any future invasion. However, President Joe Biden in recent months has gone as far as to verbally affirm a US defence commitment to the island.
Beijing's military actions received broader international condemnation, with the G7 group of industrialised nations stating: "There is no justification to use a visit as pretext for aggressive military activity in the Taiwan Strait. The escalatory response risks increasing tensions and destabilising the region."
Taiwan's armed forces, meanwhile, launched a series of pre-planned military drills concluding on 11 August, geared toward defending against an amphibious invasion. Further manoeuvres will be performed during September also involving the army's Bell AH-1W Super Cobra and Boeing AH-64 Apache attack helicopters, the state-run Central News Agency reports.
"[The] PRC's drills… violated our sovereignty, and caused tension in the Indo-Pacific region," the MND says. "The ROC armed forces seek no escalation, but we succumb to no challenges and respond with reason."
For its part, China's Ministry of Foreign Affairs on 5 August accused the USA of trying to "bully and strangle other nations at will".
"The world must never allow the US to see itself as a 'world policeman' or an 'international judge'," it adds. As a response to Pelosi's visit, Beijing has pulled out from several planned meetings with the USA on military co-ordination.
OPERATIONAL APPROACH
While its major exercises offered valuable practice to the PLA, some observers also see a silver lining for Beijing's democratic rivals.
Mick Ryan, an author and former general in the Australian army, says the drills offer a unique opportunity "to observe how China and the PLA might think about conducting a naval blockade of Taiwan. In essence, they are telegraphing their operational approach so we can war game ways to subvert it in future," he wrote on Twitter.
Washington says US military aircraft – including dedicated surveillance assets such as Boeing RC-135 electronic intelligence and Lockheed Martin U-2S reconnaissance aircraft – will continue to fly in the Strait of Taiwan, despite Beijing's objections. The US Navy has two carrier strike groups in the region, each with an air wing of more than 70 combat and support aircraft.
With additional reporting by Greg Waldron