Commercial pilot and entrepreneur Abingdon Mullin has a goal: to purchase a Grumman Albatross seaplane and cruise the world, camping out in the cabin with her husband and Sinatra, her cat.
"We want to own an Albatross and turn it in to 'van life'," says Mullin, 39, of Las Vegas. "It's like an RV with wings. We [could] go anywhere."
Indeed, it was that ability to go anywhere, to see the world, that led Mullin to become a professional pilot in the first place – despite the field being dominated by men.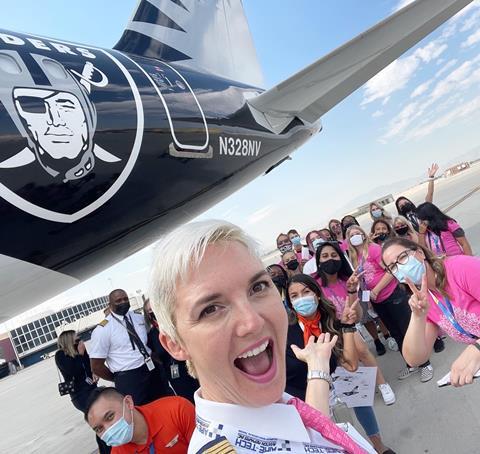 She has since worked at Cirrus Aircraft, flown turboprops throughout the Caribbean, piloted big jets for Spirit Airlines and, amid it all, launched The Abingdon Co., a company specialising in selling watches designed for female pilots.
"Have I been sexualised? Yes. Have I been called every name in the book? Yes," Mullin says.
Her advice: "Be a duck. Water off a duck's back. If you let it soak in, it's going to get you wet."
CAREER LUNCH
The daughter of an English father and Mexican mother, Mullin grew up living in the UK city of Leeds and in Burbank, California. She initially had little interest in aviation, but that changed in the late 1990s when, at age 14, she had a chance meeting with two pilots. That day, her high school in Burbank held one of its monthly "career lunches" – opportunities for students to learn about job options.
Mullin attended for the free lunch.
"I didn't even know what the topic was. I was the only girl," she says. "In walked two pilots from the local flight school."
They explained that professional pilots need not first be military pilots, and that many jobs exist other than those working at airlines.
"I was bit by the bug," Mullin says, adding that an introduction flight lesson at age 16 "solidified [that] this is what I wanted to do".
Still, at the advice of her parents, Mullin delayed an aviation career to attend the University of California San Diego, where she earned a degree in psychology. She later completed a stint as a business volunteer in Cameroon with US agency Peace Corps.
But aviation kept tugging at her sleeve. "I just knew I wanted to fly," she says.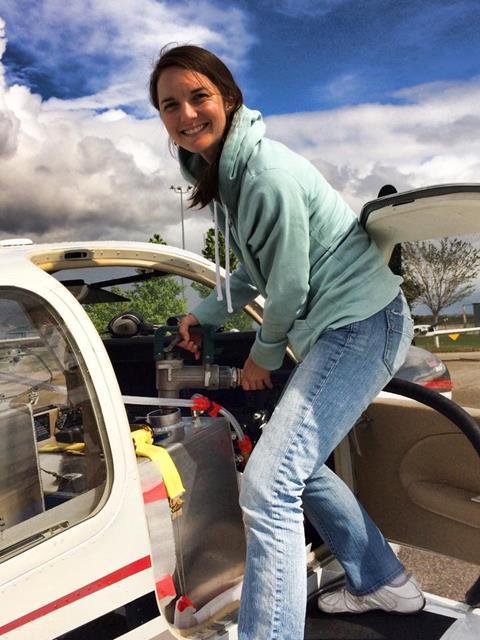 Mullin made it happen. She landed her private pilot license in 2006 at the age of 22 – completing the programme in 34 days with just 43h of flight time – and began working toward her commercial licence.
At about the same time, she began kicking around the idea of launching a company selling watches designed for female aviators. The idea came amid dinner with other female pilots; they were discussing having trouble finding aviation watches designed for women.
It was on 3 November 2007 that her career came together. On that single day, she received her commercial pilot license, landed a pilot job at Cirrus Aircraft and started watch company Abingdon.
The Cirrus job, in Santa Monica, involved flying single-engined piston SR20s and SR22s on demonstration flights for customers, and delivering aircraft to industry events like the Sun 'n Fun Aerospace Expo in Florida and the Experimental Aircraft Association's AirVenture show in Oshkosh.
Mullin then took a job selling aircraft and flying for kit-aircraft maker Lancair International, which was then based in Redmond, Oregon.
She entered the airline world in 2015, taking a job with Seaborne Airlines flying Saab 340B turboprops from San Juan to places like Dominica, Guadeloupe, Martinique, St Croix, St Kitts and Nevis, St Martin, St Thomas and Tortola.
After logging 500h of turbine-aircraft time, Mullin signed on with Spirit, flying Airbus A320-family jets out of Las Vegas. At the same time, she was able to focus on building her Abingdon watch business, thanks to provisions in Spirit's pilot contract enabling pilots to fly nearly as little, or as much, as they like.
The Abingdon business continued growing and last year Mullin left Spirit.
"I was just going to create a bunch of watches for my girlfriends and I. Who knew it was going to take off like fire," she says.
ACTIVE CUSTOMERS
Abingdon's target customers include "adventurous women" – those who enjoy activities like flying, scuba diving, base jumping, shooting and race car driving, the company says. The watches are assembled in Las Vegas.
They are sold via Abingdon's website and at aviation and pilot stores, retailer Macy's, the US military's Exchange outlets and The Smithsonian Institution's National Air and Space Museum shop near Washington DC. The company has logged sales since it inception nearing $3 million, Mullin says.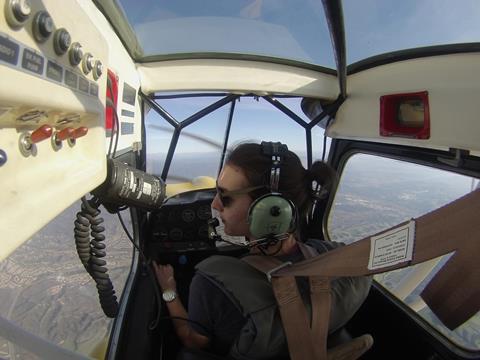 She is now planning for what comes next, including, possibly, making good on her goal to buy an Albatross seaplane with her husband, a Frontier Airlines' pilot.
Grumman developed the type, powered by Wright R-1820 radial engines, as an amphibious utility aircraft for the US Navy, producing it through 1961. Not many remain for sale, but Mullin has her eye on two.
The idea goes something like this: convert the aircraft's cabin into a home away from home, equipping it with solar-energy and water-desalination systems for self-sufficiency in the remotest destinations. Then, fly off to where adventure calls.
"People live on sailboats for years – we could be doing the same thing in an all-terrain aircraft," Mullin says.
And, of course, Sinatra the cat will come along.
"He'll be our little airplane kitten," Mullin says.