For aviation enthusiasts, top military officials and aerospace industry leaders alike, the UK's annual Royal International Air Tattoo (RIAT) is nothing short of a must-attend event.
Each July, many dozens of aircraft from around the globe arrive at the normally quiet Royal Air Force (RAF)-owned base at Fairford in Gloucestershire, where crews participate in three days of unrivalled flying displays, or grace a sprawling static area which offers visitors unmatched variety.
The largest military air show of its kind, RIAT attracts in the order of 170,000 spectators each year. This number is capped due to local infrastructure restrictions such as the narrow rural roads around the site, which can easily become gridlocked with traffic.
Sadly, the impact of the Covid-19 pandemic and associated restrictions on gatherings has for the second year running led to RIAT's cancellation, with the loss of the 2021 event – originally scheduled for 16-18 July – a particular disappointment, in what is the Air Tattoo's 50th anniversary year.
Paul Atherton is in the unenviable position of nearing the second anniversary of heading RIAT's organising company with no event yet staged during his tenure.
Having been selected as the new chief executive of the RAF Charitable Trust Enterprises (RAFCTE), Atherton attended the last show three months before assuming his role.
"RIAT 2019 had been successful – I had spent a week here, which was a really good part of the handover," he tells FlightGlobal. Notable attractions included participation by Romanian air force Mikoyan MiG-21s, Ukrainian Sukhoi Su-27s and Spanish navy Boeing AV-8B Harriers, plus a memorable flypast involving the RAF's Red Arrows aerobatic display team and a British Airways Boeing 747, celebrating the jumbo jet's half-century of service.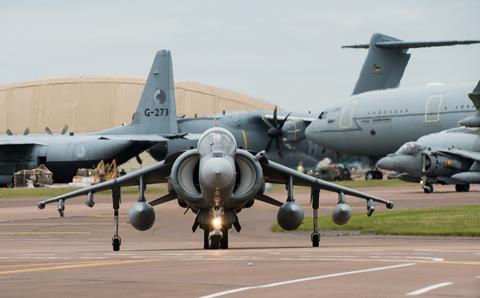 Among the main themes of the last show was commemorating the 70th anniversary of NATO's formation, although – by far unheard of at such events – poor weather conditions on the first day forced a special flypast to be cancelled.
"I'd been to many, many RIATs in an official capacity, so I knew what it was like," says Atherton, a former RAF pilot and two-star officer with more than 5,000h accumulated on the Lockheed Martin C-130K and J-model Hercules, Lockheed TriStar and Vickers VC10. "But I had no idea what it took to put it on. Just seeing that week before [the event] was really staggering."
Preparing the show site – ordinarily a US Air Force (USAF)-run facility, which currently houses a detachment of Lockheed U-2 surveillance aircraft and regularly hosts strategic bomber deployments made by the service – is a four- to six-week undertaking, he notes.
PUBLIC EXCITEMENT
"It whet my appetite," he says of the 2019 experience, "and I was really looking forward to starting the planning phase, and seeing the whole thing evolve from an austere USAF base on MoD [Ministry of Defence] land to what we see when we all turn up on the [opening] Friday. You've got a Royal Ascot-type event, with all of the opulence and public excitement that surrounds it."
The first event scheduled under Atherton's leadership was cancelled in March 2020, as the severity of the coronavirus pandemic struck the UK. He describes the decision to axe that show as "a strategic shock".
"The saying is you get your first 90 days to have a look [in a new job] – just towards the end of my 90 days, Covid reared its head," he notes.
After the cancellation, the RAFCTE team's thoughts turned to making an immediate recovery this year, in the belief that "Covid can't last". But worse was to follow: in February, the 2021 version also was called off.
As with many major summer events in the UK, such as the Glastonbury music festival and Edinburgh Royal Military Tattoo, the financial liability associated with their running has been heightened this year, with organisers unable to secure cancellation insurance cover.
"We start to become financially exposed in about March-April time – that's when we have to start paying all of the deposits to all of our suppliers," Atherton says. "Some of those contracts involve an awful lot of money," he adds.
"The hole was just opening up in front of us, [and] a second cancellation – without insurance – would have been catastrophic. We couldn't afford to take that chance," he says. Indeed, had the organiser taken the wrong decision and hoped for the best, he believes this could have led to an "irrecoverable" position.
Despite the disappointment, Atherton says that the public and military appetite for attending RIAT remains undiminished, noting: "Everybody has missed it".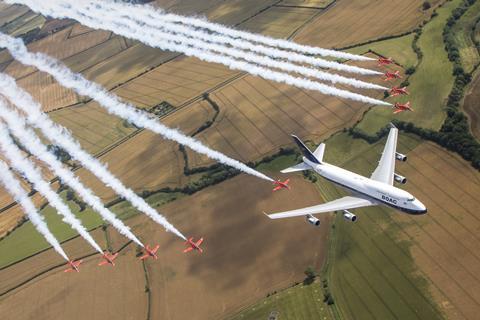 Indeed, some 90% of ticket holders have opted to retain them until next time. "We are really fortunate that the public have carried over tickets for two years, and left their money with us, which is absolutely amazing," Atherton says. This despite the organiser having offered a full refund, feeling that this was "morally right".
RIAT also offered to return money to its corporate sponsors, which provide strong support and fill the exclusive chalet line that features prominently at the show. "The support we got from our sponsors was really quite humbling as well," he says. "An awful lot said 'We will work with you', which was very positive."
The show's only other cancellation of recent years had been in 2008, when freak heavy rainfall waterlogged the site and its grass car parks. This led to the police and local authorities calling a halt, on safety grounds.
RIAT's organiser has this year sought to safeguard the event's future by using the UK government's employee furlough scheme and other support initiatives, such as obtaining a business interruption loan. It also has received considerable financial support from the charity that it raises funds for in a normal year.
The show typically raises around £1 million ($1.4 million) per year for the RAF Charitable Trust, which in 2019 approved grants worth in the region of £700,000 to help initiatives such as junior rank scholarships and others promoting aerospace engagement.
"They have taken a hit" during the downturn, Atherton says of the charity, with the Trust having been unable to run its usual programmes due to factors such as social distancing restrictions.
Atherton notes that while RIAT is hugely successful, that is in part because of its unique feel.
"We get 50 or 60 heads of air forces, and senior company executives, but it's not a trade show. It has a relaxed and enjoyable atmosphere," he notes. It is not typically a place where deals get done, but a gathering at which relationships are forged and maintained between military personnel and industry professionals.
So, with two years of events gone, where next for the Air Tattoo?
"We are going to go back to basics," Atherton says, adding: "Covid has given us the catalyst. Could it become better and more efficient, and how do we evolve going forward?" As an example, he is keen for the organiser to restructure its activities, "to spread workload through the whole year".
While it could look to offer a bigger Friday – the show was until 2018 a weekend event only – Atherton is determined that "there is no ambition for a trade show". Nor is there any desire to extend the event beyond its current three-day duration. "You'd increase your cost and lower engagement," he notes.
Areas that he feels are worthy of increased attention include sustainability, space, unmanned systems and cyber. This includes the potential to for the first time enable an unmanned air vehicle to participate in the display flying, he indicates.
However, what will not change will be the event's reliance on 1,200 volunteers and 1,000 cadets and adult supervisors, who ensure that it runs smoothly.
Another key aspect – already addressed via its Techno Zone exhibits, concerns promoting aerospace to younger visitors. "It's all about enthusing the youth of today," he says.
Despite the blow of losing the golden anniversary show, Atherton is determined that RIAT will return as scheduled, from 15-17 July next year.
"We plan to be back bigger and better in 2022, to open a new and exciting chapter in the event's history. The main thing will be putting on the show to the expected standard."
One of the key themes for the next event will be marking the 75th anniversary of the USAF's formation. A strong presence can be expected from the service's European-based assets.
SAFETY MATTERS
For Atherton, running a safe show is paramount. He was director general of the UK Military Airworthiness Authority (MAA) at the time of the 2015 Shoreham air show disaster, in which 11 people were killed when a Hawker Hunter crashed on a busy road adjacent to the West Sussex airfield during a flawed display routine. He was involved in a subsequent review of display flying, which resulted in tighter restrictions being imposed on all such events.
"When I – as the regulator – looked in at RIAT, they were almost overly-compliant," he says. "Everything they did was probably in accordance with the way that we were evolving the regulation."
The show has a flight safety committee, and all display routines must be validated before permission is granted to fly during the event.
For RIAT, post-Shoreham focus areas included assessing the positioning of off-site camping areas, ensuring the safety of those outside the base, and keeping display boxes clear. "It's an incredibly controlled environment," he says.
"We work really closely with the MAA on the whole regulation suite, from ground to air traffic to air, and it's a relationship that's really strong, and that we're very proud of."
But what if coronavirus remains an obstacle in 2022 to staging such a gathering, which attracts participants and visitors from around the world?
"Whatever the new normal is, we need to learn to live with it," he concludes. "We did a lot of work on how to do a show with restricted numbers" before this year's cancellation decision, he adds.
With its reputation for attracting the best and newest aircraft – it was the first event to feature the Bell Boeing V-22 Osprey tiltrotor and Lockheed Martin F-35, for example – along with rarities from distant nations, all will be hoping for a spectacular RIAT return next year.
Organiser marks golden anniversary where Air Tattoo began
A small group of Air Tattoo veterans assembled at North Weald airfield in Essex on 31 May to mark the event's 50th anniversary milestone, where they were joined by one of the aircraft which had visited the inaugural show.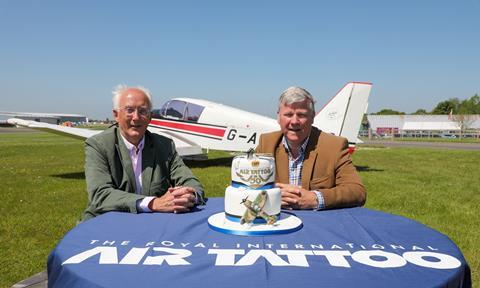 Around 12,000 people attended the 1971 event, which was staged by the Royal Air Forces Association and run by an organising team which included World War Two Bomber Command veteran Squadron Leader Jack Currie, and two air traffic controllers from Boscombe Down: Paul Bowen and Tim Prince, who would both subsequently lead the event.
"What differentiated it from previous annual air displays was the involvement of aircraft from international air arms," the Royal International Air Tattoo (RIAT) notes.
"I am reminded of all the wonderful people who volunteered their time and energies and came together to stage Air Tattoo 71," Prince says. "We all stepped into the unknown and staged an event that was to become world famous for the air forces of the world to meet annually in a spirit of friendship and cooperation whilst inspiring the next generation of aviators through the magic of flying."
The show's chief executive until 2014, Prince has a glint in his eye while recalling the challenges the team overcame during the first event – including directing a four-ship formation of Royal Danish Air Force Saab Drakens into the airfield in poor visibility while avoiding a local aerial installation.
CHANGING TIMES
As described in Ben Dunnell's book Air Tattoo 50 – The Story of the World's Greatest Air Show, times have certainly changed, and air shows have become more slick, professional and safety-conscious since that first gathering. "Famously, the Patrouille [de France] didn't much care for the accommodation they were offered in a disused barrack block," he notes.
In true air show fashion, the anniversary gathering went ahead despite the last-minute withdrawal of its planned star attraction: Battle of Britain Memorial Flight-operated Supermarine Spitfire PM631. Unable to fly in from RAF Coningsby in Lincolnshire, the PRXIX-model had been among the 80 aircraft that took part in the first Air Tattoo.
Instead, a 55 year-old Jodel D140C Mousquetaire (G-ATKX), owned and flown by Phillip Petitt, took the limelight after journeying from Redhill aerodrome in Surrey.