Tucked into a far corner of the sprawling Airbus Defence & Space campus in Manching, Germany, about an hour's drive north of Munich, is the Messerschmitt Flight Museum, housed in a converted hangar and home to a priceless collection of unique aircraft.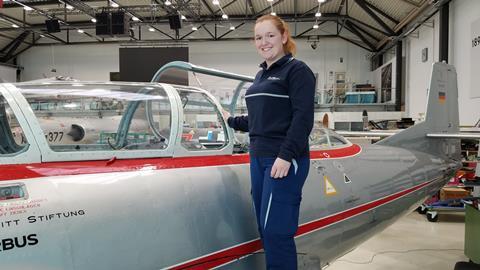 Willy Messerschmitt, one of the most prolific German aircraft engineers of his generation, played a decisive role in advancing mid-20th century aviation technology. His designs range from the minimalist M 17 light aircraft, first flown in 1926, through to the jets upon which today's fighters are based.
The museum is also the workplace of 21-year-old Steffi Ziegler, Rose Queen of her home town and freshly-minted aircraft maintenance engineer.
"I am so happy here," she says, surveying the sparklingly-clean hangar, which also serves as a repair shop for the historic aircraft it houses. She completed her three-year apprenticeship in January, and works on the collection's Messerschmitt Me 262 and HA 200 D jet.
The iconic Me 262 is arguably Willy Messerschmitt's most enduring type, and the world's first jet-powered fighter. It lifted off on its maiden flight in 1941 amid the tumult of Second World War. Engine issues forced it to sit out the conflict until 1944, and it returned to service a year before the war ended. About 1,400 examples were built, but only 300 flew in combat.
A fully certified replica sits prominently in the Manching hangar, its maintenance and repair entrusted to Ziegler.
"It's my favourite aircraft. And the most beautiful," she says. "Messerschmitt himself said that it was the most important aircraft for him because there is so much to learn from it. It was fast, the most modern of its kind, and the first fighter to go from pistons to turbines."
Despite her youth, Ziegler appreciates the responsibility she carries and the importance of the legacy of which she is a part.
"You have to be careful with these aircraft, they are so valuable," she says. "There are only a handful of these left in the world, and that's it. So it's really crucial that we preserve this history."
Airbus and the Messerschmitt Foundation have made sizeable investments into restoring, maintaining and showcasing the collection, often bringing the aircraft to airshows and exhibitions across Europe.
The biggest issue Ziegler and her colleagues at the museum face is the lack of spare parts for the historic birds, with components often out of production and difficult to find. Much creativity and elbow-grease goes into securing, refurbishing and replacing things that break.
"It's not like on a modern jet where you just take a part that has failed and swap it out with a new one," she says.
Ziegler also knows the work she does is not just for show. The aircraft are kept in flying condition. All are certificated and airworthy.
"You can't just park an airplane on the side of the road, like a car, if it has engine trouble," she says. "There is a lot of responsibility that goes along with repairing an aircraft. When you are aware of that you realise what a great career this is on so many levels."
Ziegler showed an early interest in aviation. Her childhood home sat under the flight paths of two airports and she was fascinated by the technology. When the time came to choose a career, she naturally looked to the nearby Airbus campus.
"In school I took the advanced-maths-focused track," she says. "I always loved watching the airplanes cross overhead, also fighter jets like the Eurofighter. So I decided to apply for the vocational course here."
Of the 15 students in her apprenticeship class, four were women. All graduated and are now working on different programmes at the Manching site.
"My family was super-excited when I told them this was what I wanted to do as a career, and that a girl could even do this. But they couldn't really help me because none of them had any experience in the field," she adds.
Hard work and a bit of luck led to her job her at the museum, she says. She had the choice of working on cutting-edge programmes like the Eurofighter, Tornado or the A400M, but the older aircraft appealed most.
"It is so vital that people see how aviation started," she says. "Today's aviation is based upon what the designers did years ago with these historic aircraft, and it's important to see how things were done then, how advanced the technology was at that time, what was even possible."
Ziegler's down-to-earth attitude also led her to be voted "Rose Queen" of her hometown of Karlshuld, just west of Manching.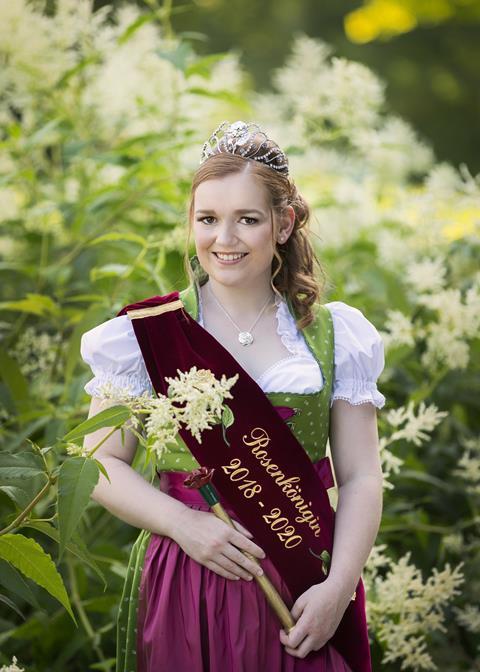 "It's an honorary post where I represent the horticultural society of my region at festivals, trade fairs and parades in Germany and across Europe," she says. "Very different from my day job."
Her advice to others interested in learning how to take apart aircraft and put them back together again?
"If you want to do this you need to be inspired by the technology, have some craftsmanship skills and manual know-how, and of course you have to love aviation," she says.
"It's such a fun career. You have so many possibilities to learn. That's why I love what I do."

Pilar Wolfsteller, Americas Air Transport Editor, is based in Las Vegas and brings a pilot's perspective to her beat. She covers airlines across the hemisphere and her interests also include future-oriented sustainable aviation technology and urban air mobility projects. Pilar began her journalism career at the global news agencies Bloomberg and Reuters, and has reported from more than 50 countries.