Supply chain constriction, particularly relating to engines, continues to weigh on the aerospace industry and has forced the big two airframers to cut their full-year delivery targets.
Manufacturers had hoped that disruption could be minimised as they ramped production back up to meet post-Covid demand. However, shortages of parts, materials and labour – plus rising costs – are creating drag across the supply chain, executives in late July revealed.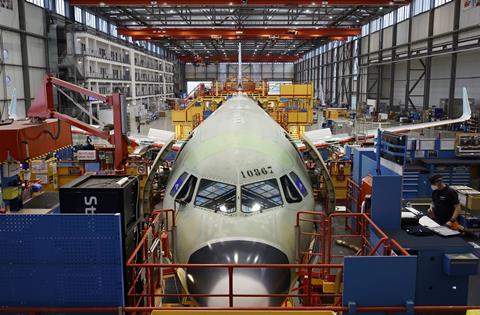 As a result of the issues, Airbus has trimmed its delivery forecast for this year, reducing it from 720 to 700 commercial aircraft. Boeing, too, expects to deliver around 100 fewer 737s in 2022 than previously planned.
In addition, Airbus has shifted the ramp-up target for A320neo production, pushing back the timeline for achieving 65 aircraft per month to early 2024.
It amounts to a six-month deferral from its original aim to reach this rate in summer 2023.
The airframer says it is making adjustments to its ramp-up trajectory, in response to supply chain issues, but insists its plan to hike the monthly output to 75 aircraft in 2025 remains unchanged.
Chief executive Guillaume Faury says the operating environment remains "complex" with geopolitical and economic circumstances creating "further uncertainties" for the aerospace industry.
Faury says an assessment of the ramp-up trajectory showed it was taking more time than expected.
He insists there was "no specific event" that triggered the slowing of the production-rate rise, rather that it results from the overall complexity of the situation and follows a "deep and fair assessment of what is likely to happen in months to come".
However, the backlog for the A320neo family remains strong and is a driver behind the airframer's plans to raise output.
"Airbus teams are engaged with suppliers and partners to ramp up towards an A320-family monthly production rate of 75 in 2025, backed by strong customer demand," Faury says.
Alongside supply chain issues, Boeing's revision of its delivery forecast has been driven by a lack of shipments to Chinese carriers. The US airframer also now says delivery of more 737s from its inventory will slip into 2024.
"We now expect [737] deliveries to be closer to the low-400s for 2022, short of what we discussed earlier this year," says Boeing chief financial officer Brian West. This is down from earlier guidance of 500.
Boeing chief executive David Calhoun says shortages of CFM International Leap-1B engines are slowing Boeing's 737 production and deliveries. This is largely caused by shortages of structural castings, he says. "It is not yet resolved," Calhoun adds.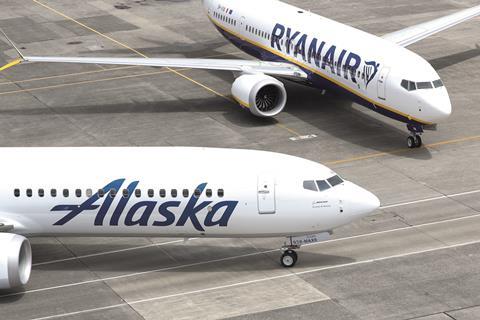 Both the partners in the CFM joint venture, GE Aviation and Safran, have acknowledged ongoing supply chain difficulties.
"Our major airframer customers need more engines from us than we are providing," GE Aviation chief executive Lawrence Culp says. "The supply chain challenges in the aerospace industry are far broader than any one commodity."
BEHIND SCHEDULE
CFM delivered 226 Leap engines in the second quarter, and 465 across the half year, up slightly from figures of 211 and 399, respectively, in the same periods a year earlier.
The Leap-1B is the exclusive powerplant on the Boeing 737 Max, while the -1A is one of two options for Airbus A320neo-family jets, alongside the Pratt & Whitney PW1100G.
"The industry is experiencing an unprecedented ramp as the pandemic eases, coupled with labour and material shortages," says Culp. GE is working with suppliers of cast and forged engine components to increase production rates, he adds.
Safran chief executive Olivier Andries concurs with his counterpart's analysis, noting that castings are the "main bottleneck".
He sees supply chain problems lasting well into the second half of 2023. "Every day is a fight," he says – but he expects to be back on track with OEM deliveries by next year.
Andries says the issues are particularly acute in the USA, where workforce reductions during the Covid-19 pandemic are proving hard to reverse, particularly of skilled labour.
"Our US suppliers and partners have difficulty to recruit back and to get back the competencies and the talents they need," he says.
Castings are also the pinch-point for P&W, as it struggles to meet delivery schedules for PW1000G-series engines.
"We continue to deliver [geared turbofans] behind schedule, and we will not catch up until the end of the year," says Greg Hayes, chief executive of P&W's parent Raytheon Technologies. "This goes back to a single issue around structural castings."
Hayes also cites staff shortages as a continuing problem. "The availability of skilled labour is a real challenge… We are seeing it both at our suppliers and at our own shops," Hayes says. "This does not get solved this year."
The issue is particularly acute in the third and fourth tiers of the supply chain, Hayes says, adding that only around 25% of the workers who were laid off during the pandemic are returning.
Despite the delays, Hayes insists P&W is "not holding up" Airbus's production lines, and he says the engine maker is addressing its issues. "You are going to see a big step up in the back half of the year in GTF deliveries."
POWER VACUUM
Airbus is still dealing with a small inventory of aircraft that are largely complete but awaiting engines or other components.
In all, Airbus had 26 aircraft awaiting engines at the end of the first half, but Faury is confident that this backlog will diminish to zero by year-end.
Faury says that – based on recovery plans from suppliers – the airframer will be "back to 'zero gliders'", and that he hoped to transition from 2022 to 2023 "with enough engines".
But while those companies involved in narrowbody production are struggling to meet demand, the same is not true in the widebody segment.
Rolls-Royce is not experiencing the "very intense" pressures on supply chains seen in the narrowbody sector, according to chief executive Warren East. "Widebody is a slower recovery, which gives us all some breathing space," he says. "Also, the absolute numbers are much lower."
Nevertheless, alongside a focus on cost-control, the engine-maker is working to add resilience to supply chains across its business.
"We are spending more with fewer suppliers," East says. "The relationship with those suppliers is richer, the contract terms can be longer and more rigorous."
Rolls-Royce is hiring extra staff to handle supply-chain challenges, notably as it eyes a path back to pre-pandemic levels of demand for new large engines in its civil unit.
"We do see new [original equipment] demand rising over the coming years and we think we are pretty well positioned for it," East says.
Airbus says it is looking – along with its suppliers – at the feasibility of increasing production of twin-aisle aircraft to meet demand, in line with signs of recovery in international air transport markets. R-R is the main engine supplier for the airframer's widebody portfolio.