Rolls-Royce's commercial engines business arrives at this year's Farnborough air show a changed beast – leaner, more agile, heavily focused on decarbonisation – yet with the gas turbine still firmly at the heart of the unit.
The pandemic accelerated a restructuring initiative – the largest in the company's history – that was already in process at the UK-headquartered manufacturer, seeing it slash thousands of jobs and dramatically cut costs.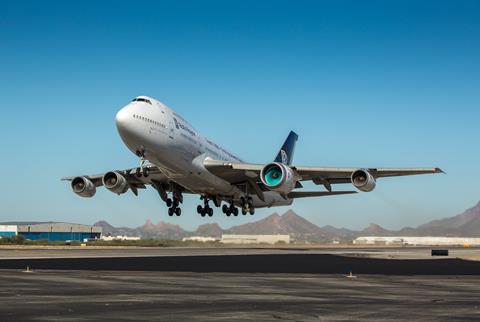 But while the business itself has been reshaped, its fundamental belief in the primacy of the gas turbine has not, says Alan Newby, director of aerospace technology and future programmes.
"I think sometimes there's a belief that the future is hydrogen and the future is SAF [sustainable aviation fuel] and the future is electricity, therefore the gas turbine has no place," he says.
EFFICIENCY PREMIUM
"We would say quite the opposite – because in a future world, whether you are burning SAF or hydrogen in some form, you are going to need a highly efficient gas turbine. And quite possibly the premium on efficiency will go up because those new fuels could either be in short supply or more expensive than kerosene today."
That is not to say those other elements have no place, he stresses: in the short term greater SAF use will be the industry's main route to hitting net-zero goals, particularly for long-haul flying. Further out, hydrogen appears to be the future fuel of choice. Additionally, other breakthrough technologies such as full- or hybrid-electric systems will enable even greater levels of performance to be squeezed from the gas turbine, or can be employed in markets such as those for regional or commuter aircraft.
But the focus is still very much on the gas turbine, and, as Newby points out – only slightly tongue in cheek – "no presentation would be complete without talking about the UltraFan".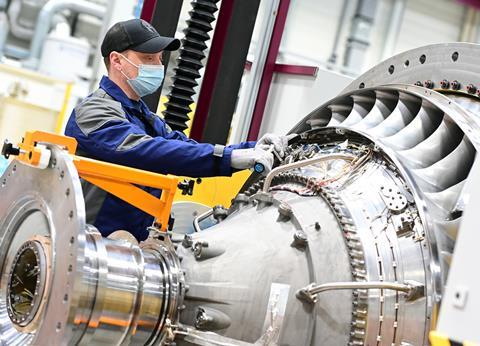 UltraFan is a subject that has loomed large in every R-R briefing since the programme was announced in 2014. But with the project now approaching a major milestone – the first engine run – it is becoming even more prominent.
Newby displays a palpable sense of excitement: "I was part of the team that launched UltraFan a few years back and it's so satisfying to see this coming together: you walk down to the shop and you can see the engine taking shape," he says.
While many of the underpinning technologies – the lean-burn combustor, high-temperature materials, composite-titanium fan blades and advanced low-pressure system – have already been validated in separate tests, the UltraFan engine will see these run in conjunction for the first time. "This is really bringing it all together as a system to make sure it works together and delivers what we expect it to. There's a real buzz around the organisation," he says.
Newby is coy on when the UltraFan will run – it is, he says, a "complex beast", owing to its level of instrumentation – but with a tank of SAF for the powerplant already delivered, that milestone feels imminent.
As currently sized, the UltraFan demonstrator will be the world's largest aero engine, with a fan diameter of 355cm (140in) and a power gearbox that delivered 64MW in early testing. It should achieve a 25% fuel-burn and carbon dioxide improvement against the first generation of Trent engines, or 10% over the newer Trent XWB. But the lean-burn combustor will also contribute to lower levels of nitrous oxide emissions and particulates, plus an engine that is 35% quieter too. "This isn't just about carbon [dioxide], it's about the way the whole set of attributes impacts on the environment," Newby says.
No thrust rating for the demonstrator has been disclosed, but R-R says the design is scalable from 25,000lb (110kN) to 100,000lb.
But as Newby is quick to point out, the UltraFan demonstrator is "not the end of the story", because "we will need that architecture which can be developed and can be grown and can be improved".
That means an eventual production engine – whether for single- or twin-aisle applications – which can be used with 100% SAF from the very beginning, has hydrogen compatibility in its roadmap, and could also make use of some form of hybridisation.
"If Airbus, or another manufacturer, is saying the answer for future narrowbodies is hydrogen, then we want to be capable of doing that. We believe the UltraFan architecture is the right solution for that."
EYEING ALTERNATIVES
In R-R's view, for the vast majority of narrowbody and widebody applications, the most appropriate propulsion system will remain a gas turbine engine. Further down the size range – an area of the market long-since abandoned by the manufacturer – are other technologies such as full-, hybrid-electric and fuel cell-based powertrains.
"There are a lot of alternative solutions," says Newby. "We have been in this fortunate world where we've had one size fits all – a gas turbine burning kerosene for all applications – but it may not be like that in the future.
"But if you look at that space – the narrowbodies, widebodies and even some regional aircraft – where the fuel is burned today, or conversely where the CO2 is produced, those are the solutions that are still going to need a highly efficient gas turbine, which is why we are continuing to invest heavily in that."
Potentially supplementing the gas turbine, though, are a whole host of emerging technologies. Take, for example, electric power. The topic poses an interesting conundrum for R-R as a whole: battery limitations mean a large fully electric aircraft is all but ruled out, yet Rolls-Royce Electrical – created earlier this year as its own unit – is actively developing powertrains for the emerging urban air mobility market.
For Rolls-Royce Civil Aerospace, then, the interest centres on hybrid-electric power and is two-fold: first, what can it offer its large-engine portfolio by way of efficiency gains; and, second, can that technology take the company into new, or at least long-relinquished, market segments?
Solutions vary from a "macro-hybrid" architecture – where a significant amount of power is delivered by the electrical system – to a "micro-hybrid", where the electrical system uses "stored energy to support the gas turbine", whether in flight or on the ground.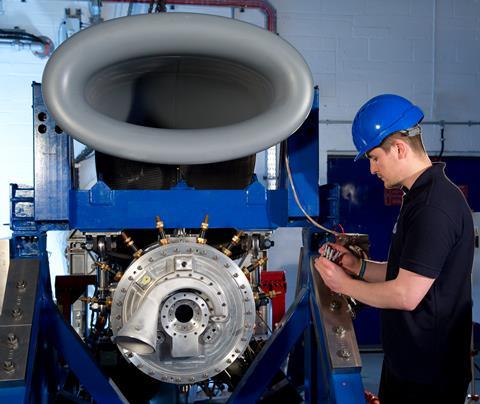 Aided by the 2019 acquisition of the Siemens eAircraft business, R-R has been researching both the technology and the attributes of electric systems, allowing it to identify specific applications and tailor the company's approach to specific sectors, says Newby. Activities have included running its PGS1 demonstrator – a pair of generators married to a modified AE 2100 turboshaft – to produce 2MW of power. The PGS1 was originally due to be part of the powertrain on a converted BAe 146 as part of the E-Fan X project the manufacturer was running alongside Airbus.
TESTING TIMES
Pandemic-driven budget cuts called time on that effort prior to it taking flight, but "we learned a hell of a lot from the ground testing", Newby asserts.
"That was a really successful test – we learned about the electrical machinery, we learned about the integration with the gas turbine, the control, but also the heat management and the control of the gas turbine itself. So it was a really fascinating one," says Newby. Knowledge from the testing will feed into product studies as R-R looks to the commuter and regional markets.
"It's great doing the experiment, but what really matters is the knowledge you feed back into the system and the lesson you learn to inform the future."
Fuel cells may also feature in future and work is ongoing with R-R's Power Systems business to evaluate "what it would take to make a hydrogen fuel cell competitive for aviation".
Research is also being conducted into the feasibility of using liquid hydrogen as a fuel. "We are of the view that it looks likely there could be a role for hydrogen in the future. And therefore we need to start to understand the challenges of bringing it to market," says Newby. R-R is focusing on the "higher-risk and challenging technologies" required for liquid hydrogen use, chiefly issues around combustion and management.
"That will inform our view on how quickly [liquid hydrogen] could be brought to market and what the major challenges are to be addressed," adds Newby.
But with so much spoken about 'disruptive' technologies in aviation, for a company such as R-R, which still has the gas turbine at its core, there seems to be a perception problem. "People think that a gas turbine isn't disruptive, that it's old hat," he says.
But, as you might expect, R-R takes the opposite view. "You can enhance it with the technologies we have got here for a gas turbine to be a viable and disruptive solution for the future."
How tough restructuring process has made Rolls-Royce fit for the future
The restructuring undertaken by Rolls-Royce Civil Aerospace cut deep: operational costs were slashed by £1.2 billion ($1.5 billion), or 35%; footprint was reduced by 27%; and some 8,700 full-time posts, 34% of the workforce, were eliminated, including about one-third of management. Evidence of that exodus can be seen in the number of former R-R staff now occupying senior posts at businesses such as Lilium, Magnix and Vertical Aerospace.
These actions have contributed to making the business "stronger, leaner, simpler and more efficient", R-R civil aerospace president Chris Cholerton said during a recent investor briefing.
There are no arguments that the restructuring was necessary; even before the pandemic hit, R-R had been battling a succession of crises, notably around the Trent 1000 engine for the Boeing 787, on which turbine blade durability forced the grounding of customer aircraft and landed the manufacturer with a bill of about £2.4 billion.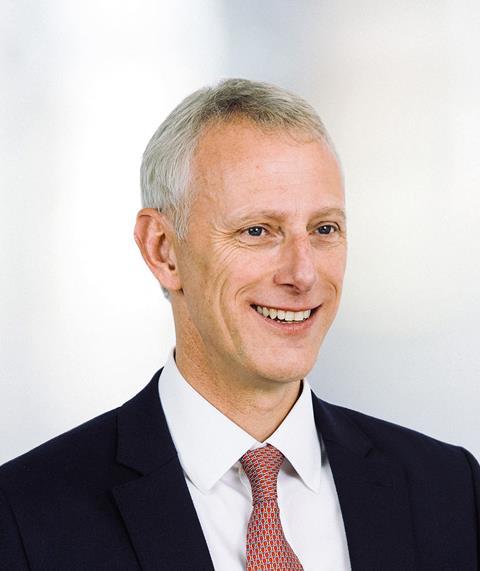 Then as Covid-19 hit and the aviation industry reeled, R-R found itself hit with a double-blow: not only were deliveries of new aircraft placed on hold, cutting revenue from sales of new engines, but with the installed fleet also not flying, services revenue also dried up. And, as quickly became apparent, the long-haul market on which R-R relies was going to take substantially longer to recover than the short-haul segment. These factors contributed to underlying operating losses in 2020 and 2021 of £2.57 billion and £172 million, respectively.
As Cholerton points out, there was an "intense focus both before the pandemic and accelerating through the pandemic in driving cost reduction [and] efficiency". However, he asserts that it was not merely about slashing costs but significantly enhancing structure and process to "emerge with a fundamentally more efficient operating system".
A change in mindset has also taken root throughout the business, Cholerton argues, leading to "a greater belief that ambitious targets can be met and exceeded".