You might wonder if Boeing's top brass regret the 2013 decision to launch the 777X programme.
After all, Boeing's newest widebody, now in flight testing and certification, has faced no shortage of hurdles, not least being the Covid-19 pandemic, which essentially evaporated demand for long-haul international travel.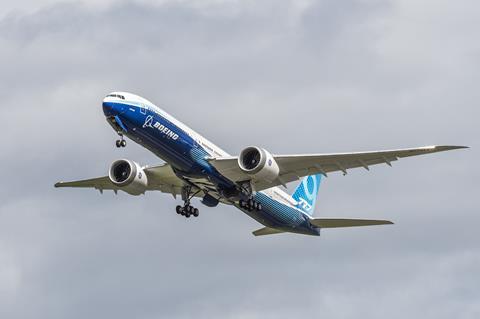 Also, amid the pandemic and heightened regulatory scrutiny following the 737 Max's troubles, Boeing said it was tweaking design elements of the first 777X variant, the 777-9.
Knowing all that, was launching the 777X still a good move?
Chief executive David Calhoun recently answered that question.
"If I had a clean slate of paper today, and [there] wasn't a 777X loaded in my development pipeline, would [Boeing] want to do it again? The answer is, absolutely. Yes," Calhoun said on 3 June during an investor conference hosted by AllianceBernstein.
"It'll have a 40- or 50-year run," he added. "I have lots of confidence in it."
FREIGHT FACTOR
Calhoun cited the 777-9's cost per seat (and by volume of cargo) as a key attribute, and noted that competing jets like 747s and Airbus A380s are at the end of their production runs.
Analysts likewise suspect the 777X programme will succeed ultimately – that sales will accelerate in the coming decade and that Boeing will tap into the cargo market with a freighter derivative.
"I think the 777X will have a renaissance in a year or two or three, when the international market is back and everything that was flying that market is mothballed," says Credit Suisse analyst Robert Spingarn. "Then you are going to see a wave of orders for big widebodies."
In January, Boeing delayed the planned first 777-9 delivery from 2022 to "late 2023". Calhoun also disclosed then that the company was making "design modifications" to reflect "expectations of global regulators". The news came as the US Federal Aviation Administration (FAA) stepped up oversight following the 737 Max's flight control problems.
Boeing is "still confident [the 777-9] will be certified in the fourth quarter of 2023", Calhoun said on 3 June. "We've incorporated all the timeline learning that we could possibly incorporate from the Max [re-certification], and the architectural preferences that both the FAA and [European Union Aviation Safety Agency] EASA [have] embedded in their regulations."
That timeline means the 777-9 will enter service nearly 10 years after the company launched the programme.
Even still, the jet seems premature.
"The 777X is a little early for its time. The demise of the A380 could provide a second chance, but the timing is unfortunate," says a 21 June research note from Jefferies. "The issue is the 777-300ER isn't old enough to be replaced."
"I think the demand will come, but… you probably won't see that demand picking up until the late 2020s, early 2030s," adds Cirium head of valuations George Dimitroff. He cites a "surplus" of 777-300ERs.
The roughly 1,550 777s (of all variants) in service and storage globally are, on average, less than 12 years old, according to Cirium fleets data. Of those, some 800 are 777-300ERs, which are an average of 8.5 years old.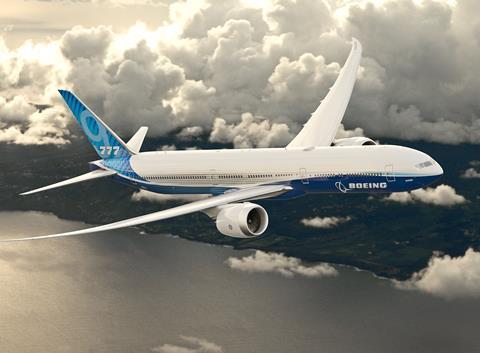 The 777-9 made its maiden flight in January 2020. That jet can carry 426 passengers in two classes and has 7,280nm (13,500km) range. In 2019, Boeing paused development of the smaller 777-8, an 8,730nm-range, 384-passenger variant. Boeing holds orders for 320 777X from customers ANA, British Airways, Cathay Pacific Airways, Emirates Airline, Etihad Airways, Lufthansa, Qatar Airways and Singapore Airlines, company data shows.
Boeing has not committed to a 777X Freighter, but Calhoun suggests such a project is likely.
"I am confident that this one will move down that path," he said on 3 June of a potential 777X Freighter.
PRODUCTION CUT
Also in January, Boeing said it was taking a $6.5 billion charge against the 777X and trimming the programme's expected production quantity by 12.5%, to 350 from 400 aircraft. Boeing's former chief financial officer Greg Smith, who recently left the company, attributed the changes to "what we are seeing in the marketplace with the current pandemic, as well as how we are seeing the marketplace shift in the near term".
Boeing's expectation of producing just 350 777Xs "highlights how niche the aircraft is", Dimitroff says.
But he suspects sales will exceed that number, because the 777-9 will particularly excel at operating "very long sectors", like those from the USA and Europe to Asia. A freighter will help also.
"It will have a market, but that market has shrunk," Dimitroff says, noting that smaller widebodies like A350s and 787s, having extremely long range, can operate some long-haul segments that first-generation 777s once dominated.
Commercial airliner programmes: up in the air?
1

2

3

4

5

Currently reading

Why the ill-timed 777X can still be a winner for Boeing

6

7

8