Among the organisational changes made by the UK Ministry of Defence (MoD) since the last DSEI show in September 2019, the establishment of a dedicated Space Command is one of the most significant recent developments.
Formed on 1 April, and with its headquarters opened at the Royal Air Force's (RAF's) High Wycombe base in Buckinghamshire in July, the Space Command is jointly staffed by personnel from the service, British Army and Royal Navy, along with civil servants and employees from commercial partner companies.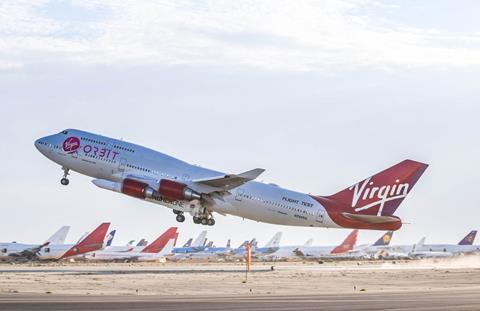 Led by RAF Air Vice-Marshal Paul Godfrey, the command's initial focus areas are described as operations to "protect and defend UK and allied interests"; personnel recruitment and training; and the development and delivery of "space equipment programmes that integrate with other defence capabilities".
It also has consolidated the RAF's Space Operations Centre and ballistic missile early warning site at Fylingdales in Yorkshire.
The space domain was earlier this year given a £1.4 billion ($1.9 billion) boost by the UK government. In its April spending review publication Defence in a Competitive Age, the MoD said it will "Develop a UK-built intelligence, surveillance and reconnaissance [ISR] satellite constellation and a supporting digital backbone in space."
"The space industrial revolution is gathering extraordinary pace," Air Chief Marshal Sir Mike Wigston, chief of the air staff, said during the RAF's annual Global Air Chiefs' conference on 14 July, referring to it as an "increasingly contested, congested and competed domain".
Noting the sector's importance to national security and to the functioning of society, he notes: "That critical reliance is also a vulnerability and we see countries like China and Russia seeking to exploit that vulnerability by developing and testing systems designed to interfere with or even destroy satellites and space systems".
The Space Command's establishment represents the UK's commitment to the seven-nation Combined Space Operations grouping, which also involves Australia, Canada, France, Germany, New Zealand and the USA. "The initiative seeks to improve cooperation, coordination, and interoperability opportunities in space, with main efforts focussed on ensuring a safe, secure and stable space domain," the RAF says.
"By 2030, the government's ambition is for the UK to have the ability to monitor, protect and defend our interests in and through space, using a mixture of sovereign capabilities and burden-sharing partnerships with our allies," the MoD says.
"As a priority, we will establish a space cloud to harvest the terabytes of Space-derived data across a truly borderless domain; whilst establishing a space-based ISR programme to deliver a sovereign multi-spectral ISR constellation," says Wigston.
The military has "adopted a truly integrated approach across Space Command, industry, our science labs and academia to maximise innovation and rapid capability development", he adds.
Under current plans, a first satellite should be launched from UK soil during 2022, from a site in Scotland's Shetland Islands. Cornwall Airport Newquay is also a planned host site for aircraft-conducted launches of small satellites, with Virgin Orbit planning to use an adapted Boeing 747-400 in this role. The RAF has one of its test pilots currently seconded to the company as one of the crew for its Cosmic Girl launch platform.
In 2018, the RAF's Rapid Capabilities Office funded the launch of the Surrey Satellite Technology-built Carbonite-2 payload from India, with the system capable of proving real-time video from low-Earth orbit.
The MoD notes that the ability to host domestic satellite launches will "give greater strategic autonomy and flexibility in terms of what the UK puts into space, and when".