UK start-up Vertical Aerospace is among a small group of pioneers driving the development of eVTOL platforms for market entry later this decade – but can it maintain momentum?
The two prototypes in Vertical Aerospace's engineering centre in Bristol illustrate how the UK start-up – and perhaps the entire electric vertical take-off and landing (eVTOL) segment – has evolved in a few short years.
Tucked at the back is the VA-X2, a demonstrator that made several autonomous flights during 2019 and 2020. Approximately the size of a two-seat helicopter, the aircraft has six pairs of horizontal, coaxial propellers that sit in a circular formation above the fuselage.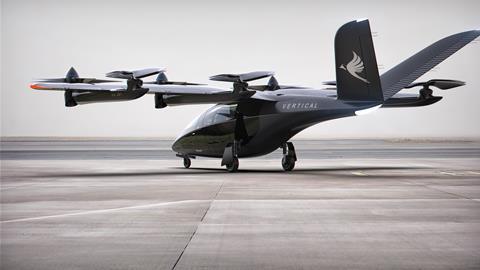 In front of it – and fresh from its Farnborough air show appearance in July – is Vertical's latest iteration, the VX4. The contrast is striking. The aircraft is a replica – the real prototype is at the start of a flight test campaign at the nearby Cotswold airport in Kemble, Gloucestershire. However, with its sleek, fixed-wing design and cabin the size of a London taxi passenger compartment, the aircraft resembles something time-pressed travellers would happily step into to complete the first or last few kilometres of a journey.
The X2 itself represented a major reworking of Vertical's original 2018 concept, which used ducted fans, but in looks is typical of the first wave of quirky urban air mobility (UAM) platforms that emerged in the two years before the pandemic. During that time there were at least 100 ventures working on eVTOL designs – almost all of them searching for funding and talent to take their idea from blueprint to flight, certification, and eventually volume production.
Vertical, founded six years ago by UK entrepreneur Stephen Fitzpatrick, is one of maybe fewer than 10 UAM players to have survived that early gold-rush period (not to mention the pandemic), secured serious financial backing and customer commitments, and either flown or are close to flying something resembling a production-ready aircraft. Others include Embraer spin-off Eve, the USA's Archer Aviation, Joby Aviation and Wisk Aero, plus Lilium Air Mobility and Volocopter from Germany, and China's EHang.
Like Archer and Joby, Vertical is listed on the New York Stock Exchange, and it too has seen its share price trend downwards – in Vertical's case from a high of almost $13 just after its flotation in December last year to around $5.5 in mid-September. However, that is often the case with technology disruptors where initial hype turns to a more sober assessment of value and prospects once the inevitable challenges of taking a concept to market and turning a profit become clear.
CAPITAL EXPENDITURE
In common with any start-up without a product to sell, Vertical continues to spend without making much revenue. It reported an operating loss of £39 million ($45 million) for the six months to end-June. However, it claims to have around £158 million in cash, enough to fund operating expenses and capital expenditure for at least 12 months. In addition, it has the option of issuing $100 million in additional shares, backed by an equity subscription line through Nomura.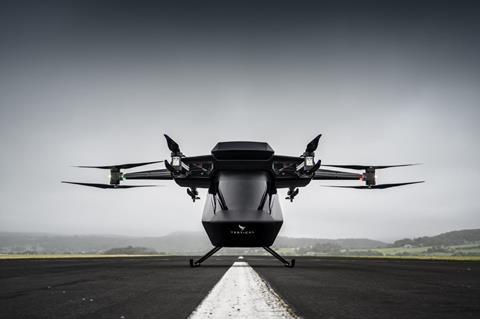 It is also sitting on one of the UAM sector's most enviable of what it calls "pre-order" books – with commitments for around 1,400 aircraft from the likes of AirAsia, American Airlines, lessor Avolon, helicopter operator Bristow, charter provider Flying Group, Brazilian carrier Gol, Japan Airlines and Virgin Atlantic. American's contract includes an unspecified pre-delivery payment to secure delivery slots for its first 50 VX4s, out of a possible 350.
Like its competitors, Vertical faces a busy and uncertain 30 to 40 months as it pushes to take the VX4 from flight-testing this year to a planned service entry in 2025. Regulators in Europe, the USA and beyond still have to publish detailed certification roadmaps, training manuals, and operating guidelines for the new sector – and the jump from initial certification to volume manufacturing is where aircraft developers often stumble, as they encounter regulatory challenges or run out of money.
It is still unclear too whether customers will take to UAM in sufficient numbers to make these new platforms viable. This will depend on operators coming up with profitable business models – whether that involves replacing ground transport as a way of getting air travellers to and from their final destination, providing on-demand air taxis, or using them for other purposes such as medevac or cargo. Passengers will also have to be convinced that they are safe.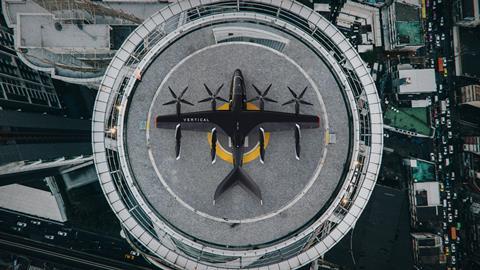 Michael Cervenka, Vertical's president, is convinced that neither of these will be challenges for the company. Multiple redundancy will ensure that the VX4 is many times safer than a similar-sized helicopter with its single points of failure, he insists. He also expects that airlines looking to provide rapid, relatively cheap, and environmentally friendly "last mile" transport to their premium passengers will provide the bulk of customers for the aircraft, at least initially.
However, without naming anyone, he doubts whether all the current leading players will make it to the finishing line. "I can see the market consolidating to perhaps half a dozen or even fewer," the former Rolls-Royce executive told FlightGlobal at the Bristol site in early September. "When I joined [in 2019], I hoped we could be in the top 10, but I get the sense that number is reducing and I think we now have a good crack at being one of five."
POTENTIAL REVOLUTION
The UAM explosion has parallels with the excitement around very light jets (VLJs) two decades ago – another market that promised to change air travel habits by making private jet ownership and charter available at a much lower price point, and accompanied by a boom in provisional orders. The revolution ended badly, with the failure of several start-ups and retreat from the segment by a handful of established manufacturers including Cessna, Diamond and Piper.
However, Cervenka argues the UAM movement is different from VLJs in two ways. Technologically, VLJs did not adopt truly disruptive technology, but were simply smaller products that manufacturers believed they could produce in volume at a lower unit cost. Secondly, the potential market was largely people already using piston general aviation aircraft. UAM platforms such as the VX4, by contrast, offer a "genuine shift in transportation across a range of sectors", he says.
Vertical conceived its latest design over a year ago, with the company opting for high wings and a large V-tail – combined with four tilting front and four rear propellers – to obtain the necessary payload of four passengers and their luggage plus a pilot, says Cervenka. The additional lift provided by wings also reduces battery use, meaning that on a typical trip recharge times will be just 10 minutes. This turnaround will be crucial for many business models to be viable, he argues.
IMPROVED VISIBILITY
The fuselage tapers to the front with room in the cockpit for just the pilot, providing better visibility than a helicopter, says Cervenka. A structural bulkhead separates the double-door, air-conditioned, comfortable cabin, although a glass panel on the final design will allow passengers to look forward. Behind the cabin is a 300l luggage compartment. The variable-pitch front propellers are five-bladed. The rear propellers have four blades and align in a "scissor" layout to reduce drag in cruise.
Building in safety has been paramount, says Cervenka. Fly-by-wire technology coupled with distributed electrics – each propeller is driven by two independent battery-powered motors – means "you can knock out multiple systems and the aircraft will still fly". Environmental friendliness is not just limited to a light carbon footprint. For passengers the noise generated will be equivalent to that of loud conversation in hover, and in the cruise, a domestic fridge, Cervenka claims.
The mock-up displayed at Farnborough and demonstrated to FlightGlobal in Bristol is essentially the same as the flight-test prototype and the final production design, although there will be a number of tweaks to the latter, including a slightly smaller cabin, he says. Discussions with suppliers on final specifications are also ongoing, including with electric motor provider R-R. "We will be in an optimisation phase with them over the next 12 to 18 months," says Cervenka.
After a series of ground tests, flight-testing on the VX4 was due to begin this autumn. Unlike some of its rivals, Vertical has opted to "do the hard job" and fly a full-scale prototype at Kemble, with a pilot in the cockpit much of the time. "The trouble is that technology does not scale," says Cervenka. "You can fly sub-scale but you're left with unknowns. On aircraft such as these the mass including the batteries are 85% of the overall weight, so if your calculations are out by 5% you lose a third of the payload."
Flight-testing will start with a series of tethered hovers – the first achieved on 24 September – followed by thrust-borne and then wing-borne flying with full transition from vertical flight to cruise. Vertical has already secured concurrent validation from both the UK Civil Aviation Authority (CAA) and the European Union Aviation Safety Agency (EASA) for certification under SC-VTOL (special condition for vertical take-off and landing aircraft) rules. It hopes to follow that rapidly with approvals in key markets Brazil, Japan and the USA.
In addition to its household-name potential customers, Vertical has assembled a respectable array of programme partners, including Honeywell on avionics, Leonardo for the composite fuselage, R-R, and GKN, which is providing the wing and helped the company assemble the initial VX4 in its Global Technology Centre in Bristol. Vertical will deploy Dassault Systemes' 3DExperience cloud-based design platform for its flight-testing and certification campaigns.
Cervenka says Vertical's philosophy has been to focus on what it does best – integration – and trust the expertise of suppliers. "Building an aircraft company is a tough job, and certificating an aircraft is tougher. It is crazy to try to do it all vertically. There is no point in us trying to write critical software when Honeywell has been doing it for decades," he says. "We also get to leverage these companies' technology pipelines. Why would we invest in what they are already doing?"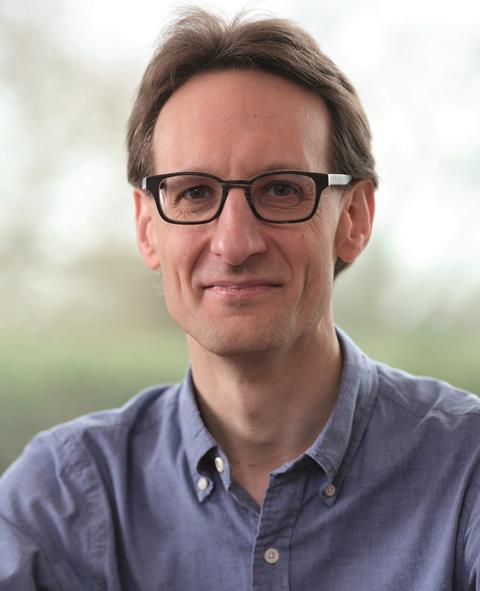 An exception is the batteries, where, after failing to find a suitable supplier, Vertical has put together its own 23-strong engineering team, comprising largely former employees of Dyson, the household appliances company, and Jaguar Land Rover. However, it has signed up Taiwan's Molicel, a leader in lithium-ion technology, to supply the cylindrical cells that Cervenka says will be easier to certificate because their shape makes them less prone than a pouch design to thermal runaway.
As well as airlines keen to provide end-to-end services for passengers, Vertical envisages orders for the 85nm (160km)-range VX4 coming from air taxi companies and those looking to provide ultra-short-haul services between cities, such as Manchester and Leeds or Dusseldorf and Cologne. There are also opportunities in the likes of Sao Paulo, the biggest urban helicopter market in the world, given that the VX4 will have a fifth of the operating costs of a similar-sized helicopter, says Cervenka.
"The pace will differ from city to city, and some will be pioneers, but this will be a mass transport mode, which helicopters have never been," he says. "It changes how we think about air travel." Even traditional helicopter operators may be thinking that way. At Farnborough, emergency medical services (EMS) specialist Babcock International signed with Vertical to investigate the potential of the VX4 for EMS, including civil first-responder operations and military casualty evacuation.
COST BENEFITS
At a list price of around $4 million, the purchase price of the VX4 will be around half that of a similar-size helicopter. However, add the extensive maintenance bills for gas turbine engines and gearboxes and the difference in running costs is marked, argues Cervenka. "A third of a helicopter's cost is maintenance. As the cost of running a battery is really low, we get rid of all that, and electricity is cheaper than kerosene," he says.
Vertical expects its first full year of production to be low volume but rising to 2,000 per annum by the end of the decade. With almost every aerospace manufacturer currently experiencing shortages of parts and raw materials as well as other logistical glitches, Cervenka anticipates readying the supply chain to be a major challenge, but hopes that, by the time Vertical ramps up production, the global supply situation will have improved.
Vertical, which employs 300 people, most of them engineers, has been strengthening its management team as it puts in place plans for volume assembly. It has appointed to its board Mike Flewitt, the former chief executive of McLaren Automotive and vice-president manufacturing for Ford Europe, to benefit from his expertise in volume production. "This isn't automotive, but there are many of the same principles," says Cervenka.
Vertical's headquarters – a leased unit on an unprepossessing inner-city industrial estate – is too small for a factory, but Cervenka is keen on staying in the area when Vertical establishes a production site because of its talent pool and proximity to industry partners and aerospace-focused universities. Airbus, GKN and R-R have a major presence in the region, as do many smaller suppliers. "There would need to be a damn good reason not to do it near Bristol," he says.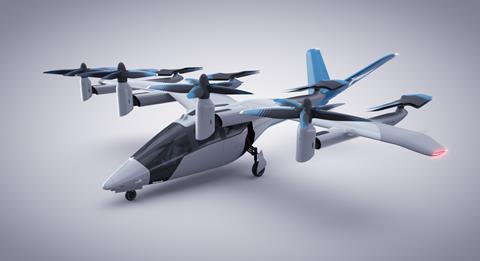 eVTOL manufacturers are keen to point out how easy their aircraft will be to pilot. The VX4's controls essentially comprise an inceptor – or joystick – on the right and a lever on the left to control speed. There are pedals to yaw, but the final model will likely dispense with these. "The commands the pilot gives are unified regardless of phase of flight, making it easy to manoeuvre," says Cervenka. "My seven-year-old daughter could fly this aircraft."
Will eVTOL aircraft such as the VX4 even need pilots? Many envisage a near future where they will fly autonomously, including several of Vertical's contemporaries. Cervenka sees that coming, but not until the late-2030s. "Our strong view is that these aircraft will need to be piloted well into the next decade," he says. This has an effect not just on perceptions of safety, but economics. "The minute you put a pilot on board, you have to carry four passengers to make money," says Cervenka.
TRAINING PROGRAMME
Initially, he says, pilots are likely to be qualified aviators who will undergo a type rating conversion, just as with any new aircraft. Vertical has selected CAE to design a training programme.
Some suggest a key reason airlines are flocking to the UAM sector is that it could provide a pipeline of pilots with 1,500h of experience. However, while Cervenka admits this could be a useful side benefit, "it has not come up in any conversations we have had with the airlines".
The next few years will be a critical time for the fledgling UAM sector. Will investors and customers keep the faith? Will supply chains hold up? Will regulators – and public opinion – play ball? Will passengers flock to this entirely novel form of eco-friendly aviation? Will infrastructure fall into place? It is unlikely that, even if all the above work in the sector's favour, there will be room for as many as 10 competitors by the second half of the decade.
A Darwinian race is already underway. Vertical is convinced it will be one of those surviving and thriving in this brave new world of air travel.
Other developers hoping to rise above the competion
From more than 100 would-be disruptors in the years before the pandemic, the number of eVTOL aircraft developers with a serious chance of bringing a commercially successful product to market has probably slimmed to high single figures. These are some of them.
ARCHER AVIATION
After completing its first hover test flight last December, California-based Archer Aviation said in June that it was confident of flying "full transition" sorties with its Maker urban air mobility prototype by the end of the year.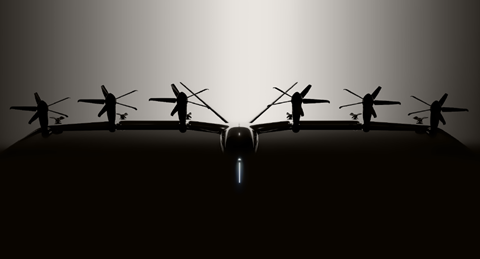 In August, the business announced that it had completed a preliminary design review of the production version, the four-seat Midnight, which has two long wings, with three propellers mounted on each. Its early customers include United Airlines, which also in August made a $10 million downpayment on a conditional order placed in February 2021 for up to 200 of the aircraft.
EHANG
China's eVTOL champion, EHang, has been conducting demonstration flights of its EH216 prototype for a number of years, mainly in Asia, where it has been netting provisional orders in the likes of Indonesia and Malaysia. It also flew in the USA in early 2020.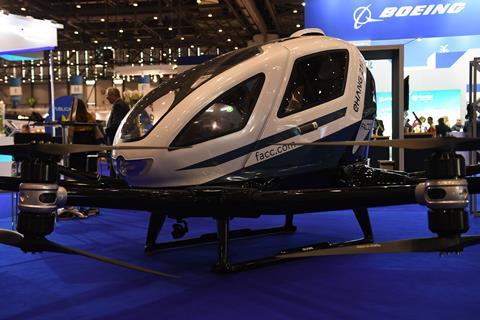 The EH216 has a two-seat bubble capsule supported on a frame from which eight retractable arms, each containing an upward- and downward-facing propeller, form a circle. It has been designed for autonomous flight from the start.
EVE
Embraer technology spin-off Eve has been one of the most commercially successful developers, with its most recent coup being a $15 million investment from United Airlines in September, with a conditional commitment to purchase up to 200 of its in-development four-seat eVTOL aircraft. This adds to letters of intent for almost 2,000 examples from 22 customers, says Eve.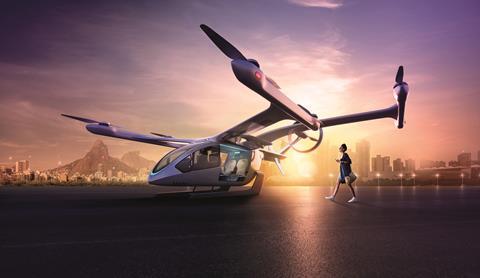 The company, which went public earlier this year but is still majority owned by the Brazilian airframer, is confident of delivering its aircraft, currently designed with fixed wings and a total of eight lifting propellers and pusher propellers, by 2026. It will offer 54nm (100km) of range.
JOBY AVIATION
Another Californian start-up, Joby Aviation has taken the unusual step of working with the US Department of Defense (DoD) on one of its technology programmes. Disclosing the deal at July's Farnborough air show, Joby said an injection of cash from the DoD would help fund its efforts to launch a passenger ride-sharing service, based on its eVTOL design. The company has been flight-testing its five-seat prototype autonomously since last year, but in February experienced a crash during an "envelope expansion campaign".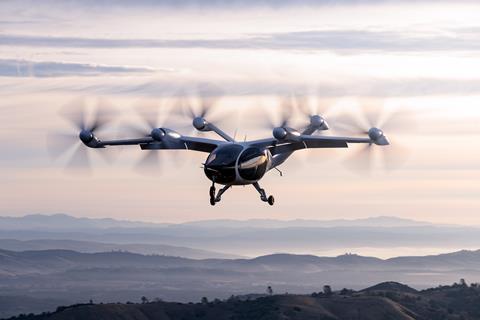 A second aircraft had joined the flight test programme in January. The design features two tilting propellers mounted on each wing, with two more on the tail. Its range is 133nm with a top speed of 178kt (321km/h).
LILIUM AIR MOBILITY
In a market of mould-breaking designs, the Lilium Jet is one of the most unusual. Described by developer Lilium Air Mobility as the first eVTOL jet, the six-seat aircraft's unique feature is what the company calls ducted electric vectored thrust technology, with electric jet engines integrated into the wing flaps and aerofoils. Its range will be 135nm.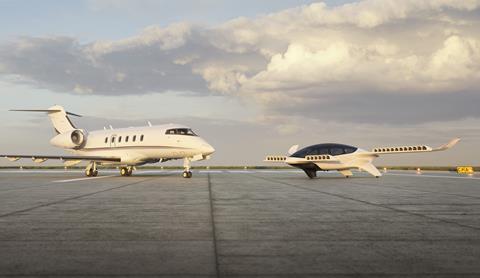 In March 2022, the German company secured an agreement from fractional ownership giant NetJets to purchase up to 150 examples. At the Farnborough air show, it added agreements with AAP Group of Norway and helicopter operator Bristow. Its board includes former Airbus chief executive Tom Enders and airline entrepreneur David Neeleman.
VOLOCOPTER
Volocopter is another German company with a former Airbus boss involved. Dirk Hoke, who formerly headed the airframer's defence business, became its chief executive earlier this year. The company is developing a family of eVTOL aircraft, with its latest design, the four-seat, fixed-wing VoloConnect, making its first flight in May.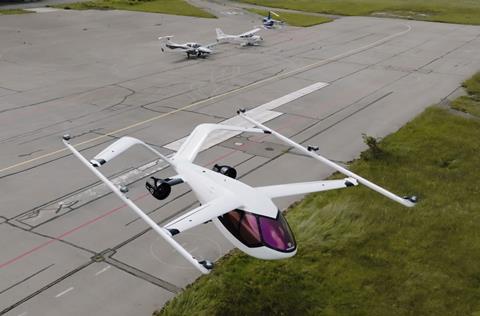 It was the third type to take to the air, joining the VoloCity and VoloDrone. It is targeting what it calls a "commercial launch" for the multirotor VoloCity in 2024, with the VoloConnect entering service in 2026. It says the range of aircraft will cater for different missions, with the VoloCity pitched at intracity routes, and the larger VoloConnect focusing on longer urban and suburban flights.
WISK AERO
The Californian company, which Boeing part owns, said at Farnborough that it would reveal this year its latest four-seat eVTOL air taxi, after displaying an earlier version at the show. The two-seat Cora has 12 wing-mounted lifting fans and one aft-mounted pusher propeller. It flew 400 times before it was decommissioned this year.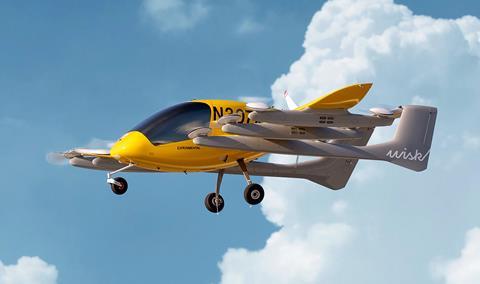 Wisk Aero said in July that it had logged some 1,600 test flights across its aircraft since its first in 2017. It is one of a handful of eVTOL developers that expects their designs to fly autonomously from entry into service.