GE Aviation is awaiting European certifications needed to begin flight testing its Catalyst turboprop, and aims to achieve first flight – which was to have occurred last year – in the coming months.
That is according to a GE Aviation executive, who says the company is eyeing other potential applications for Catalyst while focusing primarily on bringing the clean-sheet, Czech-made powerplant through certification in support of Catalyst's launch platform, Beechcraft's singe-engined Denali.
The engine maker aims to have Catalyst, the first new turboprop for the business and general aviation markets to be developed in decades, certificated by end-2022.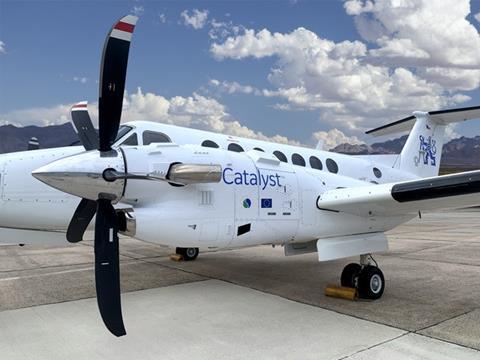 Equipped with modern technology – notably a full-authority digital engine control (FADEC) – Catalyst's potential other applications could include power for trainer aircraft, drones and hybrid-electric propulsion systems, says GE Aviation turboprops general manager Paul Corkery.
"We bring fuel efficiency and a digital control system. It opens a lot of market opportunities," Corkery says. "Hopefully this quarter we will have first flight."
GE Aviation designed the 1,240shp (925kW) Catalyst, from the start, to be integrated with the FADEC, which reduces pilot workload by automating settings such as engine power, fuel supply and prop pitch based on flight conditions, he adds.
That means the cockpit can have a single engine control lever – the throttle – making it more like a jet, which could make Catalyst an attractive choice to power a trainer.
"The pilot has a much simpler job to do," Corkery says. "A lot of pilots train on turboprops… If you get a single lever, the transition to a jet is much less difficult."
FADECs have long been used on large turbofans but are relatively new to the turboprop world. Pratt & Whitney Canada has equipped its competing PT6 workhorse with a FADEC.
Corkery ticks off other technologies he says make Catalyst unique: "variable-geometry compressor stator vanes", "single-crystal cooled high-pressure turbine blades" and a three-stage turbine. The engine runs hotter than competing types, and has a higher compression ratio of 16:1, Corkery says.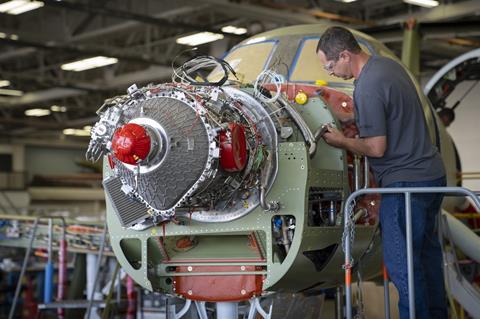 GE Aviation, a leading producer of large turbofans, launched Catalyst after acquiring Czech manufacture Walter Engines in 2008. Catalyst, produced in Europe by GE subsidiaries, competes with long-established competitors, namely the wildly successful PT6 and Honeywell's TPE331.
"We thought the market was ready for a technology step change," Corkery says. "We brought big engine… technology into a smaller package."
Tests have shown Catalyst to be up to 16-17% more efficient than competing engines, a point or two more than GE Aviation had anticipated, and more power at high altitudes than expected, Corkery says. All engines lose some power as altitude increases – engineers call the loss "lapse rate". But chamber-conducted altitude tests showed Catalyst's power loss is less than GE Aviation predicted.
"That's not trivial," Corkery says.
Considering the current industry push to cut aviation emissions, he sees particular promise in Catalyst being part of a hybrid-electric system. The engine has already had success in that arena: in 2019, start-up XTI Aircraft selected Catalyst as the core of a hybrid system that will power its in-development TriFan 600 vertical take-off and landing (VTOL) aircraft. That aircraft is to have 650nm (1,204km) of range and carry a pilot and five passengers, XTI says.
Countless other VTOL development projects are underway.
Corkery sees Catalyst as a prospect for powering other aircraft, including drones. GE Aviation's Italian division Avio Aero has specifically noted potential military drone applications. Corkery does not name potential projects. He and other GE Aviation executives have assured that Catalyst, being made in Europe, will not be subject to US military export restrictions.
But uncertainty about that point remains. Avio Aero had applied to supply an engine for EuroDrone, a European military drone project. However, in a 7 July report, the French assembly warned that European exports of an American-designed engine risk running afoul of US International Traffic in Arms Regulations.
FIRST CATALYST FLIGHT
First thing first: getting Catalyst certificated in support of the Denali programme.
Catalyst flight testing was to have kicked off last year, but that milestone slipped due partly to new Federal Aviation Administration tests related to icing, executives have said.
Corkery says GE Aviation is close. The company is now "buttoning up" German and Czech regulatory approvals needed to flight test in the engine out of Berlin on the wing of a Beechcraft King Air 350 flying test bed. Technicians already swapped one of that aircraft's PT6s with a Catalyst and completed some ground taxi tests.
The delays have cascaded to the Denali programme. Having installed a Catalyst on a Denali, that team now aims for the aircraft to make its maiden flight before year-end and to achieve certification in 2023. At one point, Beechcraft parent Textron Aviation expected Denali would enter service in 2019. Denali will have 285kt (528km/h) cruise speed, 1,600nm range and carry a maximum of 8 to 11 people, depending on configuration, according to Beechcraft.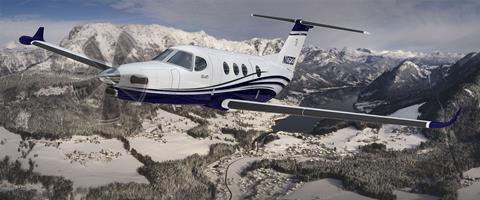 GE Aviation has completed about 30% of Catalyst's certification tests, including some icing tests, and submitted 35% of required certification documents to the FAA, says Corkery. The engine company has produced 16 Catalysts and completed some 2,500h of engine operation. It has six engine test cells in Prague.
GE Aviation is now moving Catalyst through certification tests related to initial maintenance intervals, which will help determine how many hours the powerplant can be operated prior to inspection.
Next will come what Corkery calls the "most-challenging" certification tests – "ice crystal icing" tests. A relatively new FAA requirement, the tests relate to formation of small ice crystals on aircraft surfaces at altitudes higher than ice typically forms.
Corkery expresses confidence Catalyst will pass all tests.
Most of Catalyst's flight tests will take place in Europe, with the exception of altitude and icing tests, to be completed over Canada. GE Aviation is pursing a dual-jurisdiction certification for Catalyst, working on design certification through the FAA and production certification through EASA.