GE Aviation lost orders for about 1,900 CFM International Leap-1B turbofans in the last year, a period influenced both by the Boeing 737 Max grounding and the pandemic.
Despite the cancellations, the Ohio engine maker's number of new engine orders have bumped significantly higher in the last two quarters.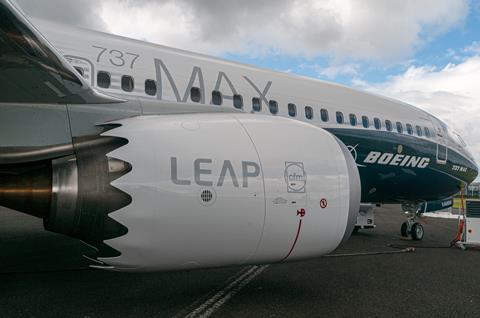 GE, which reported the figures on 27 April, says the 1,900 cancellations, combined with a reduction in engine service deals, wiped $13.9 billion worth of backlog value from its books in the last year.
During that same one-year period, Boeing's 737 Max backlog slipped by more than 1,000 units due to cancellations and accounting adjustments.
GE pegs the value of its backlog, at the end of March, at $259 billion, down from $273 billion one year earlier.
Airlines globally operated 40% fewer flights in the first quarter of 2021 than in the first quarter one year earlier, the company notes.
GE "continues to estimate the duration of the market recovery to be prolonged over multiple years, dependent on containing the spread of the virus, effective inoculation programmes and government collaboration to encourage travel, particularly around reducing quarantine requirements," GE says.
GE received 298 new engine orders in the first quarter of 2021, including orders for 141 Leap turbofans, which power Boeing 737 Max and Airbus A320neo-family jets.
GE makes Leaps via its CFM joint business with France's Safran Aircraft Engines.
The first-quarter orders come atop the 387 new engine orders, among them orders for 305 Leaps, that GE received in the fourth quarter of 2020, securities filings show.
During the first quarter of 2021, GE delivered 359 commercial aircraft engines, including 188 Leaps. By comparison, in the first quarter of 2020 the company handed over 530 commercial engines, including 272 Leaps, it says.