Malta's government has announced plans to launch a successor carrier to Air Malta from 31 March 2024 following talks with European Commission regulators.
The successor carrier, plans for which were announced by Maltese prime minister Robert Abela during a press conference on 2 October, will operate a fleet of eight aircraft – in line with the size of the current Air Malta fleet. The government says this fleet will comprise A320neo aircraft. Cirium fleets data shows that six of Air Malta's existing all-Airbus narrowbody fleet are A320neos.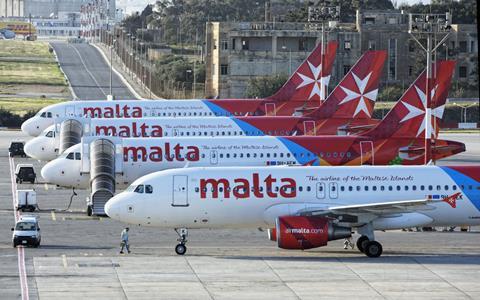 The Times of Malta, highlighting a slide with the new carrier's network, reports it will have 17 routes. Cirium schedules data show the airline served 23 destinations in September – and over 40 in September 2019 before the pandemic. It means six routes currently served by Air Malta – Geneva, Lisbon, Naples, Nice, Palermo, Tel Aviv – will not be operated by the new carrier.
Air Malta route network: September 2023
Destination
Monthly Flights
Source: Cirium schedules - one way; *routes will not be operated by successor carrier (source of Times of Malta)
London Heathrow
65
Catania
64
Rome Fiumicino
64
Munich
56
Paris Orly
39
Paris Charles de Gaule
38
Amsterdam
34
Brussels
30
London Gatwick
30
Milan Linate
30
Vienna
30
Zurich
30
Lyon
21
Madrid
14
Prague, CZ
13
Berlin
8
Dusseldorf
8
Palermo*
15
Geneva*
13
Naples*
13
Tel Aviv*
12
Nice*
9
Lisbon*
8
Abela says the aim is to give Malta a "stronger national airline, which makes profits and which serves the needs of our country". The move echoes the establishment of ITA Airways, as a successor operation to Italian national carrier Alitalia in October 2021.
Reports earlier this year suggested the Maltese government was looking at creating a successor carrier after European regulators put a block on a planned €300 million ($317 million) capital increase into struggling Air Malta.
Maltese finance minister Clyde Caruana says: "During our discussions and negotiations with the European Commission I always insisted on the importance of our country having a national airline. We consider that our national airline is a crucial part of the infrastructure of our islands, and the air connectivity that the national airline provides is inextricably linked to economic growth and the success of our country."
He adds: "The new national airline will build on the many good things of Air Malta, but with a strong emphasis on long-term financial sustainability."
The European Commission says it has been in "constructive talks" with the Maltese authorities. "The Commission takes note of the Maltese authorities' plan to create a new air carrier, which will be different from the existing carrier, Air Malta. We have no further comment on the matter," says a spokesperson for the regulator.
The government adds that it retains the Air Malta brand but that the new company "is in a strong position to compete for this brand".
Air Malta, which will continue operations until 30 March 2024, undertook a major restructuring in the last decade after receiving a previous government support package. The carrier's last publicly-released annual report, covering the year ending 31 March 2018, showed it generated revenues of just under €200 million ($211 million) and a net profit of €16 million.