Whether it is anticipating how climate change will affect pilot training or engaging with the fast emerging urban air mobility sector, FlightSafety is planning for the future of aviation in imaginative ways
From devastating floods in Australia and droughts in Europe to parched conditions in California sparking deadly forest fires, formerly once-a-generation weather events now seem to occur every few years. This has implications for many aspects of our lives, including, according to FlightSafety International, the way pilots are trained to do their job safely.
The company has been working with experts from the University of Oklahoma's School of Meteorology on using climate change modelling to shape its future pilot training curriculum. The project will give clues as to how, for instance, different wind patterns and a greater range of temperatures could affect aircraft behaviour, and the ways in which aviators may have to adapt.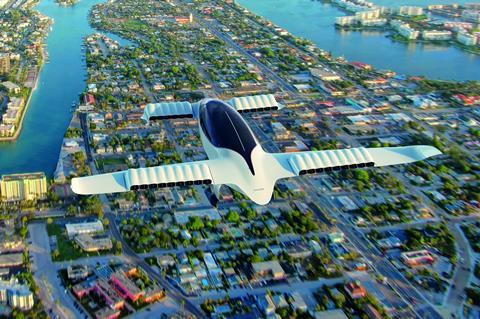 "We are looking at the next 10 to 20 years and anticipating the changes and preparing," states Michael Vercio, executive vice president simulation systems at FlightSafety. "We are studying how higher variances in temperatures and storm volumes could impact the industry, and making sure our simulators have the right settings."
One emerging area of aviation climate change could especially affect is urban air mobility (UAM). Electric vertical take-off and landing (eVTOL) aircraft will be operating at lower altitudes than much of commercial aviation, but also in built-up environments. "Think about if you have a more intense storm going through New York," says Vercio.
"How will that aff ect wind patterns between buildings?"
FlightSafety has an interest in this sector because last year, it signed a strategic agreement with German eVTOL developer Lilium to support its operations with training devices and tailored crew courses. This is uncharted territory, as regulators still have to come up with rules and standards for the training of eVTOL pilots, of whom there could be tens of thousands by next decade.
Trailblazer ambitions
FlightSafety is determined to be a trailblazer by working with Lilium and the leading authorities – the US Federal Aviation Administration (FAA) and the European Union Aviation Safety Agency (EASA) – on a regulatory framework for a segment that could be as big in 10 years as general aviation is today. "We are building some prototype tools for the regulatory agencies to evaluate," says Vercio.
FlightSafety also boosted its stake in the UAM sector in 2022 when it acquired Frasca International, a 65-year-old manufacturer of simulators that specialises in the lighter end of general aviation. Vercio says the climate changedriven training curriculum updates will apply to all its equipment, from FlightSafety's Level D-qualified full flight simulators to Frasca's flight training devices.
Flight training equipment and courseware aimed at the UAM community will also have to take into consideration factors other than the environment. eVTOL and other electric platforms will rely on batteries that will have much shorter ranges than conventionally powered aircraft, and this will affect how pilots react where they are unable to land because of weather conditions.
"In a gas-powered airplane you might typically have 45 minutes of reserve, enough to divert to, say, Tampa if you can't put the aircraft down in Orlando," says Vercio. "In an electric plane with a battery running down, you are not going to have that luxury of time, so this will drive changes to our courseware."
The occurrence of more intense weather is reflected in the latest generation visual systems that FlightSafety unveiled at two trade shows in April – the World Aviation Training Summit in Orlando for the commercial market, and the military-themed Army Aviation Association of America convention in Nashville.
The software, which FlightSafety will incorporate into all its simulators, includes weather and topographical details that are even more realistic than those in the company's current product, says Vercio. For tomorrow's pilots, for whom challenging weather conditions are likely to become a regular occupational hazard, this sort of enhancement can only make them better prepared.