Even in December, Pozzallo – nestled on Sicily's south coast – is bathed in sunshine. Tucked away by the town's port is a small heliport, built to serve a gas platform visible a few miles offshore.
But the facility, Elisicilia, has other tenants keen to take advantage of the region's benign weather and relatively empty airspace. Leonardo Helicopters already had a presence here, using it as an alternative to its Vergiate flight-test base.
Now, however, a new arrival is also on site: sitting on the tarmac outside a small hangar is a compact-looking helicopter, its red and white paint scheme accentuated by the winter sun.
This is the SH09, which has escaped the variable conditions of its Swiss mountain home as developer Kopter attempts to bring the light-single to market by the end of 2020.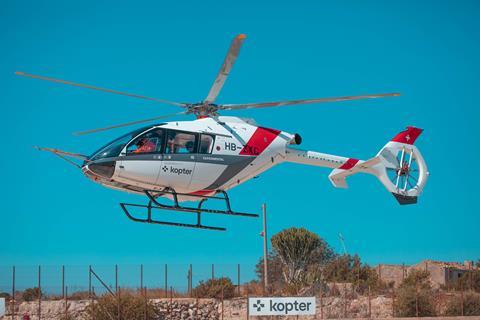 But back in 2011, when the helicopter was launched as the SKYe SH09, Kopter's predecessor Marenco Swisshelicopter intended that by this stage it would already have been producing the light-single for four years.
Even then that seemed an ambitious target for a company with next to no aerospace experience, no manufacturing base or supply chain and a helicopter that was yet to fly.
Inevitably, deadlines came and went – a first flight initially set for 2012 eventually took place in 2014 – and service entry slipped further and further behind.
Upheaval at the top of the company also followed, with founder Martin Stucki leaving in December 2016. The business also underwent a much-needed rebrand, renaming with the more succinct Kopter and losing the SKYe prefix from the aircraft's designation.
What has followed has been the steady transformation of what often felt like a hobby masquerading as a business into a proper aerospace outfit. That has been aided by a steady influx of executives from established rotorcraft manufacturers, including chief executive Andreas Lowenstein and chief technical officer Michele Riccobono, respectively former Airbus Helicopters and Leonardo Helicopters employees.
In addition, staff numbers have risen to around 300, with a dedicated headquarters in the Swiss town of Wetzikon and production locations in Mollis, Switzerland and Lafayette, Louisiana.
Or, as the airframer's website puts it: "Kopter Group is developing as a full-fledged helicopter design, production and services company uniting all capabilities required for an OEM with world-wide reach."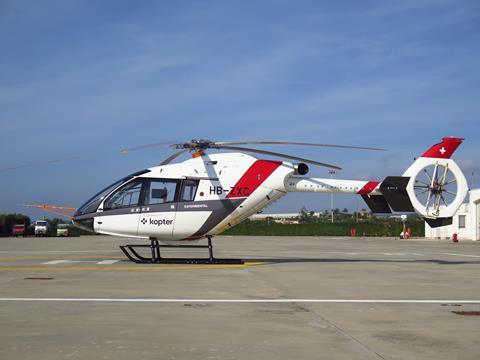 However, development of the SH09 itself has not proceeded according to plan. As part of re-evaluation of all elements of the programme in the early part of 2018, serious manufacturing flaws were discovered in an upper gearbox housing. Riccobono describes the problem as the "most jeopardising" issue for the whole effort, which "caused us almost nine months of delay".
At that point, Kopter was preparing to fly the programme's third prototype – effectively the aircraft to be used to mature the configuration. But because the issue was found to afflict all of the gearbox components produced, the only way to get the helicopter into the air was a significant period of test and evaluation to prove – to itself and to the European Union Aviation Safety Agency (EASA) – that flights with the parts would be safe within a certain flight envelope.
Then, when EASA had given its permission for those flights to start – the first sortie took place in November 2018 – the dramatically reduced envelope meant much slower headway than expected.
"The envelope restrictions in terms of airspeed and manoeuvres were so severe that it really hampered progress," says Riccobono.
Nonetheless, with persistence that eventually translated into "decent progress", despite the "limitations of the flawed gearbox".
But flights were anything but simple. Take‑offs with the "crippled" gearbox were a "nightmare", says Riccobono: pilots were forced to perform an ungainly shuffle to become airborne without overstressing the housing.
"You had to suppress your natural reaction. [The technique] goes against anything you have been taught," says test pilot Michel Dekkers.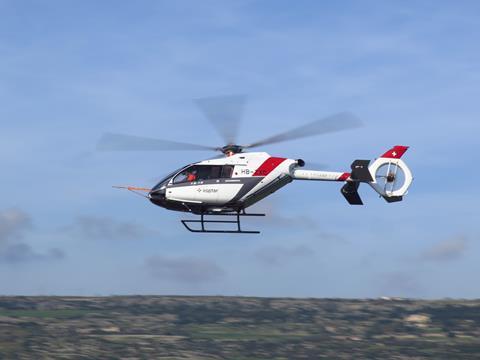 Similar restrictions were applied to flight as well: test pilots describe sorties where either Riccobono or flight-test engineer Adam Reynolds were constantly issuing warnings when approaching speed, altitude or power thresholds.
Hovering was also ruled out because of the likely strain this would put through the housing. "There were several times when I wondered whether [flying] was a good idea," confesses one pilot.
But in September last year, came the "long-awaited retrofit" of the new gearbox housing, sourced from a different supplier: "Now we can fly the helicopter rather than the helicopter flying the pilots," says Riccobono, "and explore the full envelope." But with the first sortie using the new component only having taken place last autumn, envelope expansion work is still in its early stages. Nonetheless, Riccobono sees that "significant progress" has been made: weight has been incrementally increased to 2.6t – close to the target of 2.85t – and the helicopter has been taken to 10,000ft density altitude.
Test activities have been aided by the establishment of the dedicated facility in Pozzallo. Staff undertake six-week rotations at the site, and the final Sicilian sortie of 2019 – coincidentally the prototype's 100th – took place on 4 December (the flightplan reads: "conduct a photo shoot in the vicinity of Modica").
"[The aircraft] is giving us more than I could expect – we are really using it now as I would call it a workhorse in order to get the final configuration frozen. The pilots are quite happy with it," says Lowenstein.
Data gathered from the flights with the new gearbox housing will be used to inform improvements to the helicopter that will be implemented in early 2020. Modifications include changes to the elastomeric blade dampers on the main rotor head to improve ride quality, plus an assortment of aerodynamic and handling tweaks, such as to the vertical fin and horizontal stabiliser.
Chief test pilot Richard Grant says that the ride of the SH09 is already as smooth as or even smoother than other helicopters out there, although at certain parts of the envelope there are "weaknesses" which "is what we are working on".
Approaching top speed "we are seeing a little bit of motion in the nose", he says, which is what some of the changes are designed to counteract.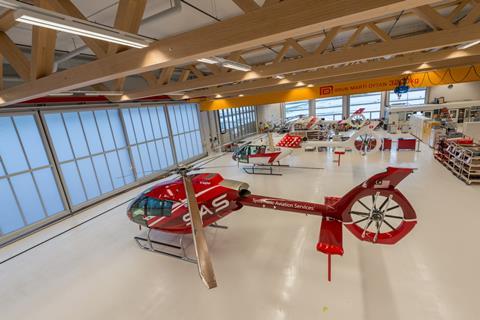 The final configuration will be reflected in two further test articles: pre-serial (PS) aircraft 4 and 5, which will arrive from mid-2020.
A substantial amount of certification flying will be carried out by PS4 in Pozzallo, leading to an aircraft approved to operate at 16,000ft density altitude and at temperatures between -10°C (14°F) and 35°C. That will be followed by cold weather and hot-and-high campaigns using PS5, in Alaska and Colorado, respectively, clearing the SH09 to operate at temperatures as low as -40°C.
Riccobono says that even without the changes the SH09 would be certifiable, but Kopter's ambition is not to produce an aircraft that is merely adequate. "We always want to be better than the others," he says.
The intention is to be "a little bit above the EASA certification level", he says, which includes having the safety performance of a CS-29 helicopter – essentially crashworthiness and bird strike resistance – in an aircraft certificated to EASA's CS-27 small rotorcraft standard.
On top of that, Kopter claims the SH09 will be the first CS-27 aircraft to have a combined cockpit-voice and flight-data recorder as standard. "We are really anticipating something that is eventually going to be a regulation," says Riccobono.
In addition, achieving as smooth a ride as possible is important, says Riccobono, because Kopter's intention is to achieve instrument flight rules (IFR) certification from 2022, for which it is developing a four-axis autopilot.
"If the platform is already stable, then developing the autopilot is really no big deal. That is why we are investing in making the aircraft not just certifiable but very pleasant to fly," he says.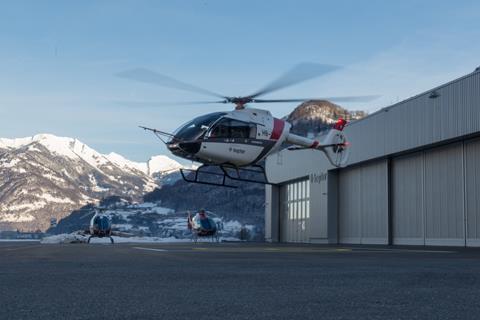 The desire for IFR certification also drove a switch from the original Safran Electronics avionics to Garmin's IFR-capable G3000H suite, allowing early customers a simple, minimal-cost upgrade.
Despite tweaks here and there, the fundamental design of the SH09 has not changed from the original concept. It still has a single FADEC-equipped 1,020shp (750kW) Honeywell HTS900 engine – a compact but powerful turboshaft originally destined for Bell's ARH-70 Arapaho programme – coupled with a five-blade bearingless main rotor and a shrouded tail rotor that Kopter calls the Maestro.
The idea, which the company was espousing even in its Marenco days, is to develop a new helicopter in a segment of the market long neglected by the other manufacturers. While Airbus Helicopters has its H125 and H130, and Leonardo Helicopters the AW119, none of these are particularly recent designs.
In addition, Lowenstein says, there has been a lot of interest from operators in switching from twin-engined rotorcraft to the SH09. "For me this is not a surprise: this is a helicopter that can do many of the twin missions at the cost of a single."
Despite the seemingly endless delays – service entry is now likely to be late 2020 or early 2021 – sales have stayed strong: Lowenstein says the first three years of production are "solidly" sold out and "we have some customers ordering for the fourth and fifth years already".
He says: "It shows to me that people are really waiting for this aircraft."
In addition, the arrival of a new helicopter with new capabilities could also stimulate the segment, says Lowenstein. "If the equation is right then we can significantly resize the market," he says.
He draws an analogy with the service entry of the Leonardo Helicopters AW139, which significantly expanded demand for medium- or intermediate-twins. "We think we can produce the same kind of effects. People are not excited to replace their helicopter with the same old helicopter."
The fact that two production lines are already planned speaks volumes about Kopter's ambitions; Lowenstein also does not rule out additional assembly facilities if required by regional demand, particularly in China, or if it is a condition of external investment.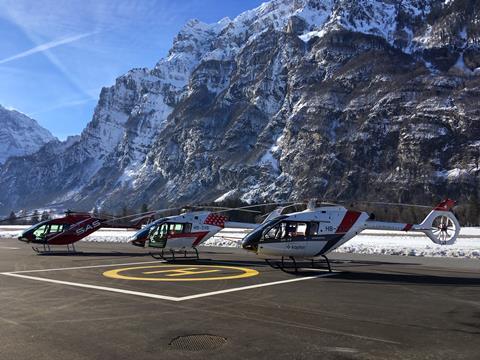 On top of that, there is a recently announced agreement with Korea Aerospace Industries (KAI) covering an intention to co-operate on "local assembly, production, customisation and sales" of the SH09 in South Korea. The collaboration could eventually extend to production for export too.
"What Korea is interested in, like many Asian countries, is modern technology," says Lowenstein; without a helicopter like the SH09, Seoul would be obliged to replace a huge fleet of single-engined helicopters with aircraft based on elderly designs: "Basically the same as they have".
Joint working parties have already been established with KAI as the companies attempt to firm their initial tentative agreement. These groups are examining what requirements the SH09 could address and also how KAI could participate industrially in the programme.
"If the current exploration phase shows positive results, we are ready to set up a joint industry product in Korea to allow us to serve Korea and some other export needs," says Lowenstein. "We are talking with KAI about joint market approaches to governmental operators but equally for some governmental markets that could be covered from Korea."
What that means in practice is that Kopter is open to the creation of a military variant of the SH09. "A helicopter like ours is a very versatile mission platform," says Lowenstein. The size of the cabin, payload, and customisation potential means "you can paint it khaki and put some special equipment into it".
He lists potential missions such as training, liaison, scouting, or observation. "This is totally within the scope of the platform," he says. "If there are opportunities coming by we will certainly grab them. When we sign the Korean deal you can imagine a khaki version might be in the scope [of that]," he says, confirming that talks with KAI have broached the subject of a military trainer.
However, anyone looking for an armed variant is likely to be disappointed: "That is not in the scope of a Swiss company," he says, drily.
Of course, the lofty talk of years of double-digit production are meaningless if Kopter does not introduce the SH09 to service in a timely fashion; the patience of would-be customers is not infinite, after all. "Today the question for me is not if we get the certification, but when," says Lowenstein, noting that complex developments mean that sometimes targets slip.
"I can only measure it [by] the reaction of our customers. The customers we have today in our portfolio are with us despite the [timeline] shifts. They know why we are shifting and know that they will get a better product in the end. We have had zero customers putting a knife to our throats [saying you have to get this done now]: they want a safe, mature aircraft that will come to service rather than a quick, short development with issues that appear afterwards.
"All our customers are supporting us on this track," adds Lowenstein, quipping that if Kopter fails to meet its 2020 or 2021 target for certification then "we might change the CEO".