Swiss light helicopter manufacturer Kopter says it received several orders and options from the Philippines' INAEC Aviation Corporation and Rainier Heli-International.
INAEC signed an order for the purchase of one of Kopter's SH09 and one option, Kopter says on 29 January. The INAEC helicopters are to be dedicated to urban air mobility operations with Ascent Flights Global, the company adds.
The agreement with INAEC is Kopter's first in the Philippines. Helicopter transportation is becoming more popular in Asia as travelers take to the skies to skip the traffic in congested cities. Ascent offers ride-shared flights on its platform across more than 15 key hubs in the including central Manila and the city's two main international airports.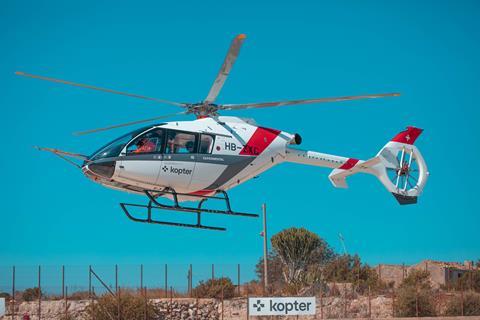 "This is a milestone for Kopter as it demonstrates the rise of urban air mobility in Asia along with the strong demand for the SH09 in the Asia Pacific and particularly in the Philippines, a long-time helicopter market," says Kopter's chief commercial officer Mathias Sénès. "The SH09 will deliver both cost-efficient and unrivaled performance across a wide variety of missions including urban air mobility."
Rainier, based in Kirkland, Washington, signed a Memorandum of Agreement with Kopter for five SH09 options, bringing their order book to five firm and ten options. Rainier's helicopters are used in utility, firefighting and construction applications.
"Historically the operating margins in the highly competitive helicopter utility & firefighting industry are quite thin," says Larry Roberts, president of sales, marketing and customer support for Kopter North America. "Advancements in new composite technologies, as well as helicopter health, usage & monitoring systems, will allow for improved operational predictability, which will hone down on unscheduled maintenance events as well provide more complete prognostics to optimize scheduled maintenance resulting in increased mission readiness and lower maintenance costs."
On Tuesday, Kopter and Italian helicopter manufacturer Leonardo announced that Leonardo will acquire Kopter for at least $185 million. The Italian company said it initially plans to manage Kopter as an independent business unit.