Italian helicopter manufacturer Leonardo says it plans to acquire Swiss helicopter company Kopter for at least $185 million plus bonuses depending on reaching certain milestones.
The deal, with Kopter's current owner Lynwood (Schweiz) AG, is expected to close in 2020, the companies say at the annual Heli-Expo convention in Anaheim, California on 28 January. Leonardo adds that Kopter will act as an autonomous legal entity and competence centre within the Helicopter Division of Leonardo.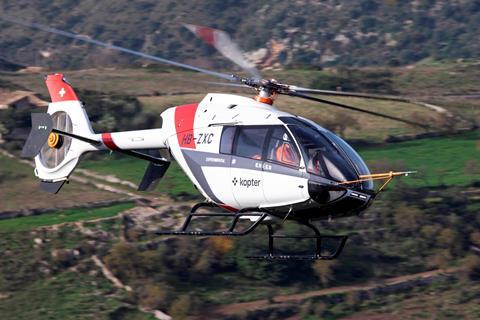 "We confirm our commitment to strengthening Leonardo's core business and sustaining our leadership in key areas," Leonardo chief executive Alessandro Profumo says. "With this acquisition we will bring on board innovative skills and technologies that will complement our own and will also contribute to keeping us at the forefront of innovation and competitiveness whilst maintaining our financial solidity."
Kopter chief executive Andreas Loewenstein echos this sentiment, adding, "Kopter is very excited to have won with Leonardo a solid industrial investor. Within Leonardo, we get the support to finalize our development on various fronts while keeping the ability to remain the agile single-engine pioneer that we are."
"This is a significant highlight in the history of Kopter, it's an important and emotional moment for me and my team of 320 people," Loewenstein says. "After 10 years of intense work building and innovating we have achieved a product of which we are quite proud and of which we are convinced it will be a market leader and will change the game in the light helicopter segment. We are happy to bring this into the Leonardo family and help Leonardo extend its footprint in this particular segment which is complimentary to their products."
Leonardo says that Kopter's new single-engined SH09 "is a perfect fit for Leonardo's state of the art product range offering opportunities for future technological developments."
"This is the new single engine of the future," says Leonardo managing director for helicopters Gian Piero Cutillo. "It has unique capabilities, a brand new deign and will open the door for a lot of opportunities for Leonardo."
Kopter has a dedicated headquarters in Wetzikon near Zurich, and production locations in Mollis, Switzerland and Lafayette, Louisiana.
Leonardo is based in Italy, but also has production sites in Philadelphia, Overland Park, Kansas and Tucson, Arizona.
"The Swiss company's competencies will boost future developments towards more disruptive technologies, mission capabilities and performances, including innovative hybrid/electrical propulsion solutions," the Italian manufacturer says.
Executives say that Kopter will remain as an autonomous entity within Leonardo, in order not to endanger the certification process for the new single-engine craft.
"For the time being it will be led as an autonomous company," says Cutillo. "We have to preserve the identity of the company. There will be contamination, but it has to be positive contamination. We don't want to go and change the way they are doing things."
"It's very important when you enter into this program segment to be different from the organizations that are working on bigger aircraft.," Loewenstein says. "You need to decide quickly, be extremely cost-aware and very agile on the market. What we will be doing is we have processes, ways of working within the company which are adapted to this market segment and we will bring this onto Leonardo's environment as we will rely on their infrastructrure."
Earlier this month, the US Navy (USN) said it had picked Leonardo's light, singled-engined TH-119 for its next trainer helicopter to replace its aging fleet of Bell TH-57B/C Sea Rangers. Leonardo's Philadelphia-made helicopter beat out Bell's light, singe-engined 407GXi and Airbus Helicopters' light, twin-engined H135, the Navy said on 13 January.
The deal comes as Kopter says it expects to concurrently receive airworthiness certificates from the FAA and EASA in 2020, regulatory approval that will clear the way for the upstart aerospace manufacturer to deliver its first helicopter before the end of the year.
Kopter says on 27 January that it froze the design of its SH09, recently changing the dampers on the helicopter's rotorhead to smooth ride quality and provide greater flight stability.
Updates to add new quotes from Leonardo and Kopter on 28 January 2020.