Mark Moore, Uber's engineering director for aircraft systems, says he expects piloted electric-vertical-take-off-and-landing (eVTOL) aircraft to advance faster than autonomous drone package deliveries due to the increased regulatory requirements surrounding autonomous flight.
Uber, which is partnering with eight eVTOL aircraft manufacturers, plans to launch its aerial ridehsharing networks in Dallas, Los Angeles and Melbourne, Australia by 2023.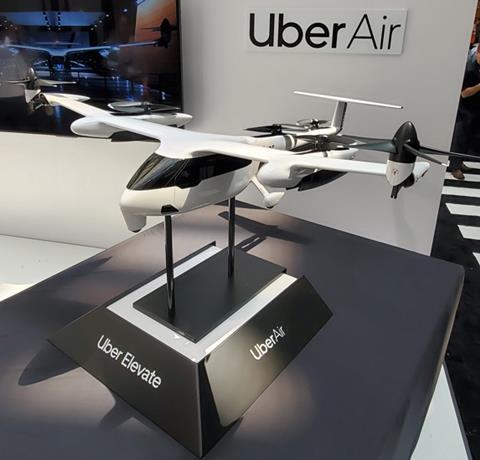 "[Urban air mobility] with pilots will happen way before you will get anything delivered in your backyard," Moore told a panel discussion at Heli-Expo in Anaheim, California on 29 January. "Autonomous flight is really hard. Having a pilot in the vehicle makes a huge difference in terms of the regulatory environment."
Uber is among a handful of companies who have started delivering small packages by drone in the USA. Wing, a Google company, and UPS have also begun testing their delivery drones in controlled tests overseen by the FAA.
The FAA, as well as other regulators, are looking to accommodate businesses interested in drone delivery by making rules and best practices for unmanned air vehicles. Similar tests are being conducted or are planned in other countries as well, including Switzerland and Japan.
"We are already doing small package delivery for Uber Eats – it's all about the critical path to enabling it," Moore adds. "Fully autonomous flight is really hard, and needs an evolution to happen."
Moore's comments at the annual US helicopter show come as other rotorcraft manufacturers are beginning to introduce autonomous flight control technology into their various products, including large helicopters. Major manufacturers say these kinds of safety measures can protect against human error and enable a wider array of missions in difficult flying conditions.