Airbus Helicopters is confident the UK government is committed to its New Medium Helicopter (NMH) programme despite the procurement delays which have led to speculation it could be axed as a cost-saving measure.
The NMH acquisition is running at least one year behind the Ministry of Defence's (MoD's) initial timetable: at its May 2022 launch, shortlisted bidders were to receive tender documents – the Invitation to Negotiate – by September that year, a milestone now expected later this autumn.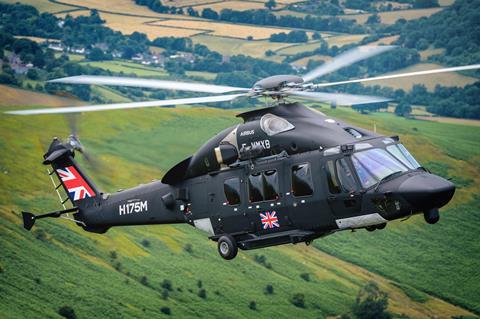 Any contract award seems unlikely before 2024, pushing the acquisition into the path of the general election – and potentially a change of political direction – likely to take place next year.
But Lenny Brown, managing director of Airbus Helicopters UK, sees continued backing for the programme.
"The agencies and personalities I talk to assure me that NMH is going ahead and the funding is secure, identified and so on.
"And also if you look at the shortfall of lift across Joint Helicopter Command, they really need that aircraft," he said during a pre-DSEI event on 8 September.
The NMH is destined to replace the Royal Air Force's fleet of 23 Puma HC2 transports, plus three other types in the UK inventory: Bell 212s and 412s and the Airbus Helicopters Dauphins flown for special forces missions.
But in a sign of programme slippage, the MoD recently signalled its intention to award a three-year contract extension to Airbus Helicopters for repair and overhaul of the Pumas – an agreement now potentially running until 2028.
Brown says that although the Pumas could continue in operation past that date if required, there may be an impact on other fleets, some of which "could potentially reach a cliff edge".
"I think that's something the MoD would wish to avoid," he says.
A planned and staggered replacement programme through NMH would ensure the ministry "does not end up with a real funding problem in the future".
Brown also plays down the suggestion that NMH will merely be a 'stop-gap' until a future rotorcraft arrives in the 2040s.
Such a helicopter, for example the multi-national effort being contemplated by NATO's Next Generation Rotorcraft Capability initiative, would be a "complicated beast with different requirements and users", which will struggle to hit its 2040 service-entry target, he says.
"I see NMH and the H175M having a proper shelf-life; it will be an investment for the MoD in terms of capital equipment," he says.
But beyond the up to 44 examples for the UK, he also points to the type's long-term export potential which will "ensure that those jobs, both directly brought in also in the supply chain, will last 15-20-plus years."
Airbus Helicopters has pledged to produce the H175M at a new final assembly line in Broughton, North Wales on the same site where the group builds wings for its commercial aircraft range.
Output across all Airbus commercial programmes is set to rise in the coming years, with the A320neo family due to be built at a rate of 75 per month, potentially posing a challenge to also accommodate the H175M.
But Brown plays down such concerns: "We have already got a hangar there, identified and ready to rock; it's all prepped, ready to go."
The other contenders for the NMH requirement are the Leonardo Helicopters AW149 and Sikorsky S-70M.

Dominic Perry is deputy editor of Flight International but also contributes extensively to flightglobal.com. Although specialising in the coverage of the helicopter industry, he has written on most topics in aerospace – be they commercial, defence or business aviation. In addition, there has been an increasing focus on the decarbonisation of the industry and zero-emission flight initiatives.
View full Profile