Airbus Helicopters has begun a flight-test campaign in Norway that aims to remove the cold weather operating limitations currently imposed on H145 light-twins fitted with inlet barrier filters (IBFs).
In December, the airframer issued a safety information notice (SIN) preventing IBF-equipped H145s from flying in certain conditions – notably falling or blowing snow – after a Norwegian air ambulance operator experienced engine failure on the type.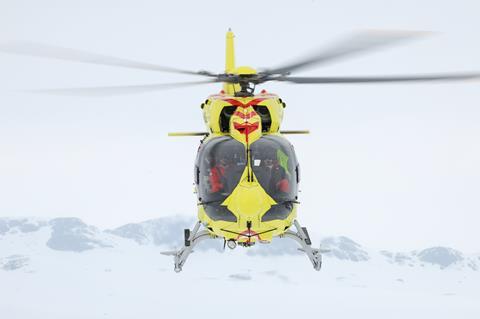 Norwegian air accident investigators are continuing to probe the incident, but the SIN notes that "partial icing of the IBF engine intake cannot be excluded as a reason for the [engine] flame out".
Airbus Helicopters has now stationed an H145 in Norway, where it will likely remain until the end of January as it seeks a permanent solution for the issue. The airframer plans to fly the rotorcraft in a variety of snowfall conditions both with and without an IBF fitted, and with the IBF bypass channel open.
However, Airbus Helicopters has also updated the SIN, permitting flights in snowy conditions where visibility in above 1,500m (4,900ft). Starts and landings in snow are possible, it says, although "extensive hover conditions are to be avoided".
The original SIN prevented IBF-equipped H145s from flying in falling or blowing snow, or in temperatures lower than 5°C (41°F) where there is visible humidity such as sleet, ice, or fog or clouds reducing visibility below 800m.
An emergency airworthiness directive from the European Union Aviation Safety Agency addressing the issue was issued on 23 December 2021. It affects the C2, D2 and D3 variants of the H145, including both civil and military models, when an IBF is fitted.
Operators can also remove the IBFs if they wish to fly without limitations. Airbus Helicopters says it is "ramping up" production of covers to replace the IBFs and is also permitting Part-145 maintenance organisations to manufacture interim covers.