Airbus Helicopters has started preparations to raise output of the H175 to 15-20 units per year on the back of strengthening demand for the super-medium-twin.
Pitched squarely at offshore operators, the H175 entered service in 2014, just in time to see the oil and gas market begin cratering shortly after on the back of falling crude prices.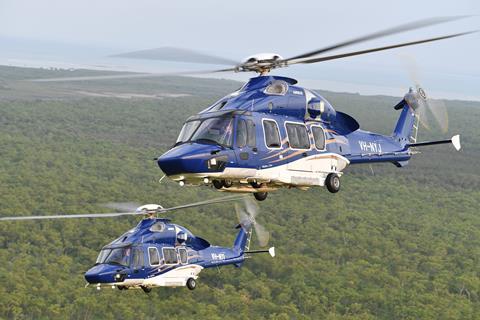 Having already ramped up production, Airbus Helicopters was forced in 2017 to scale back to the current rate of four to five aircraft per year, says programme manager Jerome Fagot.
"Now with huge demand coming back there's a fight for slots and a need to ramp back up again," he told journalists on 15 February.
Airbus Helicopters is targeting output of 15-20 civil H175s annually "within a couple of years", he says, although he declines to detail the type's current backlog.
However, he notes the "challenge" of achieving that rate given the pressures on the supply chain amid an industry-wide ramp-up as the aerospace industry rebounds post-Covid.
Should the H175 finally be produced in the higher quantities Fagot suggests it would represent a significant turnaround for the 7.8t helicopter.
To date, just 52 examples are in service, overwhelmingly dominated by the almost 75% of the fleet working in the oil and gas sector.
A recovering offshore industry – flight hours increased by 20% year on year in 2022 – and a looming requirement to replace a portion of the Sikorsky S-92 fleet are big demand drivers, Fagot says.
But Airbus Helicopters has been pushing to diversify the H175 away from an overreliance on offshore transport operations and has seen modest success in the search and rescue and VIP segments, both with 14% of the total.
"If you don't have critical mass in terms of volume it is difficult to have a sustainable programme," he says. "You need to feed the supply chain, feed the industrial set-up."
Recent commitments – the H175 took in eight last year – have reflected a better mix of variants, says Fagot: "We have got good diversification in the latest orders – much more so than in the past."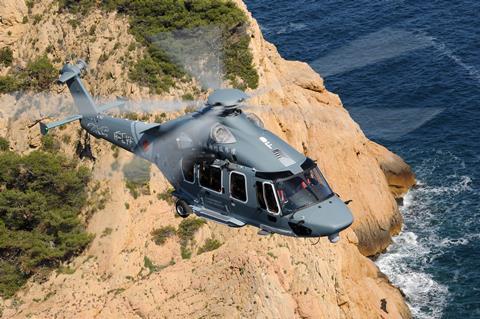 A military version, launched last year but without a current customer, could in future further expand the operator base.
Regulatory clearance in the USA will also add to the rotorcraft's sales appeal and the airframer has "initiated certification" with the Federal Aviation Administration (FAA). "That process is clearly a priority," says Fagot.
However, meaningful engagement with the FAA will have to wait until later this year when the smaller – and newer – H160 has secured its US type certificate.
"Today, as you can imagine, the authorities have just the bandwidth to certify one aircraft per OEM," he says.
Additional tests beyond those already conducted for the H175's European approval are also likely to be required, he says.
During the oil and gas downturn, Airbus Helicopters has worked to drive maturity into the H175, reducing "all the unscheduled maintenance related to this machine" and between 2018 and 2023 halving the time required for scheduled checks at 50h, 100h and 200h. A similar process will be applied to the 800h check "which is still a bit heavy – we really need to address it."
An update to the Helionix avionics system is also due in 2023, which will include a new Vortex Ring State (VRS) detection system. This will warn pilots around 7s in advance of the onset of VRS if no corrective action is taken and also introduces a VRS escape function.
Certification of a full icing protection system, valid up to 10,000ft, is anticipated in 2024, leading to service entry the following year, says Fagot.
He sees no immediate need for additional major upgrades to the platform or the H175's Pratt & Whitney Canada PT6 engines, which are "powerful enough to reach the level of performance" required by both civil and military operators.
However, Airbus Helicopters will in 2026 conduct a flight of the H175 operating entirely on sustainable aviation fuel (SAF), maintaining the airframer's target of certifying all its in-production rotorcraft to run on 100% SAF by 2030.

Dominic Perry is deputy editor of Flight International but also contributes extensively to flightglobal.com. Although specialising in the coverage of the helicopter industry, he has written on most topics in aerospace – be they commercial, defence or business aviation. In addition, there has been an increasing focus on the decarbonisation of the industry and zero-emission flight initiatives.
View full Profile