Airbus Helicopters will work with 20 partners to support its H145M pitch for an Australian special forces requirement.
The company dubs the collection of companies "Team Nightjar", and estimates that if the H145M wins the Project Land 2097 Phase 4 competition it will provide A$250 million ($174 million) of local economic benefits, and provide 170 local jobs.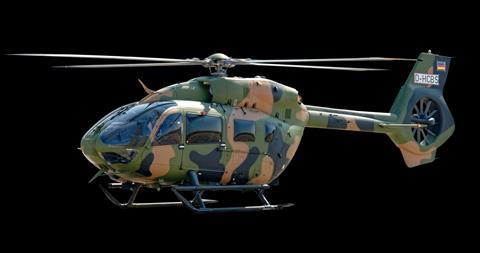 Team Nightjar members include universities, local companies, and more recognised names such as Kratos Australia and Safran Helicopter Engines Australia.
Airbus Helicopters has previously stated its intention to pitch the H145M for the 20-rotorcraft requirement, which first emerged in Canberra's 2016 defence white paper. The project was subsequently detailed in a 2018 request for information (RFI).
"The Commonwealth is seeking a proven, mature and highly reliable off-the-shelf platform and robust support systems," says Andrew Matthewson, managing director of Airbus Australia Pacific.
"The H145M that we are proposing is the latest member of the H145 family, which has flown over 5.9 million hours with more than 1,400 aircraft in service globally across civil, parapublic and military domains. It is well supported by a mature global network."
The company adds that Germany already uses the H145M for special forces work.
Rivals for the requirement include the Bell 429, which two local prime contractors, Babcock Australia and Hawker Pacific, are pitching in separate bids. The project has attracted interest from Boeing with the AH-6I Little Bird and Leonardo Helicopters.

According to the RFI, the Department of Defence wants in-service helicopters – both commercial and military platforms – "optimised for dense urban environments", which can be deployed by Boeing C-17 strategic transports.
The system must be capable of deploying with intelligence, surveillance and reconnaissance equipment and weapons. Missions will involve the insertion and extraction of special forces, fire support for small teams, hostage recovery, and tactical observation.
"Australia's smallest nocturnal bird of prey, the nightjar's characteristics include agility, stealth through its compact size, excellent camouflage, silence in flight and non-reflective eyes," adds Airbus Helicopters on a special web site for the competition.
"The nightjar is known to hunt in pairs, and catch prey on the wing, combing its heightened senses, agility, speed, power and focus – characteristics which are critical for special operations."
Nightjar members: Cablex, Cyborg Dynamics, Deakin University, DEWC, ECLIPS, Ferra Engineering, Helicopter Logistics, Helimods, Kinetic Fighting, Kratos Australia, Microflite, PREDICT Australia, Qinetiq Australia, Rusada, Safran Helicopter Engines Australia, Seeing Machines, Sigma Bravo, TAFE NSW, Tagai Management Consultants, Toll Helicopters, University of Technology Sydney, Varley Group and Varley Rafael Australia.