Airbus Helicopters is close to securing its first order for an H145M with a five-bladed main rotor – the military variant of its strong-selling medium-twin.
Axel Humpert, head of the H145 programme, speaking at an event to celebrate the handover of the first civil example – to launch operator Norsk Luftambulanse – said that the airframer is nearing a deal with a military customer.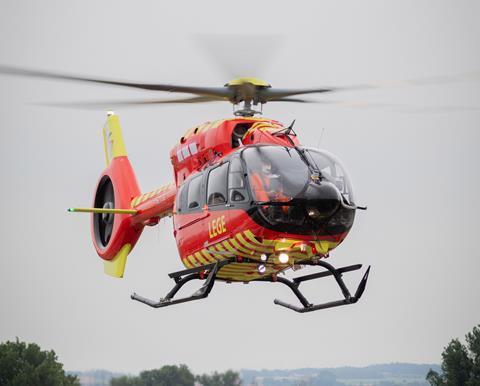 "We are close to signing a contract. It is not yet signed today, but we are very close to it," he says. Military approval is anticipated in 2021.
Although the US Army recently signed for an updated version of its Lakota utility helicopter, the UH-72B, this will be based on the four- rather than five-bladed version, says Humpert.
Current customers for the H145M include Germany, Hungary, Luxembourg, Serbia and Thailand; only the two Eastern European nations have outstanding orders.
Meanwhile, Airbus Helicopters expects to secure US certification for the five-bladed H145 in the coming weeks – "definitely this year", says Humpert.
So far, the airframer has amassed around 90 orders for the new variant, which is certificated as the BK117 D3, plus 80 retrofit kits for operators of the current four-bladed model.
Norsk Luftambulanse will take an additional two new-build examples, plus upgrade its existing eight-strong fleet, says Erik Normann, director of flight operations.
It plans to use the new H145 for air ambulance research and development activities, says Normann, including an ambition to carry a CT scanner – weighing 500kg (1,100lb) – on the aircraft. "This would improve treatment of strokes dramatically," he says.
Humpert says the retrofit process takes around 150 man hours; the airframer previously indicated that the first aircraft would be inducted in the fourth quarter.
The H145 is jointly developed with Kawasaki Heavy Industries, which will next year deliver the first unit from its production line to an undisclosed customer.
Announced in 2019, the five-blade upgrade sees the H145 gain an additional 150kg of useful load from the higher performance of the new bearingless main rotor.
The improved rotor helps lift maximum take-off weight by 100kg, to 3.8t. Although the extra blade adds weight, savings elsewhere enabled by its performance result in a net reduction of the helicopter's empty weight by 50kg.
Although the five-bladed main rotor made its debut on a specially modified H135 demonstrator aircraft, Humpert says there are no plans to adapt the modification to the smaller helicopter given its current performance level.
"We need to see that with every development step or innovation being brought to the market there needs to be a significant step-change," he says, which would not be the case on the H135.