Airbus Helicopters has unveiled a new flying testbed that will allow it to mature new technologies up to three times faster than through current methods.
Based on a standard production H130 light-single, the Flightlab platform (F-WWXD) has been in operation since last April, where its initial mission was to evaluate sound levels in built-up areas.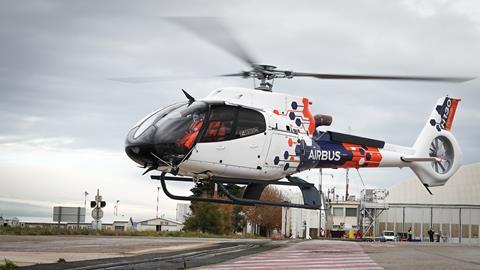 That research was particularly directed at the future market for urban air mobility (UAM) operations, where low noise levels will be critical for their public acceptance.
However, the airframer intends to use the "platform agnostic" Flightlab to test technologies that could be applied across its helicopter range – or even for fixed-wing or military products from other Airbus divisions.
Last December, the H130 was used to validate the performance of what the manufacturer calls its Rotor Strike Alerting System (RSAS). This uses a pair of Lidar sensors on either side of the fuselage to detect the proximity of obstacles, displaying the results via a 'traffic light' colour scheme on a cockpit screen. 240° of coverage is provided around the helicopter.
Service entry for RSAS is due later this year, says Tomasz Krysinski, head of innovation at Airbus Helicopters.
A further three innovations are currently under evaluation, says Krysinski. These include an emergency battery and motor system designed to enhance safety on single-engined helicopters.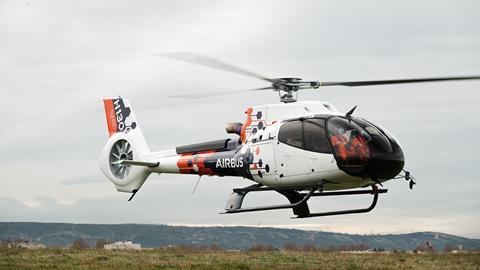 Should the rotorcraft suffer an engine failure, emergency power is automatically provided via a 100kW electric motor to assist the pilot with performing an autorotation landing.
A larger version of that system will subsequently be tested as an initial step towards hybridisation, providing additional power in certain flight phases or reducing the demands on the main engines, says Luca Cossetti, electrification and hybridisation expert at the manufacturer.
Other technologies to be tested this year will include an image-detection solution – an evolution of the airframer's EAGLE system – with cameras to enable low altitude navigation. EAGLE could also in future be linked to the helicopter's flight-control system as a pathway to fully autonomous flight, says autonomy expert Nicolas Damiani.
Trials will additionally assess the viability of a dedicated Health and Usage Monitoring System (HUMS) for light helicopters.
Flightlab activities will continue in 2022 in order to evaluate a new ergonomic design of intuitive pilot flight controls intended to further reduce pilot workload, which could be applicable to traditional helicopters as well as for the UAM segment.